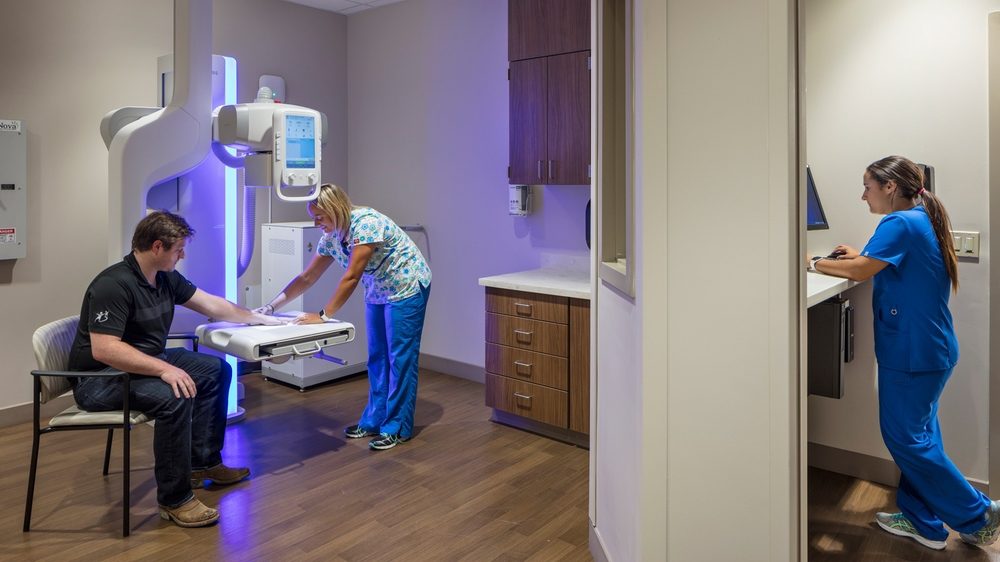 St. Luke's Multispecialty Clinic's modular work units, located adjacent to exam rooms, minimize travel time and increase patient engagement. Photo courtesy of Hoefer Wysocki.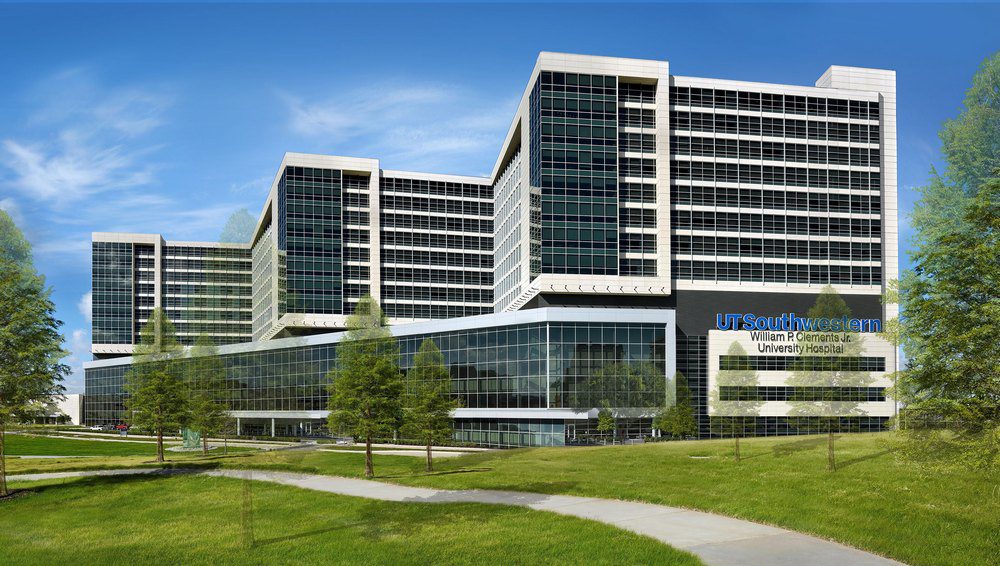 Hoefer Wysocki designed UTSW Tower III with an expansion strategy to allow future growth with minimal disruption to ongoing operations. Photo courtesy of CallisonRTKL, architect of record.
◀
▶
Subscribe Now
Keep up with the latest news with our magazine and e-newsletter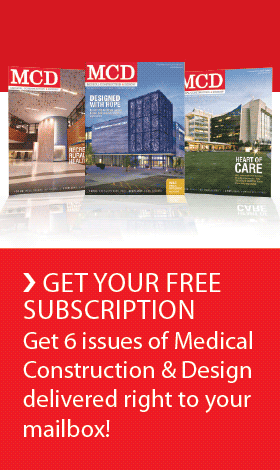 Subscribe to our E‑Newsletter
By John Castorina and Patrick McCurdy
In today's healthcare landscape, patients – as consumers – have more options than ever when selecting a physician or care provider. And health systems are honing their customer service skills in response. Through innovation and design, savvy healthcare systems are positioning for competitive advantage. Convenience and speed are critical factors in a patient's selection of providers. The need for speed is especially important to outpatient services to ensure easy, fast and convenient access to high-quality care. Opportunities to reimagine and reconfigure outpatient healthcare delivery abound. From appointment scheduling, navigating arrival and check-in, to wait time, face time and a clear path to a patient's next steps, technology – as well as thoughtful space planning and intuitive wayfinding – can favorably impact the patient experience and, in turn, help position the system as a provider of choice.
1) Technology + mobile devices
Point of Care Technology is transforming the healthcare ecosystem, helping to improve speed of care through real-time reporting of diagnostic data, e.g., lab and radiology, more efficient monitoring and documentation and improved workflows, thereby elevating the patient experience and improving outcomes. According to a 2018 UnitedHealthcare consumer survey, 36 percent of consumers used the internet or apps to compare healthcare services during the past year, 29 percent have used the internet to research health-related information and 43 percent said they would likely use telemedicine to access care. As noted by the U.S. FDA, 500 million smartphone users globally are using a mobile healthcare application.
PoCT has proven to increase staff efficiency and optimize utilization of space, which in turn improves the patient experience. Despite the accelerated implementation and adoption of PoCT and mobile applications by providers and consumers alike, challenges remain.
Today, providers are treating five generations of patients from builders and baby boomers to Gen X, millennials and Gen Z. This attribute is pivotal when considering both operational impacts and the patient experience since each generation has a different rate of technology adoption and mastery. A millennial or Gen Z patient expects to use a mobile device to manage their healthcare – whether researching providers or scheduling appointments – most facets of their lives, including healthcare, are managed from a smartphone. Their grandparents, by comparison, may not be as inclined to use digital devices to manage their healthcare. Wearable devices, which transmit real-time notification of changes in biomarkers and health status, result in faster response times, benefitting patients and providers alike. Despite proven benefits of such technology, some patient demographics will resist wearables.
By comparison, digitally driven consumers will expect to use apps and devices to research providers, schedule appointments, complete forms and receive appointment reminders before even visiting their physician as part of the pre-appointment process. Driving directions, campus navigation – and even parking availability and valet services – can be delivered in real time via app. Upon arrival, patients can check in at a kiosk, much like those used at many airports. Alternatively, through blue dot navigation, providers can be notified of patient arrival, helping to reduce wait times and more effectively manage exam room occupancy. Post-appointment, lab results, discharge and education information, medication and appointment reminders are all sent via app. Not only does this digital, user-driven experience create efficiencies for providers and save time for patients, it also elevates the sense of personal control a patient feels as he navigates the daunting healthcare landscape.
2) Flexible space planning
Just as mobile connectivity is shaping the patient journey, technology has significant provider and operational considerations as well, which in turn impact facility and infrastructure design. Wait times and patient monitoring, exam room utilization, patient-side documentation and EMR integration and physician-ordered interventions are a few of the many technology-driven functional requirements of a healthcare space.
Timeliness and ease of access remain critical components in patient-centered design strategies. According to the National Center for Health Statistics, the average doctor's visit lasts 19.2 minutes, but the average wait time is more than 23 minutes, as reported in a separate study by Press Ganey. When a patient waits longer than the actual doctor visit takes, a decline in satisfaction is inevitable. According to Vitals' 9th Annual Physician Wait Time Report, one in five patients has switched doctors because of long wait times, and 30 percent have left a medical appointment due to a long wait.
Modular design provides the most efficient and flexible layout for clinic and physician practices. This can be accomplished by standardizing structural grid systems, standardized exam rooms and by designing efficient patient and caregiver flow with effective functional organization. An overall modular design positions the physician practice to flex up or down in the number of exam rooms as demand dictates, reducing time spent in the waiting room. In addition, standardized exam room design can accommodate diagnostics, treatment, education, lab/imaging/Rx orders, EMR integration, aftercare/follow-up scheduling and valet and transport notification from a single space. Such a design reduces patient wait times and movement, reduces provider movements and fatigue, streamlines exam room setup and maximizes utilization.
For example, Olathe Health Physicians' Hedge Lane Clinic in Olathe, Kansas, launched a new single-story facility that embraces flexible layouts. This clinic incorporates an urgent care, as well as radiology and lab capabilities–without the hassle of visits to multiple facilities. The clinic's flexible layout features exam areas designed in modules that can flex up or down to accommodate demand. Each module has its own support areas such as clean/soiled rooms, supplies and restrooms. The standardization of each module and the proximity of support spaces within each module reduce staff fatigue and patient wait times by reducing internal travel and maximizing available space for both staff support functions and multiple medical procedures.
St. Luke's Multispecialty Clinic in Blue Springs, Missouri is another prime example of modular design. The floor plan of this clinic called for all exam rooms to be identical in size and layout to allow for any medical specialist to perform their corresponding procedures in any room. Exam rooms were also paired with modular units for collaboration, provider offices, restrooms, medicine/storage space and their own checkout station. These amenities pay attention to not only a flexible layout, but to efficiency. Modular units were arranged to decrease provider travel time to patients. While modular units have a direct impact on immediate patient care, they also have long-term benefits to facility expansion. As a healthcare facility may project future growth, these units establish a framework for future expansion – providing a proactive vs. reactive approach to growth management. The incorporation of flexibility within the units themselves is also an economical solution to accommodate any forthcoming changes in patient demand, without incurring additional construction costs.
3) Wayfinding
As part of a comprehensive communications platform for healthcare facilities, wayfinding is an integral component of the patient experience. Wayfinding tools must use consistent language and coding to be leveraged across both built and virtual environments. While optimum solutions may incorporate fewer, better applications for wayfinding innovations, technological solutions like mobile apps, touch-screen kiosks and digital signage create redundancy for multi-generational users, some of whom lack the tech savvy of younger patients.
When developing a wayfinding strategy, be mindful that not everyone understands signage with medical jargon and acronyms. Intuitive architectural cues and landmarks in facility design are often helpful and work best when they are visibly iconic, speakable, cardinal in direction, memorable and unique. Audible signals, and even smells, such as those from a café or gift shop, are also helpful.
GPS maps and blue dot navigation methods incorporate technology into the patient experience by increasing speed of service. Facility maps can be downloaded via app or kiosk to guide patients from their home to the parking lot to the facility and their target destination. Blue dot navigation provides a turn-by-turn synopsis that reduces patient frustration through precise directions.
A top-notch wayfinding system helps reinforce the provider's brand while also enhancing the patient experience. Continuous improvements based on visitor feedback, sensitivity to cultural distinctions and ease of maintenance are other elements to consider.
For example, The William P. Clements Jr. University Hospital third tower expansion, located at the UT Southwestern Medical Center in Dallas, Texas, was designed by Hoefer Wysocki with technology-based and structural wayfinding methodologies. Aptly named, the MyChart system uses mobile technology to accelerate a variety of healthcare processes. Access to appointments, a question feature and hospital maps for facility navigation are all located within the app. Structural wayfinding was also incorporated into the design of the layout itself, rather than relying solely on technology. One of the key design elements was the triple V-shaped form of the patient care units that funnels patients and visitors to three public elevator lobbies which face the main entry drive and public parking facilities to accentuate visual orientation. Each of these three public elevators feed into corresponding "V's" (patient units) for ease of navigation. This was completed with minimal signage and crisp, clean lobby housing to maintain the facility's modernity.
Previously, healthcare providers were rated based merely on the medical care they delivered. Today's focus must consider a variety of factors including improved clinical processes, safety, quality of care, outcomes and an enhanced patient experience. Healthcare facilities are looking to architects for creative design solutions that will optimize business performance, facilitate delivery of high-quality healthcare and satisfy an increasingly tech-savvy, informed and empowered patient. Patient experience can be directly correlated with a healthcare facility's design. Therefore, efficient processes, robust and relevant technology, a safe, professional and comfortable environment and compassionate providers must work in concert to ensure an outstanding patient experience.
Author: John Castorina and Patrick McCurdy
John Castorina, AIA, ACHA, LEED Green Associate, LEAN Green Belt , is the managing partner of national healthcare for Hoefer Wysocki's Dallas, Texas practice. Patrick McCurdy, AIA, is vice president and healthcare practice leader for Hoefer Wysocki's Kansas City, Kansas practice.
Tags: Architecture, flexible layouts, speed of service, Wayfinding, wearables
Posted January 16, 2019
More Articles: