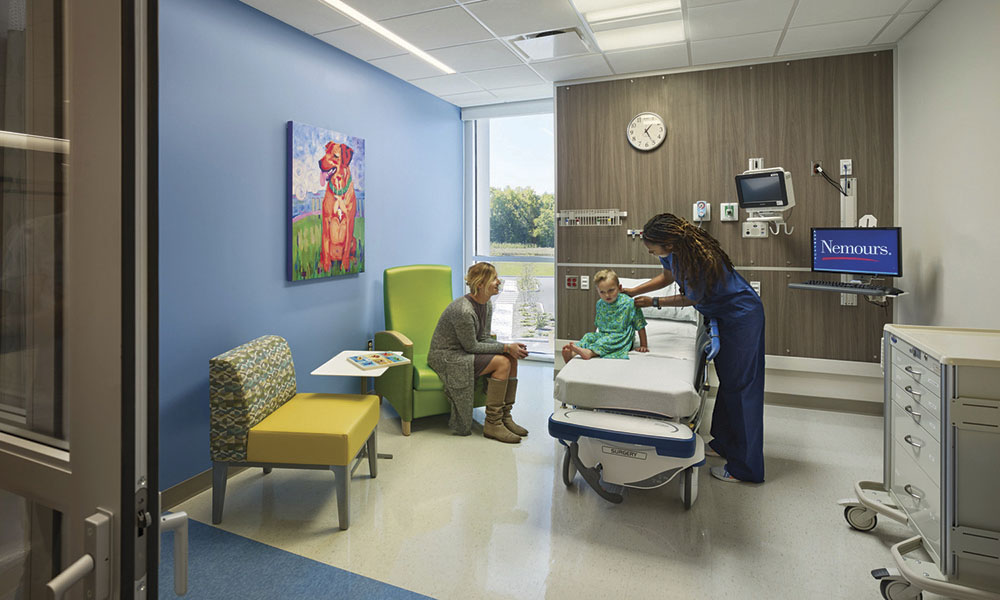 This comprehensive outpatient center is Nemours duPont's first expansion into New Jersey and brings world-class pediatric expertise closer to the communities the Wilmington, Delaware inpatient campus serves. Photo: Halkin | Mason Photography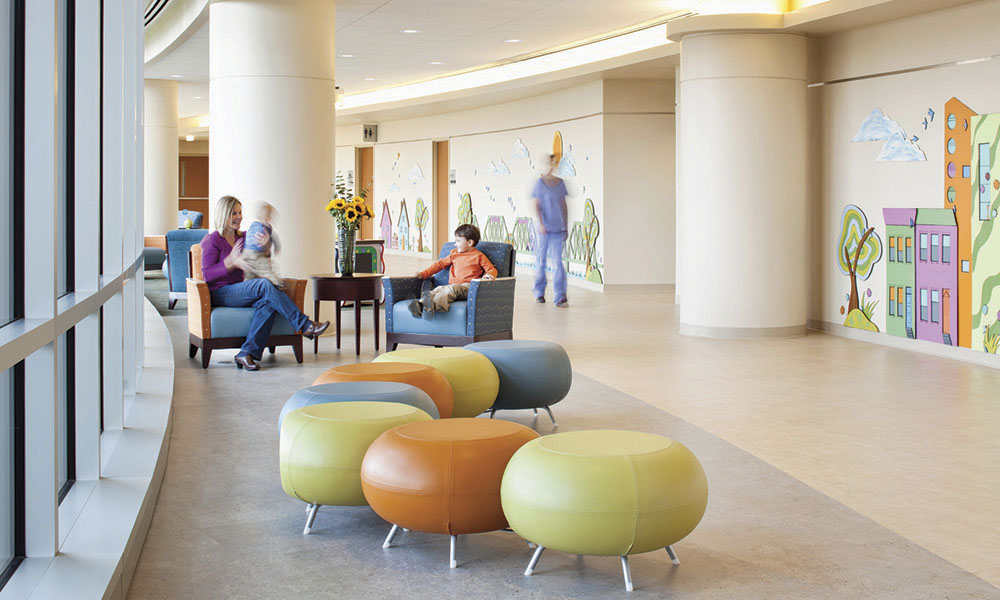 Ground floor views and outdoor access is available for pediatric patients and families at Capital Health Hopewell Medical Center in Pennington, New Jersey. Photo: Blake Marvin/HKS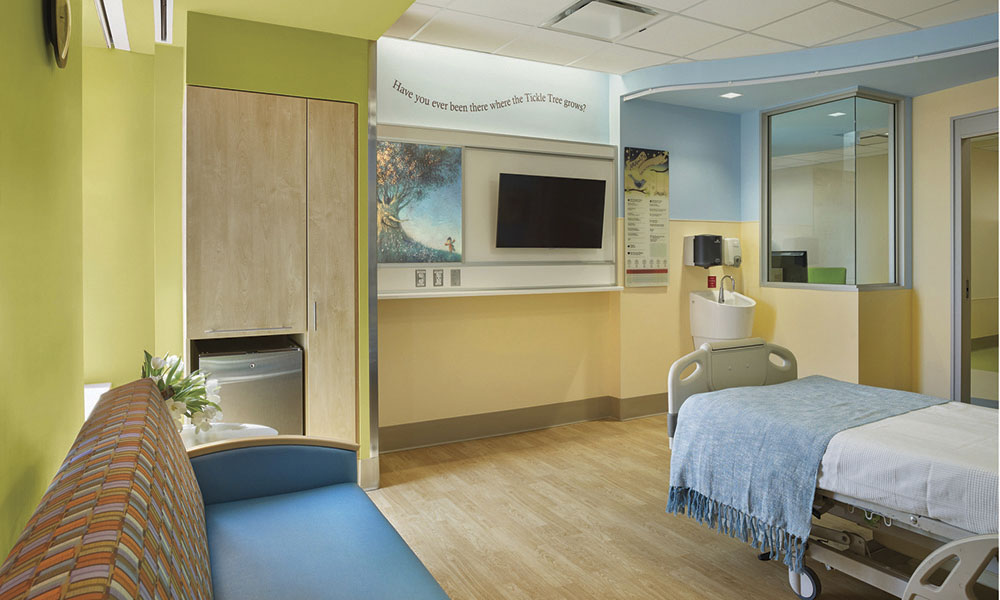 Inpatient rooms, space and amenities at the bedside should include a comfortable day bed, sometimes sized to accommodate two parents. Photo: Halkin | Mason Photography
◀
▶
Subscribe Now
Keep up with the latest news with our magazine and e-newsletter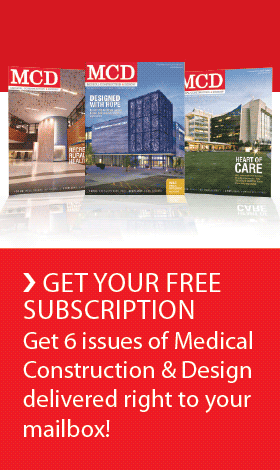 Subscribe to our E‑Newsletter
By Lisa Lipschutz
Healthcare design requires careful thought, consideration and attention to detail, especially when designing for a pediatric population. While routine pediatric care is typically community based in medical office, ambulatory, urgent care, emergency and even community acute care hospitals, specialized, complex care is routinely sought out at pediatric centers of excellence.
Dedicated children's hospitals of the future must provide all levels of inpatient and outpatient care for children of all ages, backgrounds and conditions. The design of these institutions must not only respond to known, documented, Evidence-Based Design attributes, but the planning considerations and design of such institutions must be visionary in response to a rapidly changing future. The criteria to develop the design of inpatient pediatric units can be categorized as follows: people, technology and safety & infection control.
Design for patient populations, accommodating visitors and staff
The inpatient pediatric unit of the future must take into consideration patients, family members and a multitude of healthcare providers. Patients with chronic and/or medically complex diseases may be underserved depending on their access to coverage and care. Dedicated children's hospitals support a variety of clinical dispositions ranging the gamut from primary care to routine diagnostic testing and procedures to support care of a high-acuity patient population requiring complex interventions and inpatient stays. Some patients, affectionately referred to as "frequent fliers," require ongoing visits to the facility. Processes may be employed to streamline aspects of their stay to improve the "repeat patient" experience.
Pediatric patients range in age from infant to child to adolescent. The design of the patient care units must meet the needs of all ages, although in some instances it may be appropriate to have dedicated areas for different age groups; for example, a teen or adolescent room may be required in addition to a more juvenile play room. Incorporation of the child life services in support of education, play and activity is essential. Child life requires dedicated space, which can be as minimal as unit-based storage or as robust as centralized, multi-purpose activity and/or classroom spaces.
Demographics often require children's hospitals to serve a culturally diverse population with differing customs and needs for social interaction and support. It is not uncommon to address language barriers, support religious customs and meet unique dietary requirements and restrictions including age-based nutritional needs, personal preference or customized preparation and meals because of allergies. Interpreter phones and translator services may be needed, discreet family waiting and family food pantries may need to be provided and multi-denominational meditative spaces can offer comfort to all regardless of background.
Families may come from afar for specialized pediatric services. The comfort of both immediate and extended family members traveling with patients and parents can be enhanced both in and out of the patient room. Space and amenities at the bedside should include a comfortable day bed, sometimes sized to accommodate two parents, varied seating options; in-room refrigerators (per institution approval); adequate and securable personal belonging storage; family and patient entertainment (with auditory control); personal device charging and viewing ports; varied and controllable lighting; temperature control; manual or electronic communication board and aesthetically pleasing, engaging interior design elements.
While discrete family/personal space is required in the patient room, facility and unit-based family space for social support and interaction serves a valuable role. Communal spaces, such as shared lounges with dining and entertainment amenities, washer/dryer for family use and business facilities should be available and can be on-unit or centrally located. Access to showers is essential and it may also be wise to consider sleeping options for extended family members. This can be accommodated with hospital-provided space in or adjacent to the hospital, onsite hotel facilities, Ronald McDonald hospitality centers or other community-based initiatives.
With so much effort undertaken to anticipate the needs and expectations of the family, equal attention must be given to the caregivers and providers. The in-room design must balance family needs, privacy and access to the provider with clinical care and caregiver workspace. While it is desirable to provide both visual and auditory privacy, parent/clinician communication and relationship is invaluable. Patient care is typically multidisciplinary and family inclusive. There must be space afforded not only for provider-to-provider interaction, teaching and research initiatives, but also for family participation in rounding, shift change downloads, one-on-one education and even group training within the facility.  Participation in hospital-based care eases the transition to home care.
Designing for technology
Patients may be dependent on high-tech clinical equipment, which can be frightening to families. Between known technologies, research-based technology initiatives and flexibility for unknown future technologies, room layout and space allocations must always be top-of-mind. While it is commonly understood that the patient room is a sacred, safe space and procedures should not be performed in the patient room, they must be able to support life-sustaining bedside equipment. Rooms can be designed to minimize the need to transfer as the patient's condition improves. A graduated, acuity-responsive headwall design conceals services when not needed, can disguise services and show patient progress — offering hope to families.
Communication technologies between patient/family and caregiver or caregiver-to-caregiver, whether on hospital-owned or personal devices, will need to ensure accessibility and access to real-time information. Many facilities are implementing the use of personal devices in addition to traditional communication technologies, such as nurse call and hospital-based phone systems. Smart-room technology, both in and directly outside the patient room, enables communication and access to information — from room signage monitors along the corridor to headwall-based charting to the patient TV, which can function as an education device, on-demand meal requests, pain management and entertainment, etc.
Facilities may employ real-time location tracking for patients, furniture, equipment and even supplies and instruments. Automated medication dispensing, as well as supply, linen and equipment management technologies, help to ensure the right product is available, administered properly, billed accurately and replenished; thus, waste is minimized. Door and elevator access technologies ensure appropriateness of and tracking of access to different spaces, creating safe environments for patients and staff alike. Appropriate security systems must be in place to protect the pediatric population.
Designing for safety and infection control
Building design must take into consideration the importance of acoustics and indoor air quality. Noise is not only a source of patient/family dissatisfaction, it has the ability to disrupt recovery and impede communication. Sound-absorbing materials should be specified, and proper location of mechanical components can minimize noise and vibration on patient units. Additionally, air quality and system design and maintenance should reflect all code required and clinically based requirements of the patient population, such as infectious or protective isolation, asthma, allergies, etc.
Hand-washing sinks and gel should be accessible upon entering the unit and each patient room. The design team should carefully evaluate the sink design, location and spray aeration and there should be separate sinks for hand-washing, equipment cleaning, etc. Easily accessible sinks can also be used as an educational tool between clinician, family members and even the patient's visiting siblings.
Materials and design should be maintainable with joints and horizontal surfaces minimized. Finish products must be specified in accordance with all codes and guidelines. Finish product cleaning and maintenance criteria should also be evaluated to specify materials that minimize the use of harsh chemicals and noise-generating maintenance equipment. Additionally, consider antimicrobial products, as well as sustainable, green or non-toxic materials, for their air-quality performance and appropriate room-cleaning technologies.
Health systems must evaluate positive distractions, such as sealed water features, aquariums and plantings based on the patient population. If deemed appropriate for the space, positive distractions can be designed to minimize risk. It is important to work with the institution's infection control staff in evaluating such features.
All of the identified considerations contribute to the creation of a healing environment. One in which patient recovery is paramount, senses are engaged, patients and families are empowered and have control, positive distractions (art, views and outdoor access) are available for patients and families and there is social support with environmental stressors minimized for a safe and secure pediatric unit.
The pediatric inpatient unit of the future must provide high-quality, high-tech care in an uplifting, inspirational and safe environment. The architectural and interior design influences the overall environment from a patient, family and clinician point of view. The patients and families benefit from thoughtfully designed interior elements created for the specific pediatric population. Clinicians in these environments should have appropriate workspace for clinical care, charting and collaboration with individual spaces and team-centered spaces with design elements that benefit all.
Editor's Note: This article expands on a blog series discussing top ways to create ideal pediatric healthcare spaces. Read more at http://blog.array-architects.com/kc/top-10-considerations-for-designing-a-pediatric-waiting-room.
Author: Lisa Lipschutz
Lisa Lipschutz, AIA, ACHA, EDAC, Lean Green Belt, is a principal and healthcare planner & architect at Array Architects.
Posted February 4, 2018
More Articles: