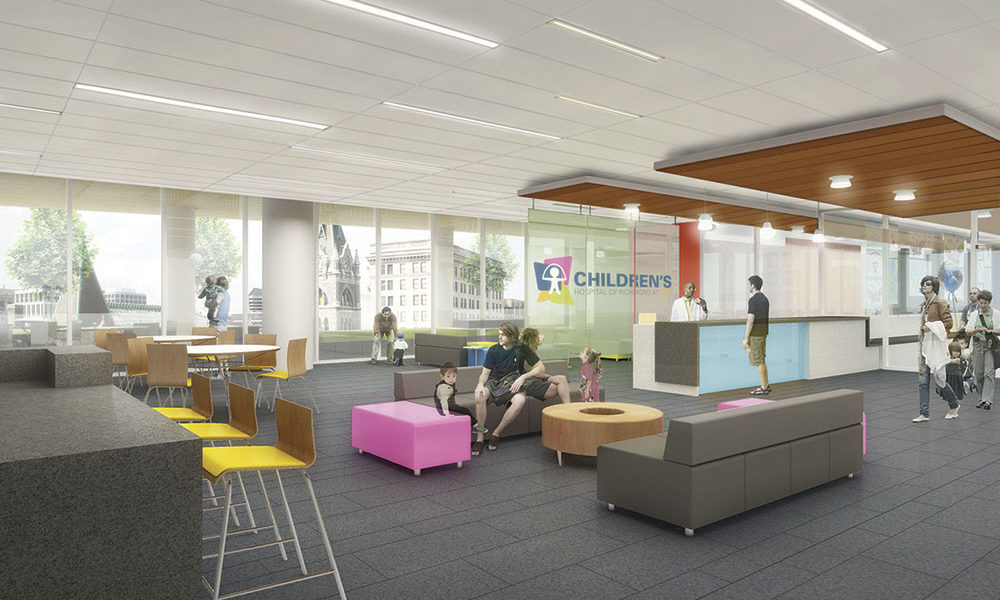 Interior views at the Children's Hospital of Richmond at VCU Children's Pavilion are peppered with connecting views overlooking the city.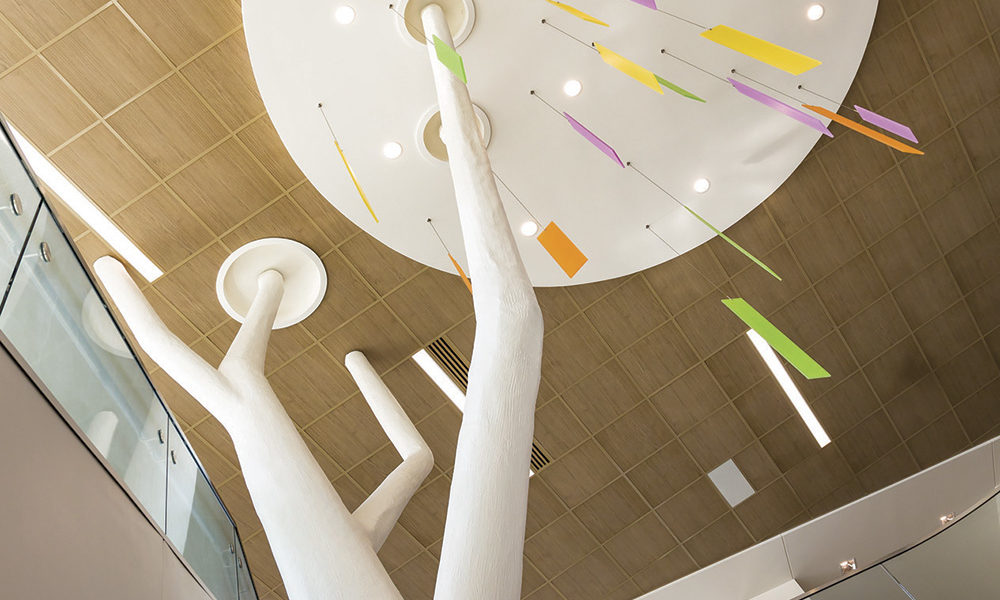 The NICU design at the Kay Jewelers Pavilion creates the feeling of a "tree house" to provide a peaceful theme for the unit.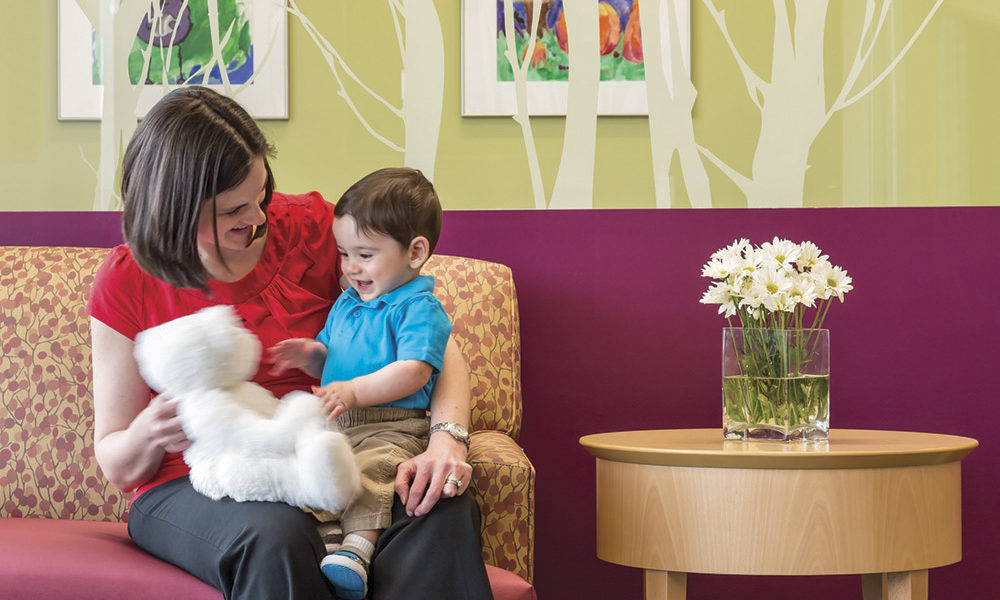 Creating spaces tailored to young patients while providing places catered to families is paramount to a holistic healthcare experience.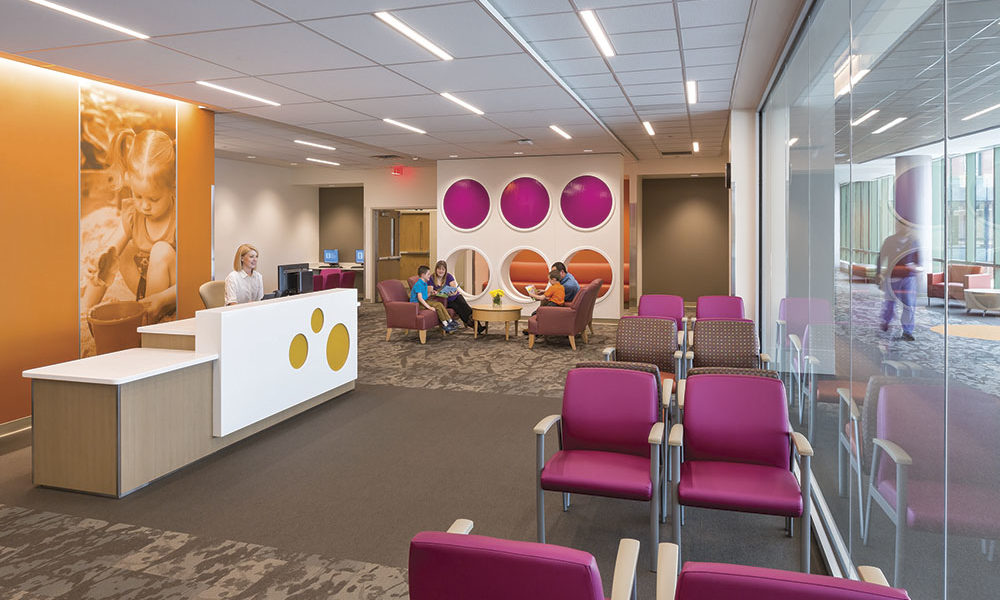 A family waiting area allows families to relax, provides access to computers and convenient access to restrooms. In addition, use of vibrant colors can be used to establish seating areas.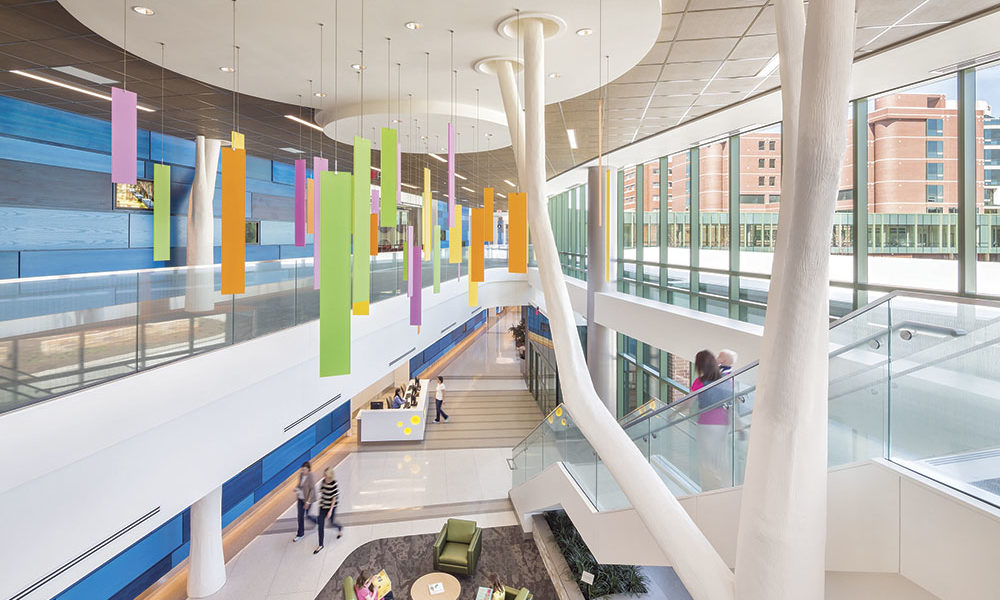 The interior lobby of the Kay Jewelers Pavilion at Akron Children's Hospital in Ohio features vibrant colors and establishes clear wayfinding.
◀
▶
Subscribe Now
Keep up with the latest news with our magazine and e-newsletter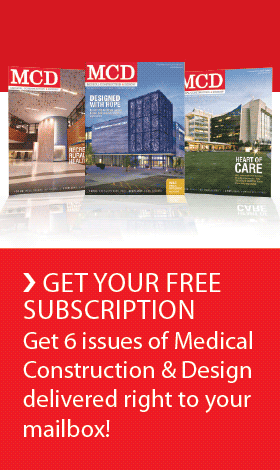 Subscribe to our E‑Newsletter
By Pat Schultz & Laura Hild
Children have a unique, personal way of looking at the world around them. This is especially true when confronted with health problems and unfamiliar surroundings. There is never a better time to provide a solid support system as evidenced by implementing the concepts of family centered design.
Family centered design focuses on the family needs of a sick child. These environments often aid in providing a sense of control with clear wayfinding, interactive play areas and patient rooms designed for families which incorporate the use of varied lighting, colors and shapes, natural light and access to exterior gardens.
Two recent projects demonstrate how pediatric facilities (both inpatient and outpatient) create holistic, family centered healthcare environments.
Akron Children's Hospital Kay Jewelers Pavilion
The new Kay Jewelers Pavilion located in Akron, Ohio provides care for both the current and future needs of children and their families. The 368,000-square-foot critical care tower features a new pediatric emergency department, outpatient surgical suites, high-risk obstetrics program and clinical space for pediatric subspecialty programs. The NICU occupies the sixth and seventh floors with 75 private rooms providing care for the tiniest and most vulnerable patients.
The NICU design creates the feeling of a "tree house" to provide a peaceful theme for the unit. The lower first floor simulates a tree house at night, using the color magenta to set the scene for a campout or for a sleepover. The higher second floor is green, reflecting the feeling of spending a day in the tree tops.
With up to 600 inpatient admissions expected annually, a large family waiting area allows families to relax, watch TV, provides digital access for computers and convenient access to restrooms. A sibling play area reduces the effects of anxiety on older children. The family nourishment room provides respite for parents and families with meal preparation and food tray delivery for breastfeeding moms.
Staff work areas feature decentralized touchdown alcoves at the patient rooms with friendly, open nurse and team workstations to provide caregiver teams the ability to have conversations and work collaboratively together. Immediately accessible by the staff are lactation rooms where mother's milk is received, fortified, prepared and stored by staff in a safe, controlled environment.
Minimizing disruption
In order to minimize sleep disruption, private NICU patient rooms, versus the open bay NICU arrangement, are created as standard rooms to promote family centered care with distinct patient, family and caregiver zones.
Each room is designed to convert into a PICU if needed, accommodating future flexibility. Mock-ups were instrumental in determining room size and functions. Sound control technology, sound seals on doors, wall construction with acoustic insulation, flooring, finishes and acoustic ceiling tiles serve to decrease ambient noise levels to create more privacy, with increased confidentiality.
Better lighting controls with improved thermal regulation allow the family and caregiver to improve control of stimuli to the infant for improved quality of sleep.
The private patient room increases parent and family involvement in care by providing an environment which accommodates the family by including overnight sleeping, private toilets, showers and storage for belongings and gifts. Privacy curtains, which accommodate pumping, breast feeding and sleeping, also serve to increase patient and family satisfaction.
Children's Hospital of Richmond, VCU Children's Pavilion
Children's Hospital of Richmond, VCU Children's Pavilion, located in Virginia, creates a family focused environment that embodies their brand and realigns operational strategies. This 15-story building consolidates pediatric outpatient services to include surgery, diagnostics, pediatric clinic floors and faculty research. The design is derived from nature to include water, forest and sky. The James River running through Richmond plays an integral role in creating a healing pediatric environment, blurring the lines between exterior and interior. 
Supporting families
The parking elevators take the visitors to the Sky Lobby, which sits directly above the self-parking levels, five levels above ground. The lobby becomes the primary location where everyone is greeted and directed throughout the building. Aside from the parking elevators, a set of clinic elevators are used and clearly identified with reflective glass that sends visitors up to the clinic floors above. These elements used were to further allow easy direction for visitors navigating through the parking area and help alleviate stress for the family.
Directly off the Sky Lobby, a Sky Garden prominently spans the full width of the building. This gives patients, family, visitors and staff the opportunity to use the garden space where green space is limited on the urban campus. On the terrace, children can interact with sculptures that play music, roll around in the grass and play while waiting on siblings or waiting for an appointment.
Another important feature is the Ronald McDonald Sibling Center. This supervised area also becomes a space that siblings may stay and play while waiting for their brother or sister. Not only do these moments create a distraction for the children, but also reduce stress and anxiety for the family.
Promoting user comfort was established early in design. The major public circulation paths and waiting spaces located in the building help activate the building exterior and provide wayfinding and orientation to the users. Not only do visitors see this at the start of the Sky Lobby, but the floors above are activated with a three-story atrium from levels two through four with a grand stair connection to two of the floors. To further create positive distractions, each level has interactive monitors displayed on the feature walls within the space. The displays contain various scenes whether it's a forest scene or water scene, where the child can interact and play while waiting.
Supporting staff
Once inside the clinic area, the design creates a calmer patient experience by fully separating the offstage work core environment with the onstage patient environment. Four total pods inhabit each floor and are clearly identified by an oversized graphic letter of the alphabet, again creating easy wayfinding on every floor for each clinic. Each of the 12 exam pods is organized with a central work core used by staff with perimeter exam rooms accessed by staff from the core.
The central work core enhances the collaboration between physicians and nurses giving a more cohesive caregiver approach for the patient, as well as optimizing efficiency and flexibility. The patient corridors surrounding the pods give patients access into the exam rooms. Each patient corridor is defined by an oversized graphic image reflective of the Richmond James River area to help further identify wayfinding in and around the clinic. A floor dedicated to housing faculty offices, a conference center and meeting spaces is further intended to enhance collaboration between staff members.
A good, solid support system sets the pace for healing, especially crucial when the patient is a child. Creating spaces tailored to young patients while providing places catered to families is paramount to a holistic healthcare experience. Good design also supports the caregiver's ability to provide safe and effective care to every patient. Combined, all these elements create the right framework to promote healing.
Author: Pat Schultz & Laura Hild
Patrick Schultz, AIA, EDAC, LEED AP, is vice president and healthcare practice leader for HKS' Mid-Atlantic region and an MCD board member. Laura Hild, CHID, CID, IIDA, LEED AP BD+C, is interior designer/vice president at HKS, Inc. Kay Jewelers Pavilion: HKS/Blake Marvin; VCU Children's: Courtesy of HKS
Posted June 30, 2016
More Articles: