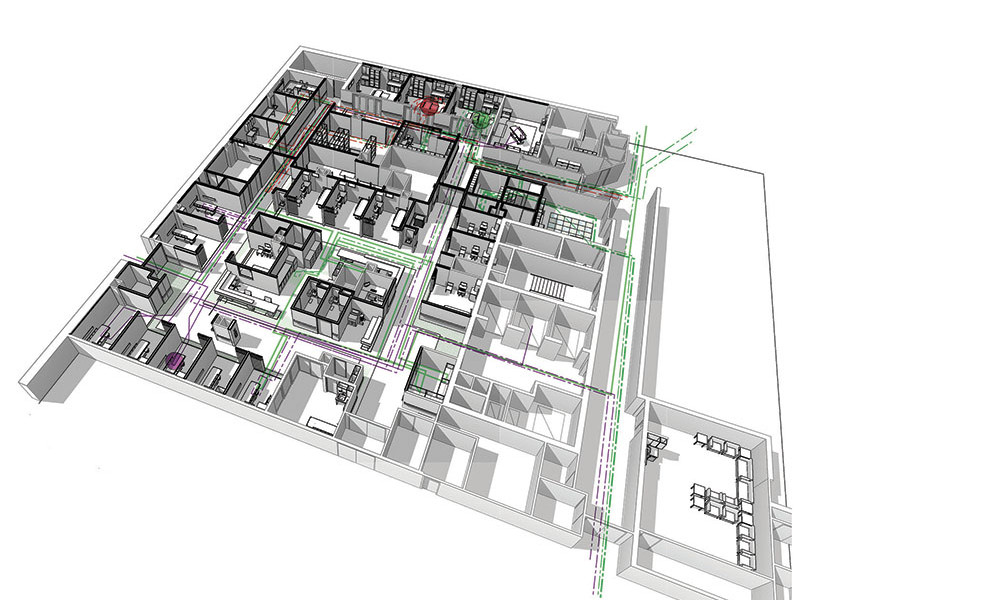 Conceptual 3-D data mapping view of an endoscopy suite equipped with wireless tracking to collect patient, staff and equipment movement.
Subscribe Now
Keep up with the latest news with our magazine and e-newsletter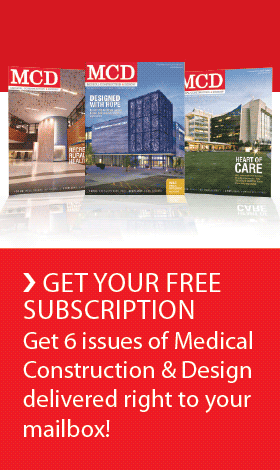 Subscribe to our E‑Newsletter
By John Gill & Craig Pickerel
Innovations in technology have advanced the way design and construction teams collaborate to develop new healthcare facilities. Virtual design and construction, the use of multi-disciplinary digital models of a facility and its processes to inform design and construction decisions, is a strategic process that affords numerous benefits. By advancing collaboration between building owners, designers and contractors, and integrating design and construction data within a shared virtual model, VDC enables schedule compression, cost savings and better alignment between design intent, completed construction and facility operations.
VDC provides an ongoing, updated and holistic view of a project, ensuring the input of all stakeholders is gathered and assessed early in the design phase. While VDC is used to enhance the delivery of a construction project, its future use will extend its benefits throughout the lifecycle of a healthcare facility, saving maintenance and repair costs, improving energy efficiency and, ideally, increasing staff efficiency and the quality of patient care.
Extending VDC into operation and maintenance
Using VDC, design and construction team members simulate the processes, data and geometry of a building or infrastructure, creating a "virtual" project prior to beginning construction. This enables the team to more easily communicate, visualize and analyze building information. The information can then be used to make better-informed decisions to get the facility built on schedule and within its budget.
An innovative and burgeoning use of VDC is to leverage its capabilities beyond the conclusion of construction and as far into the facility's lifecycle as possible. VDC can be used to enhance the eventual operation, maintenance and management of a healthcare facility. To achieve this, the design team will involve operations and maintenance personnel during conceptual stages, and use their input to improve operational efficiency.
Once the project team defines the way information will be used over the building's lifecycle, it is able to create relevant, accurate and accessible data that the facility management team can use at project hand-over and into the future.
During the healthcare facility's lifecycle, a feedback loop could be implemented to gather data, compare predicted versus actual results and optimize processes. This could improve efficiency in terms of the building's life safety systems, energy consumption and availability and even staff performance. Discrepancies in planned versus actual performance could be analyzed to aid in the planning of future renovations or additions.
Improving the patient experience
There are several degrees of separation between the patient experience and the VDC process, which now concentrates on the exchange of information between the design and construction teams. However, in the near term, VDC is likely to be used to make buildings responsive to patients. By using VDC to design building features that put control of the environment into the hands of patients, healthcare organizations are likely to improve patient satisfaction scores, a primary driver in today's healthcare marketplace. As patients are able to customize their environment, they may improve their mood and comfort level, and decrease stress. Ultimately this could impact length of stay and medical outcomes.
There are many ways patients could fine-tune the environment in their room. In a digitally connected building, bedside controls could enable patients to adjust temperature and the amount of daylight in the room at the touch of a button. By adjusting LED lights, patients could change the appearance of wall color. Digital wall art could even enable patients to choose genres, subjects or color schemes of the electronic artwork in their rooms.
A key step in this use of VDC would be to track and analyze data pertaining to the options patients select to customize their environment. Documenting these choices and other behaviors, such as what time patients turn on and off the television and/or what programs are selected, could enable planners to continually fine-tune and improve the available options.
By making accurate recordable statistics available in real-time, VDC could provide a new vantage point into the patient experience. Data could be used to improve facility design and the environment of care. It could also be used to test the validity of Evidence-Based Design decisions. Ultimately, this information would accelerate the body of research and evidence available to owners and designers seeking to develop tomorrow's healthcare facilities.
Enhancing staff efficiency and performance
As cost pressures increase, healthcare organizations find themselves competing for staff, as well as for patients. The design of a healthcare facility should take into consideration not only the needs of the patient, but also the needs of the staff.
One way VDC could, in the future, promote staff efficiency, is to use it to conceptualize, test and eventually monitor a process that will take place within the building. For example, the design process could incorporate a virtual model of the routes used to transport patients from the emergency room to a CT scan, in order to design a floorplan that will optimize staff efficiency. The facility's design could incorporate technology to wirelessly track patient transport, which would enable comparison between predicted and actual traffic patterns in the hallways. Identifying discrepancies would create an opportunity to make adjustments in procedures, or the physical space itself, to optimize performance. Data and analysis of the floorplan's intended versus actual use would in turn inform the future design and construction of healthcare facilities.
The business case: Using VDC to save costs over a facility's lifecycle
Consider the numerous processes and procedures embodied in a healthcare facility's operation. It's likely that many could be modeled, tested and optimized during design and construction. For example, VDC could be used to simulate a building's energy consumption in order to forecast these costs over its lifetime. This would enable comparison between different design options in order to select the most economical. Using simulation to quantify the operational costs is only the first step — the future of VDC is in being able to compare the actual costs of operation with the simulated prediction, and using this downstream data to make subsequent design decisions.
With downstream data available, VDC could ultimately improve patient outcomes by reducing staff errors and preventing hospital-acquired conditions, as the built environment may play a role in both types of occurrences. Virtual modeling could be used to conceptualize, design, test and improve the environment as it impacts incidences of patient infections, patient falls and staff errors.
As healthcare organizations seek solutions to the challenges of today's marketplace, it's clear that the cost and performance of their facilities have significant impact. The use of VDC should appeal to forward-thinking, strategic organizations in their quest for efficiency, cost savings and high-quality patient care.
While there are many potential future uses of VDC, today's projects can benefit tremendously from the use of the technology. As a way to seamlessly integrate the design and construction processes, VDC's benefits are well established. VDC's future lies in the many ways it can add value not only during a facility's conceptual stages, design and construction, but also during its operational life.
Author: John Gill & Craig Pickerel
John Gill, P.E., PMP, LEED AP, is director of virtual design and construction at SSOE Group. He can be reached at John.Gill@ssoe.com. Craig Pickerel, AIA, ACHA, LEED AP BD+C, EDAC, is an architect and section manager at SSOE Group. He can be reached at Craig.Pickerel@ssoe.com.
Posted December 2, 2015
More Articles: