Subscribe Now
Keep up with the latest news with our magazine and e-newsletter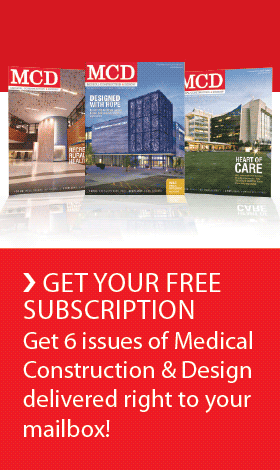 Subscribe to our E‑Newsletter
Construction of a new $47-million Mercy multispecialty facility in Springdale, Arkansas is complete. The 63,000-square-foot center, which will open in September, is Mercy's largest outpatient clinic in northwest Arkansas. The project team included McCarthy Building Companies, Inc. (general contractor); The Lamar Johnson Collaborative (architecture); Heideman Associates (mechanical engineering); Crafton Tull (civil engineering) and KPFF Consulting Engineers (structural engineering).
The facility combines a two-story multispecialty clinic with a 24-hour emergency department. The clinic includes 29 exam rooms dedicated to primary care and 34 exam rooms for specialty care areas such as cardiology, urology, pulmonology, audiology, neurology, endocrinology, sports medicine and bariatric surgery. It is equipped with advanced medical imaging equipment that includes nuclear medicine, MRI, CT and X-ray technology. The ER facility houses 12 exam rooms, two triage rooms, a trauma room, an isolation room and three behavioral rooms.
Innovative building systems integrated into the facility include an energy-efficient variable refrigerant flow heating and cooling system. An onsite helipad will be used to transport acute patients to Mercy Hospital Northwest Arkansas in Rogers for additional treatment. An emergency generator is onsite for operating the ER space.
Located on a 31-acre site, the facility is designed and constructed with built-in flexibility to accommodate future expansion as the community continues to grow.
The construction team leveraged virtual design and construction and advanced technology— including virtual reality, drones, laser scanning and 360 degree video—to streamline construction and complete the project within a 13-month schedule.
Throughout construction, McCarthy's in-house VDC team guided a comprehensive VDC process to effectively coordinate the work of all trade partners and to quickly identify and resolve potential constructability issues.
A high-performance laser-scanning device was used to develop a complete 3D model for all major building components, including mechanical, electrical and plumbing systems as well as steel and architectural finishes. Drones conducted infrared scanning of the building envelope to ensure no water or energy leaks.
Watch a brief video showcasing the technology used to construct the building.
Posted August 20, 2019
More Articles: