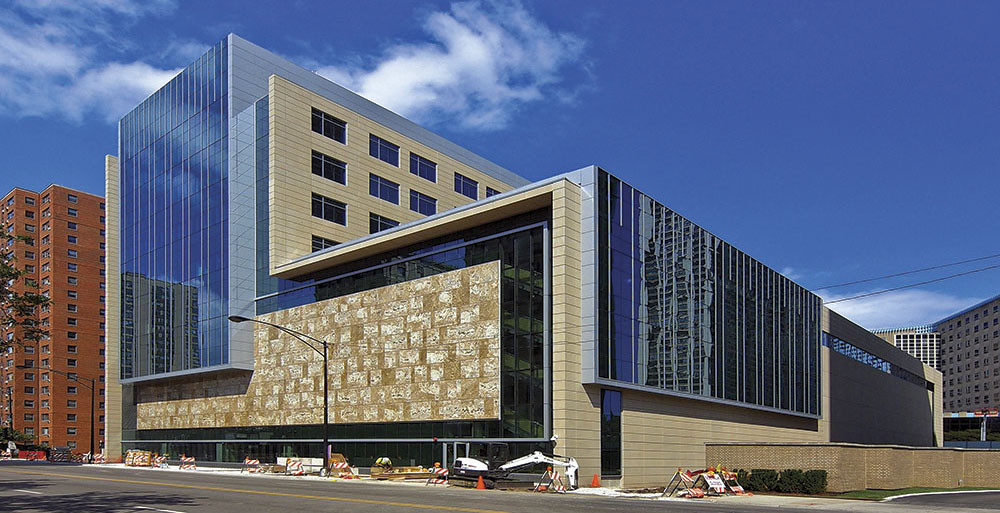 Presence Center for Advanced Care was designed to provide the community with easy access to outpatient services and a dedicated focus on delivering coordinated care by consolidating specialists.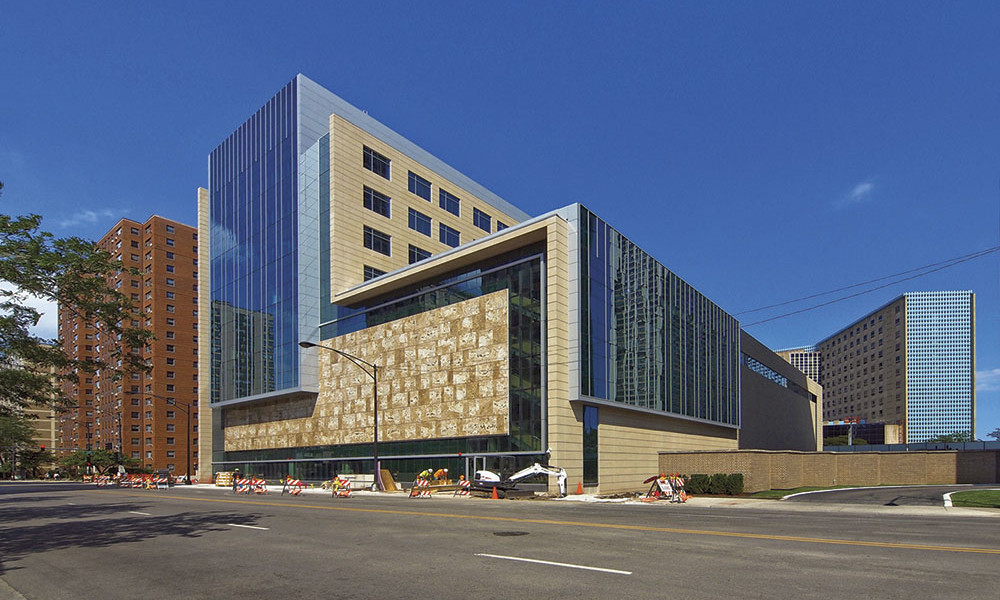 Presence Center for Advanced Care was designed to provide the community with easy access to outpatient services and a dedicated focus on delivering coordinated care by consolidating specialists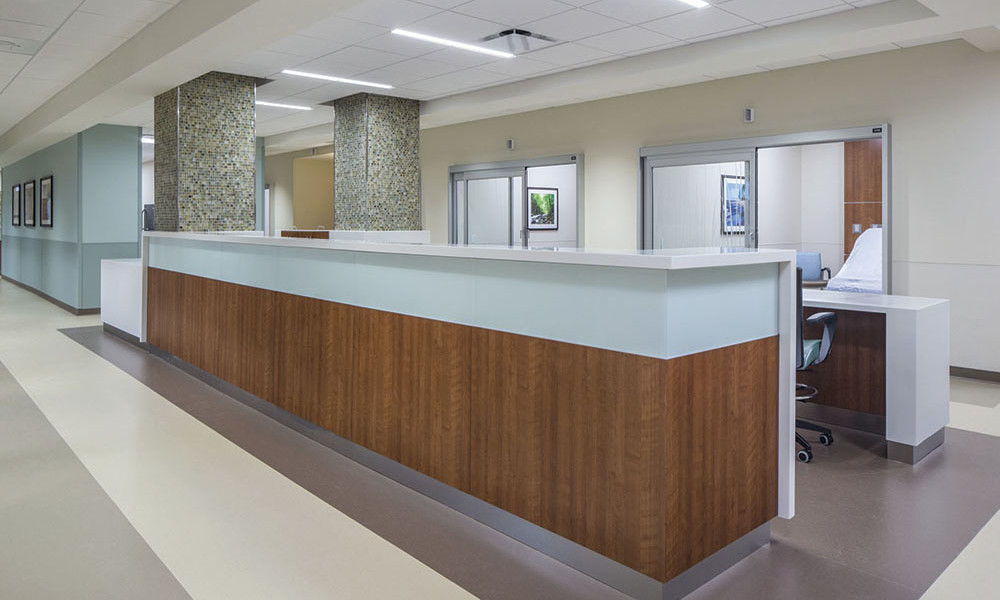 Use of natural light and views were a very important aspect of the design for the pre and post op rooms and nurse stations. Exterior windows allow for natural light to filter into the patient spaces and nurse stations. The collection of artwork, soothing colors and decorative etched glass doors at patient spaces enhance this area and create a less clinical and stressful experience for everyone.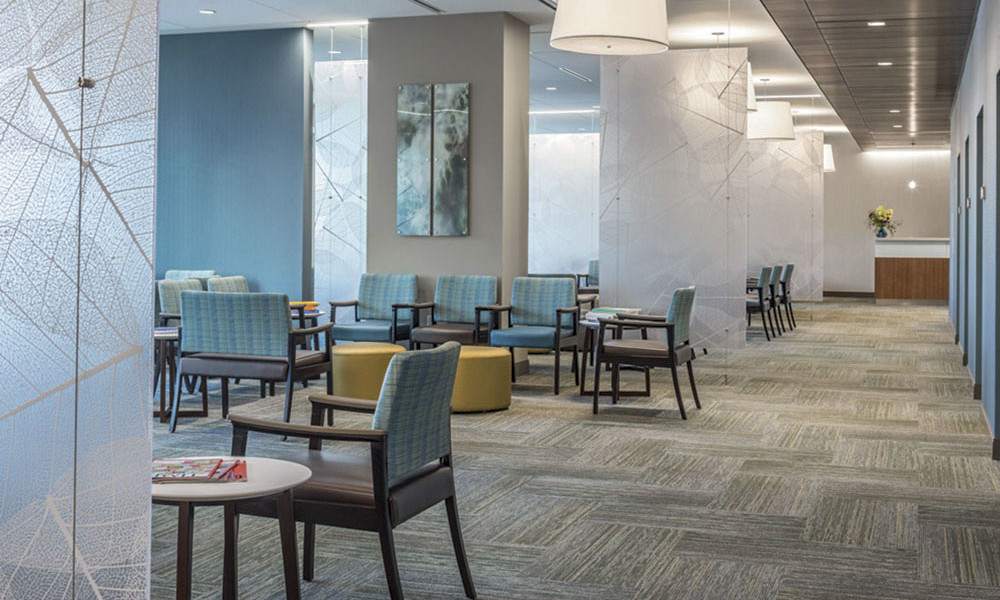 Colorful blues and yellows are incorporated throughout the surgery waiting room. Various smaller waiting areas were created by sub-dividing the overall room. Providing multiple types of seating groupings and the use of materials such as translucent resin panels are some ways that make the wait times more restful and comfortable.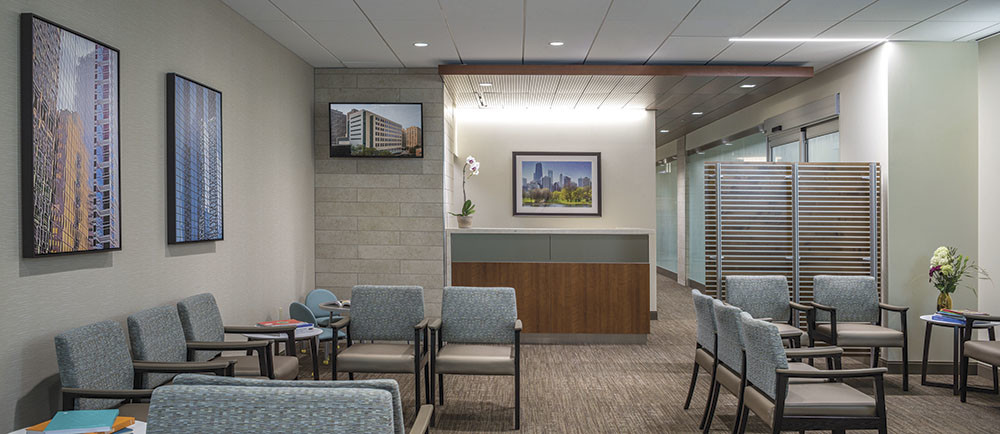 The general imaging suite offers a similar yet varied design approach as its companion — Women's Imaging suite. The decorative wood screen element provides privacy between the waiting area and entrance to the suite. This waiting area provides a sense of retreat and comfort through the use of finish materials and the collection of artwork hanging on the walls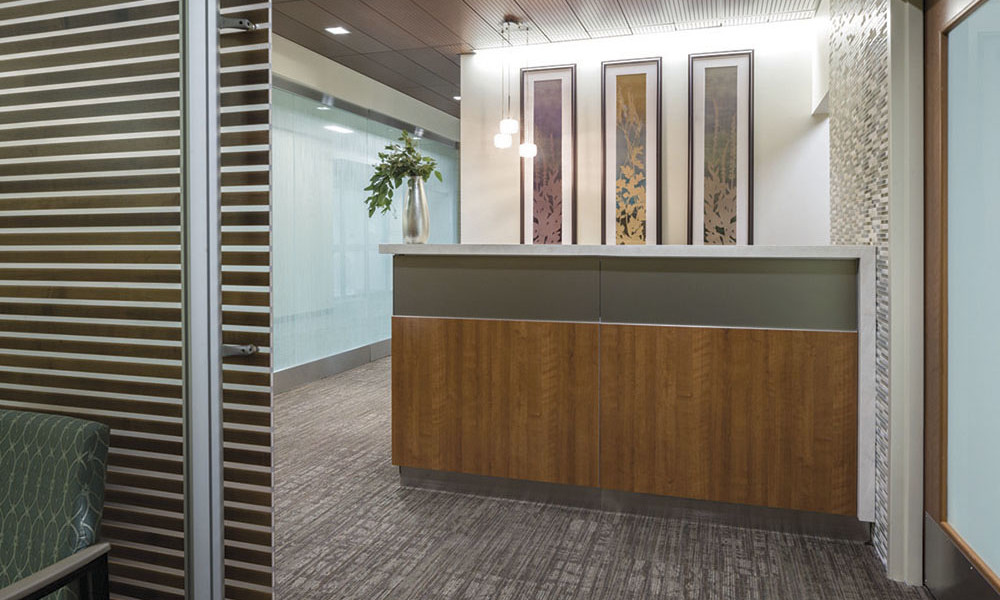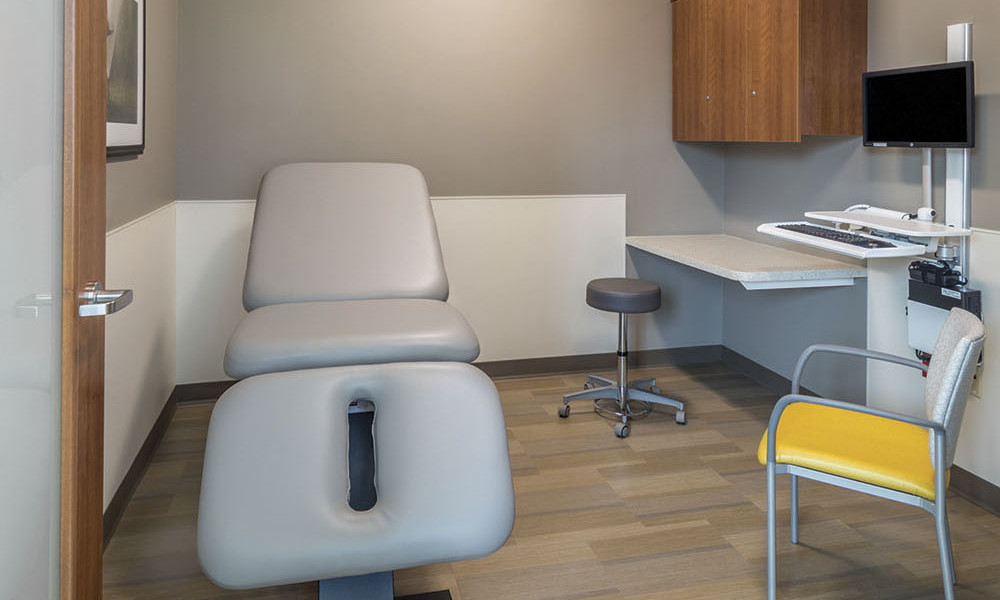 Yellow fabric on the chair, warm gray walls and vibrant flooring all help to create a physical therapy room that promotes an invigorating path toward recovery and healing.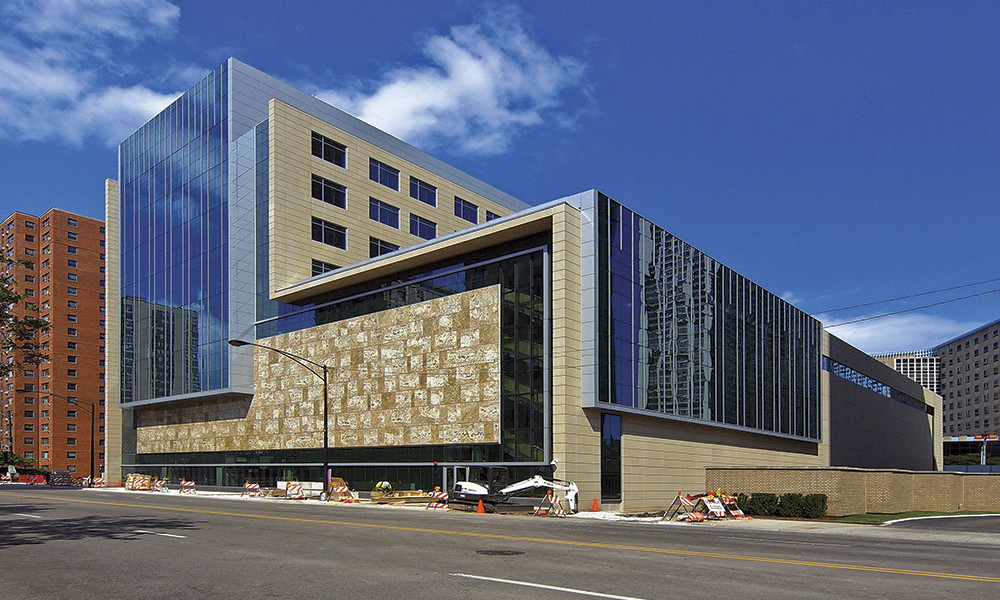 Presence Center for Advanced Care was designed to provide the community with easy access to outpatient services and a dedicated focus on delivering coordinated care by consolidating specialists.
◀
▶
Subscribe Now
Keep up with the latest news with our magazine and e-newsletter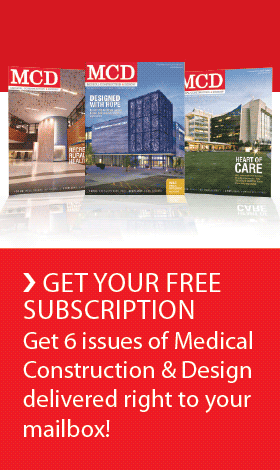 Subscribe to our E‑Newsletter
By Sandy Faurot
Research has shown that access to health and wellness propagates active and sustainable communities. There is an emphasis on improving population health by a comprehensive and holistic approach to wellness.
This has never been more evident than in Chicago, Illinois, at the newest outpatient center on the campus of Presence Saint Joseph Hospital.
A mid-century facility surrounded by competitors, Presence Saint Joseph Hospital focused its revitalization on addressing the needs of the vibrant Lakeview neighborhood with its blend of young urbanites, retirees and baby boomers. The outcome of this effort is called the Presence Center for Advanced Care or PCAC, located in the heart of the Lakefront community.
The PCAC began as a concept to attract physicians and present a new face to the neighborhood and turned into a broader initiative to improve community health across a larger section of Chicago. By relocating key outpatient services from the hospital into a new, efficient and patient-focused environment, Presence Saint Joseph Hospital has shown a commitment to core values that quality, equitable healthcare should be easily available to everyone in the community.
This one-stop shop for health and wellness includes three floors of medical offices, parking and ambulatory care. The programs provided within the new building include a multi-specialty comprehensive cancer center; a musculoskeletal institute providing diagnosis, treatment and rehabilitation and disease management centers for diabetes and bariatrics. Outpatient surgery, imaging and procedure rooms allow a complete spectrum of services convenient for patients, staff and physicians. A sky bridge connects the existing hospital to the new outpatient center across the street, offering a convenient and safe way for patients and physicians to travel between facilities.
In development of the PCAC, three main sustainable strategies were utilized with the hope of creating a healthier Chicago: access to quality healthcare, patient-focused care and smart technology.
Access to quality healthcare
Convenient access to quality care is a crucial component to population health. The team at Presence Saint Joseph Hospital made it their mission to deliver compassionate and effective care to the people it serves by making the center easy to find with a direct connection to the caregivers. Located on Sheridan Road, one of the primary thoroughfares of the neighborhood, the outpatient center is on several bus routes and has parking for patients within the building. By creating a more prominent entrance for the institution, it improves visibility and integrates the hospital more directly with the neighborhood.
Spatially, with the addition of more efficient space, the hospital is able to expand new service lines and gains the ability to attract top-tier physicians. Positioning medical offices directly above the ambulatory care center and adjacent to the hospital means that physicians can see both outpatients and inpatients without losing time traveling between clinics and nursing units. In the same way, locating specialists together increases care coordination, efficiency and patient satisfaction.
Patient-focused care
It's estimated that, on average, patient costs of those with uncoordinated care were 75 percent higher than matched patients whose care was coordinated and that enhanced care coordination could reduce costs by 35 percent. At the PCAC, the initial programming of the design centered on creating spaces where the patient could be seen by multiple specialists. This might include plastic surgeons and dermatologists working alongside oncologists, or specialty hand therapists and sports medicine physicians developing a recovery plan with orthopedic surgeons. Allowing patients to see multiple specialists in one visit increases coordination between caregivers and promotes better outcomes.
Also, studies have shown that incorporating nature-inspired spaces into healthcare design increases patient recovery rates, decreases pain medication needed and improves emotional well-being.  At the PCAC, the views of nearby Lake Michigan, Lincoln Park and rooftop gardens plus the interior bamboo grove help create an environment of serenity and healing. This extends to the gently modulating interior design that takes its cues from a functional need to respond to the Zen-like cancer center and warm women's imaging center to the active and energetic rehabilitation gym.
The PCAC also reflects the caring nature of the institution on the outside by being a good neighbor to its community. Great care was taken to preserve views from adjacent high rises and to provide green spaces. The design and construction phases included many meetings with neighbors and the local alderman to make sure the needs of the community were addressed. To suit the image of Presence Health, a Catholic healthcare organization, a conservative and restrained approach was taken to develop the architecture of the building's exterior. The limestone panels and articulated ends of the existing hospital were reinterpreted in precast concrete and glazed curtainwalls, projecting the new building as an extension of the hospital campus into the city.
Extending sustainable solutions beyond facility walls
Aside from impacting health, healthcare facilities have a huge responsibility to the environment, given that they consume large amounts of both energy and water. In the United States alone, inpatient healthcare facilities are the second most energy-intensive building type. Consequently, hospitals generate approximately 7,000 tons of waste each day, and among that waste are infectious, hazardous and toxic materials. To further improve general public health, there is a dire need for the healthcare sector to reduce waste, water and energy usage — something the PCAC is committed to with a number of sustainable design solutions that were incorporated in the new facility. Tracking to achieve LEED Gold, the PCAC implemented various solutions to better manage water and waste, in addition to creating better facility circulation patterns and space for future expansion.
Smart technology
As a crucial component of hospital innovation, the PCAC made it a priority to become a completely digital hospital. In addition to medical and personal technology, the facility offers a range of smart technologies such as digital kiosks to complement its traditional registration area, Wi-Fi, medical equipment such as X-ray machines and linear accelerators, electronic medical records, video conferencing tools and an online patient portal.
Additionally, technology extends to the construction of the radiation therapy vaults in the cancer center. Rather than building reinforced concrete several feet thick — which would become a permanent part of the building's structure — the rooms were constructed of layers of dense modular blocks. These provide the shielding needed today, while allowing for the rooms to be changed or removed entirely over time as changes occur in the technology for treating cancer.
According to a recent survey conducted at the annual Healthcare Information and Management Systems Society Conference, 38 percent of U.S. hospitals and health systems surveyed have the necessary information technology systems in place to manage populations of patients. By prioritizing technology, PCAC is ensuring smarter, more efficient patient care.
As a one-stop destination center for health and wellness, the PCAC is defining a new sustainable model for delivering comfort and convenience in the heart of a vibrant Chicago neighborhood. At the time when the industry is still learning the impacts of healthcare reform on the marketplace, it is becoming clear that a major component includes providing comprehensive care in an efficient, effective, lower-cost setting.
Interiors Photos: RTKL/David Whitcomb; Exterior Photos: Rich Ferguson
Author: Sandy Faurot
Sandy Faurot, AIA, ACHA, is a vice president at RTKL.
Posted October 20, 2015
More Articles: