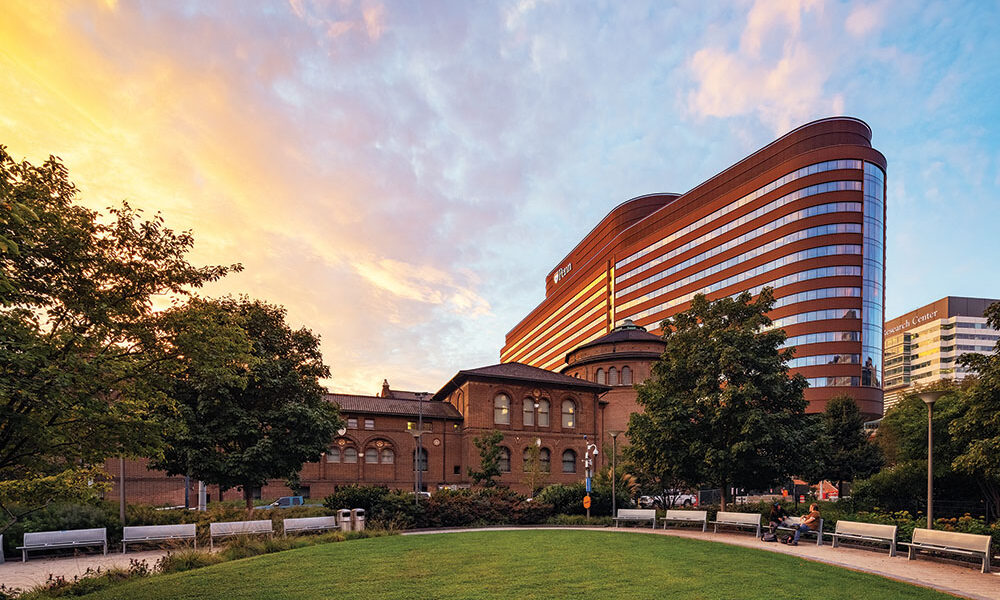 The Pavilion is a 1.5-million-square-foot addition to Penn's academic medical campus, creating new pedestrian walkways and expanding access to green space for staff and students.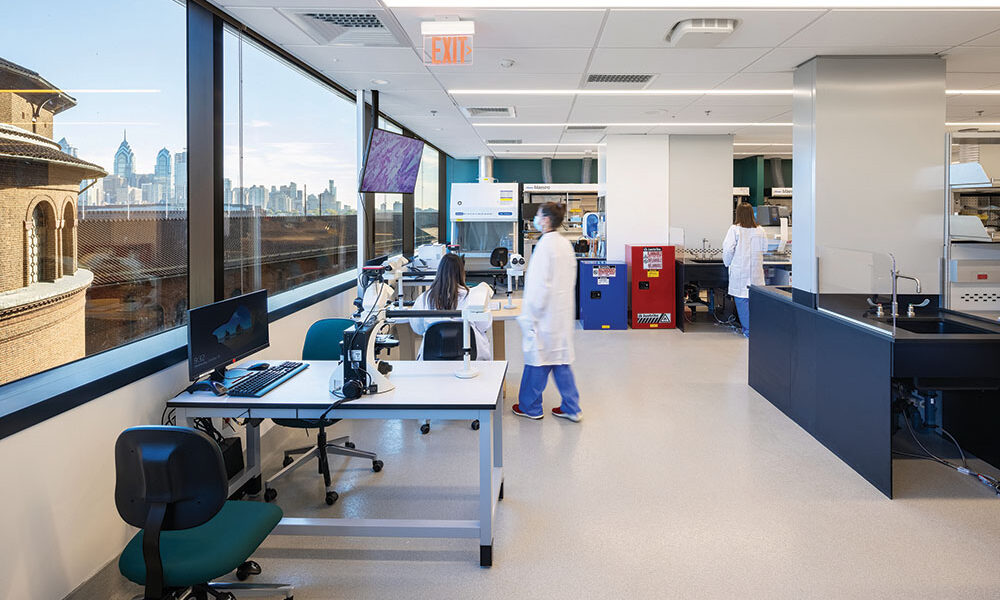 Critical support spaces, like this laboratory, provide ample access to daylight and views for staff.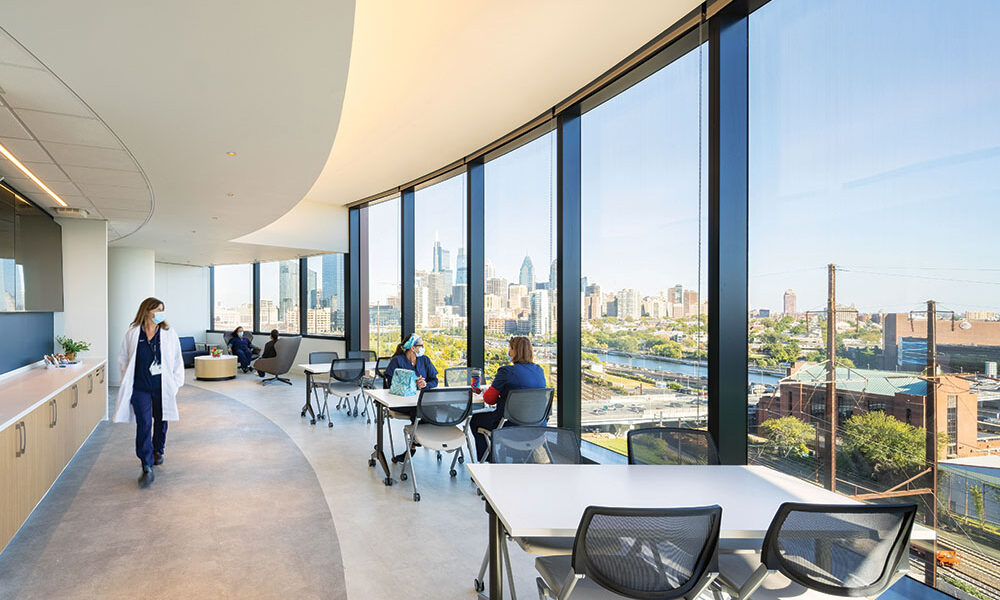 Surgical team spaces with sweeping views of the city allow staff to decompress between complex cases. These multi-use spaces feature open spaces designed to flex between respite, dining, meeting and education, with separate private spaces for heads-down work.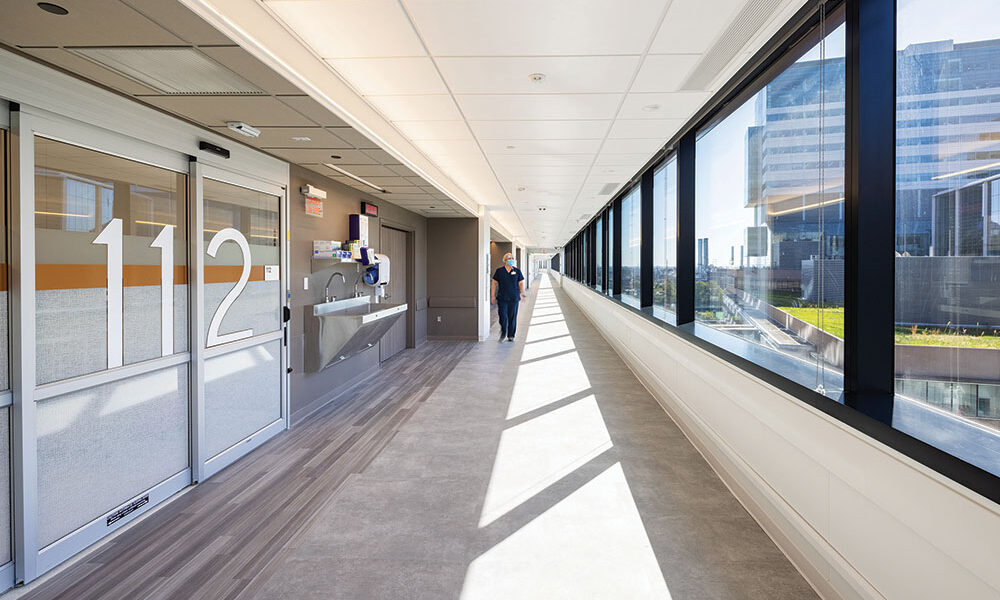 On the perioperative floors, perimeter corridors leading to the operating rooms are flooded with natural light, providing comfort for patients and allowing for borrowed light and views for staff during long procedures.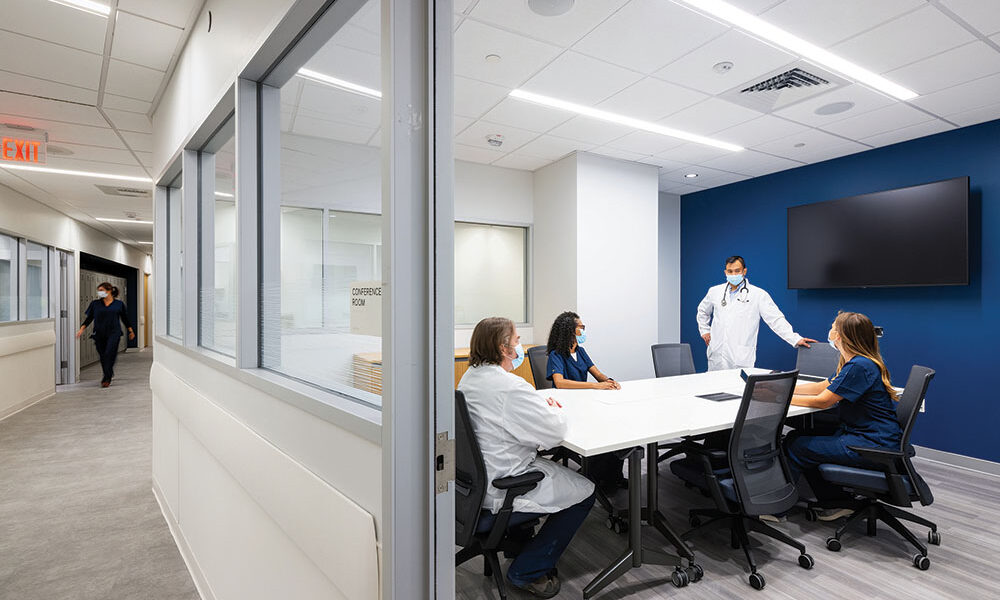 Off-stage work spaces are removed from the patient care environment, allowing for focused collaboration, research and education without disturbing patients.
◀
▶
Subscribe Now
Keep up with the latest news with our magazine and e-newsletter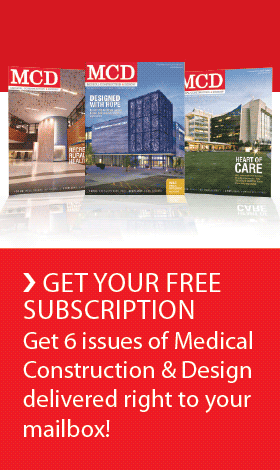 Subscribe to our E‑Newsletter
By Sara Gally | Photos by Dan Schwalm
While the need for healthcare staff respite was not a new idea before COVID-19, no one knew the extent of how necessary it would become. The uncertainties experienced throughout the pandemic emphasized the need for hospital design features that not only help prevent burnout, but actually nurture and nourish staff when they need it most. 
Opened fall 2021, the Pavilion at the Hospital of the University of Pennsylvania is a new 1.5-million-square-foot inpatient facility on Penn Medicine's academic medical campus in West Philadelphia. PennFIRST, an integrated project delivery team comprised of global design and construction experts HDR, Foster + Partners, BR+A, L.F. Driscoll and Balfour Beatty, designed and built the hospital in partnership with Penn Medicine's clinical and facilities teams. 
To ensure the facility supports clinical staff beyond their day-to-day job functions, the design team engaged staff early in the planning process. From increased daylighting and efficient wayfinding to greater accessibility to nourishment and respite, the design of the Pavilion is largely inspired by staff and embraces a holistic view toward the well-being of the people inside.
Double-duty daylighting 
Spaces throughout the Pavilion are warm and welcoming, with light bouncing inward and outward to create a "lantern" effect on the exterior. On the interior, floor-to-ceiling glass at both ends of the building offer sweeping views of Center City Philadelphia at one end, and the University of Pennsylvania campus on the other. In these areas, finishes selected are warm and bright, so light also bounces inward onto patient floors. The lantern experience is for patient and family respite on patient floors; on perioperative floors, the areas serve as multifunctional team space. 
On surgery floors, there are some spaces that patients inherently never see, as the main support for operating rooms are restricted. Daylight was intentionally incorporated into these spaces for staff well-being. Perimeter daylit corridors lead the way to the operating room entries, with 16-foot-wide glass doors facing outward, allowing access to borrowed light in each procedure room. 
The benefit is twofold: the patient feels more comforted as they arrive for surgery, and surgical staff have access to daylight and views during long procedures — even if operating rooms are intentionally dimly lit. This borrowed light approach removes the operating rooms from the exterior for greater control of lighting, temperature and humidity, while still passively offering great views, an uncommon feature in most operating rooms. 
Elevating efficiencies 
Throughout the Pavilion, corridors are indirectly lit, creating a sense of rhythm and improved wayfinding. To minimize disruptions to patients and allow ample space for clinical teams to collaborate, conduct research and provide the best patient care, floors are laid out in an on-stage/off-stage model, which shifts corridor environments from shared to separate between patients and providers. 
On the perioperative floors, an additional elevator bank was incorporated into the design of surgical team spaces, so food could be delivered without violating "red line" restrictions. This is critical for staff working long cases, who otherwise don't have quick and easy access to food and respite during shifts. 
Flexible and functional 
Flexible and multifunctional, staff lounge and team spaces are designed to be a place to take a lunch or dinner break, write a research paper, catch up on other work or simply step away for reflection or rest. On the surgery floors, the team spaces on each floor are shared for all surgical staff, and intentionally non-hierarchal to promote a team mentality and culture — meaning they aren't reserved for specific physician groups or departments. For staff taking a break between cases, these flexible spaces also offer great views and access to daylight without disrupting the flow of their daily routine. 
Room to rest
Providing much-needed support for new parents influenced the location of areas of respite and wellness rooms. Lactation rooms are located near elevators in the same place on each floor and can be scheduled in advance. These simple, yet highly efficient design considerations also guarantee privacy and accessibility to mothers who need to pump. 
Respite rooms equipped with lounge chairs and massage chairs can be used by any staff member. The rooms are designed for adaptability to accommodate future needs. 
Multifunctional and multimodal 
Multifunctional team spaces and respite areas are just one example of design features influenced by staff engagement. As the first hospital to achieve LEED Gold v4 certification for sustainability, having space for bike parking was already part of the design plan. However, given the Pavilion's location — on a dense academic campus in a highly trafficked city center — accommodating commuters of all modes of transportation was a top priority. 
Special attention to bike storage facilities was given to accommodate student and staff commuters, who appreciate having covered, secure and accessible bike parking accommodations. Penn Medicine also partnered with the Southeastern Pennsylvania Transportation Authority to ensure the hospital is more accessible via public transportation. Renamed "Penn Medicine Station," the former University City Station was revamped to feature a pedestrian bridge connecting to walking paths across the University of Pennsylvania's campus. 
Now called "Discovery Walk," these pedestrian paths run along the back side of the Pavilion and connect to the train station, simplifying multi-modal commutes while also promoting wellness and sustainability. Serving as a bridge across the bustling academic medical campus, the Pavilion continues Philadelphia's civic tradition by creating a new public square, anchoring Penn Medicine and creating new connections between the hospital and university campus. 
Designed with the human experience in mind, the Pavilion responds to the needs of people — material and spiritual, measurable and intangible — to provide care not only for patients, but for staff and the greater community.
Author: Sara Gally | Photos by Dan Schwalm
Sara Gally, NCIDQ, EDAC, is an interior design principal at HDR in Philadelphia, Pennsylvania.
Posted April 5, 2022
More Articles: