Subscribe Now
Keep up with the latest news with our magazine and e-newsletter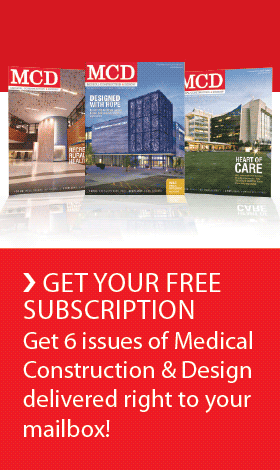 Subscribe to our E‑Newsletter
By Troy Savage & Willy Schlein
The strange experience of a global pandemic was both isolating and uniting. Even as some designers navigated the isolation of working from home, many found new ways to collaborate across distances. In late March 2020, the World Health Organization established an International Help Desk and issued a call to arms to the International Federation of Hospital Engineering. IFHE, in response, assembled architectural and engineering teams to provide consulting and design services. The IFHE response coordinator identified MEP engineering firm Mazzetti and architecture firm LS3P to form the first team to lead the critical work. Mazzetti and LS3P were eager to join forces with designers across the world to re-think and new-think strategies for pandemic clinics and hospitals.
This is a story of resiliency, limited resources, local innovation, international knowledge sharing and community. How could design teams, worlds apart in so many ways, share commonalities in this crisis?
Assignment #1: Conversion renovation (Dedougou, Burkina Faso, West Africa)
The challenge: The team's first project together was to design a conversion from a Women's and Children's Hospital to a severe acute respiratory infection center in Dedougou, Burkina Faso (rural West Africa). The directive was to present strategies for circulation, physical distancing, PPE and ventilation for an existing healthcare facility to prepare for a potential influx of COVID-19 patients. The eight-day timeline reflected the urgency of the situation. After an initial WHO training session regarding existing protocols for drawing standards and formats, the team virtually collaborated to produce a plan and technical report that could be implemented using readily available materials, technology and on-the-ground expertise.
Cultural considerations greatly impacted the decision-making process. While in many countries, visitors to COVID-care units are prohibited, in Burkina Faso, family members are considered to be critical to recovery and therefore visitors would be strongly encouraged to visit (albeit with PPE, physical distancing and other safety protocols). The design accommodates visitors with dedicated circulation routes in and out of the facility depending on the patient's acuity level.
U.S. implications: This inaugural experience yielded several lessons learned: how to provide safe separation for varying levels of COVID-acuity patients; how to accommodate safe places for families to interact for culturally imperative care (providing meals and visual visitation); how to create safe and separated one-way patient, visitor and staff flow; where to include hand-sanitizing locations and how to improve purging airflow using fans and natural ventilation. Unlike the majority of U.S. healthcare facilities, this building was unconditioned, previously relying on windows for natural ventilation. The team proposed a hybrid ventilation system, providing mechanical exhaust, enhancing the natural ventilation, and ensuring safely directed airflow in and out of the patient rooms.
A major cause of human suffering during the COVID-19 crisis has been the separation of patients from their loved ones in our hospitals and nursing homes. Integrating spaces for safer interactions with family and friends provide invaluable comfort and support to those impacted by disease. These same "human nature rules" apply to a highly resourced hospital in a large U.S. city and to the under-resourced rural West African hospital.
Assignment #2: Renovation & addition (Aden, Yemen)
The challenge: Renovating an existing hospital and providing additional wards, the Yemen project focused on patient intake and flow, a new ward for severe and critical cases, upgrades to existing spaces and a new mechanical building. The strategic renovation kept remodeling areas to a minimum, and the modular design and structural grid will allow for rapid expansion in the event of a future surge. U.S. hospitals have also had to think strategically about surge capacity, including rapidly converting community spaces — arenas and convention centers —into multi-bed COVID-19 wards.
The addition of a courtyard between the existing and new structures created a natural respite area for families and staff to safely distance and get fresh air (particularly valuable in a dense urban hospital setting). The courtyard space also created more opportunities for daylight, ventilation and connections to nature from the clinical spaces.
U.S. implications: Based on supporting data, new well-resourced healthcare facilities worldwide are also increasingly incorporating green spaces, natural light and views to nature to reduce patient stress, accelerate healing and support wellness for families and providers, such as Stanford's Lucile Packard Children's Hospital in Palo Alto, California. The LEED Platinum expansion hospital maximizes the use of daylighting, increasing access to views, while mitigating direct solar gain. It's design also includes almost four acres of gardens and green space for patients, families, visitors and staff to enjoy.
Assignment #3: Resilient resource planning (Haiti)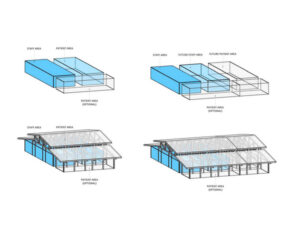 The challenge: This particular design is a story of climate resiliency coupled with pandemic-readiness. The Caribbean project not only addressed a shortage of pandemic-ready facilities, but also responded to the lack of building materials in this low-resourced community. The facility also needed hurricane and seismic survivability. The team met these challenges with modular units, seismically anchored to the site, located above flood levels and connected by open-air pavilions (used in all subsequent projects), thus creating useable safe space in the event of COVID-19 overflow, 200 mph wind, flooding and earthquakes.
U.S. implications: The modularity of this project has widespread applications, potentially allowing rapid redefinition of services offered in the event of a pandemic, hurricane or seismic event. Resilient design and rapid healthcare response will be needed to meet a range of future challenges, particularly in coastal areas experiencing more frequent flooding and storms due to climate change. And, though Haiti, in particular, has suffered tremendous climatic events, we know the effects of climate change are being felt globally; no facility is "immune."
As of September 2021, 19 pro bono design teams have been formed and directed on various projects around the world (including in Brazil, Ghana, Ethiopia, Yemen, Tchad), learning from extremes and quickly adapting solutions.
The ongoing pandemic will forever alter how we design all buildings with public health top-of-mind. Experiencing the more extreme cases of the pandemic wreaking havoc on communities, and the need for rapid response healthcare facilities, has illuminated new and better ways to design – across technology platforms, time zones, language and drawing differences and cultural norms for healing.
Regardless of building type, all designers have been reminded that we design spaces for people, especially in emergency situations. Our future designs will undoubtedly help us live (more) safely together.
Author: Troy Savage & Willy Schlein
Troy Savage is a project manager at Mazzetti. Willy Schlein is healthcare practice leader at LS3P Architects.
Tags: climate resiliency, COVID-19, Engineering, International Federation of Hospital Engineering, Technology, World Health Organization
Posted October 13, 2021
More Articles: