Subscribe Now
Keep up with the latest news with our magazine and e-newsletter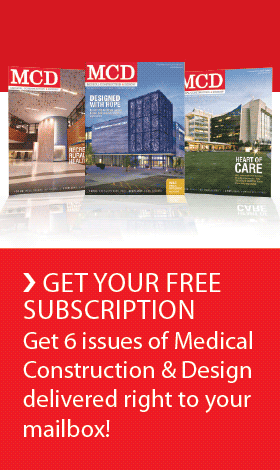 Subscribe to our E‑Newsletter
The University of Virginia Health System's new emergency department and inpatient bed tower offers an enhanced and more dignified experience for patients and staff. Designed by Perkins and Will and built by Skanska, the expansion of the hospital prioritizes well-being, while maximizing the number of patients who can receive care.
The expansion connects patients and staff to the calming effects of nature, reduces the building's environmental impact, allows for greater flexibility in the way patients and staff use space and accommodates evolving medical technology and best practices.
A welcoming entrance 
Patients and family enter the new ED and bed tower through a landscaped, semicircular welcome area that curves outward from the building like outstretched arms. Once inside, they're greeted by a 28-foot-tall atrium with towering windows, which floods the space with natural light. Circular skylights spanning 12 feet in diameter, together with a constellation of recessed ceiling lights, lend a celestial feel to the space—as though one is looking up at starry sky. A light-colored wood ceiling, juxtaposed with white floors and ceilings, creates a feeling of brightness and warmth.
To create a more calming entry for guests, the design team located the hospital's ambulance bays on a lower level. An elevator dedicated to patients arriving by ambulance ensures they can be swiftly transported to the appropriate hospital care area.
In the ED: diverse spaces for diverse needs  
Designed to address critical medical and behavioral health needs for upwards of 70,000 patients annually, the ED nearly doubles UVA Health System's prior urgent care capacity, significantly reducing patient wait times. The prior facility's 45 beds frequently filled so quickly that urgent care patients had to be treated on stretchers in hallways.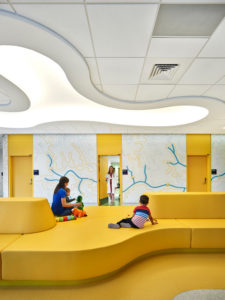 Among the new spaces in the ED are 12 secure behavioral health rooms—separate from the hustle and bustle of the ED—that provide a safe, calming environment for patients in acute mental health distress. Bright clerestory windows in these rooms usher in natural light, creating a soothing effect.
Additionally, a dedicated pediatric check-in and waiting room welcome UVA's youngest patients with bright yellow couches, child-sized seating, a playfully shaped ceiling light and views to the light-filled atrium. An interactive wall depicting a topographical map of the Shenandoah Valley invites children to play with built-in animal figures that can be slid along tracks.
In the bed tower: prioritizing the patient
The new 400,000-square-foot bed tower includes 168 private patient rooms—each of which was designed to offer a range of care options tailored to an individual patient's needs. This kind of flexibility accommodates emerging technologies, changing patient demographics, new clinical practices and future growth opportunities.
To maximize patient privacy, the bed tower was designed with curved walls that graciously block direct views into the rooms of patients in the existing adjacent hospital. At the same time, the curves actually improve sight lines between medical staff and patient rooms, as well as add an interesting aesthetic touch.
The second floor of the hospital is devoted to operating rooms, procedure rooms and diagnostic facilities. Patients can be evaluated and treated in one room, while care staff prepare another patient in the next. This reduces wait time, as well as the frequency with which a patient must move to receive treatment. In fact, UVA is one of the first hospitals in the U.S. to have a CT scanner on rails, allowing the scanner to move to the patient.
Ready to handle a pandemic: COVID-19 
The flexibility of the design of the patient rooms also allowed the hospital to respond swiftly and effectively to the novel coronavirus pandemic. Over 25 days in late February and early March 2020, 84 rooms on three floors of the bed tower, originally scheduled to open by summer, were seamlessly converted to negative pressure rooms. Negative pressure rooms reduce the risk of airborne transmission of viruses and other contaminants to medical personnel and other patients. UVA staff responded quickly, knowing they would need to accommodate an eventual surge of COVID-19 patients, and the flexible design supported their strategic efforts. The first COVID-19 patient was admitted April 3.
Well-being and sustainability 
Ceiling-to-floor windows in the lobby, along with over-sized windows and glass doors in each private room, brighten the hospital with natural light and offer spectacular views of the surrounding Blue Ridge mountains. Additional biophilic design strategies include introducing botanical elements at every turn. A greenroof adds verdure above the lobby on the second floor, and a greenroof terrace brings nature a bit closer to occupants on the third floor. Even wayfinding signage features images of native flora and fauna—an aesthetic nod to the natural ecosystems of the Shenandoah Valley.
In addition to patients, care staff also benefit from an environment that supports their well-being. Break rooms, eat-in kitchens and other "back of house" areas provide daylight and views to the outdoors. For surgical teams who spend hours on end in an enclosed operating room, an adjoining glass corridor—also with views to the outdoors—affords them respite between procedures. This is unique, as in most hospitals, operating suites are located in the building's core.
For family and visitors, too, there are light-filled lounges on every floor where they can relax.
Additionally, the building was designed to meet high environmental performance standards. It employs net-zero water design strategies, including a 50,000 gallon cistern under the ambulance bay that captures greywater for use in heating and cooling, and several greenroofs that mitigate water runoff. Additionally, metal fins on the building's exterior reduce glare and heat, lowering energy consumption.
Photos courtesy of Todd Mason.
Tags: biophilic design, Construction, COVID-19, Expansion, greenroofs, Sustainability
Posted September 14, 2020
More Articles: