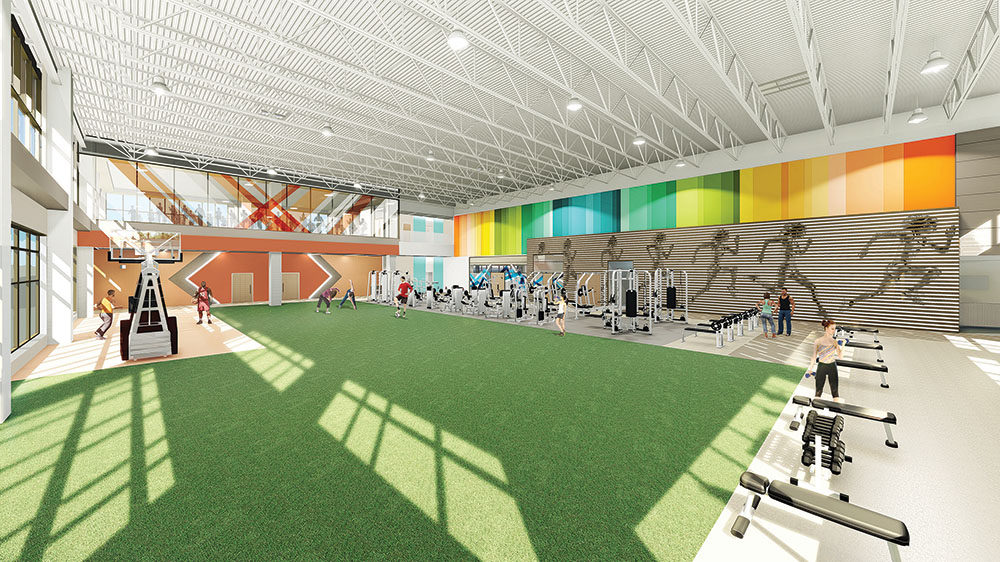 The Regional Health center's treatment gym and physical therapy suite are designed to bring the outside in and incorporate graphics and bright colors promoting energy.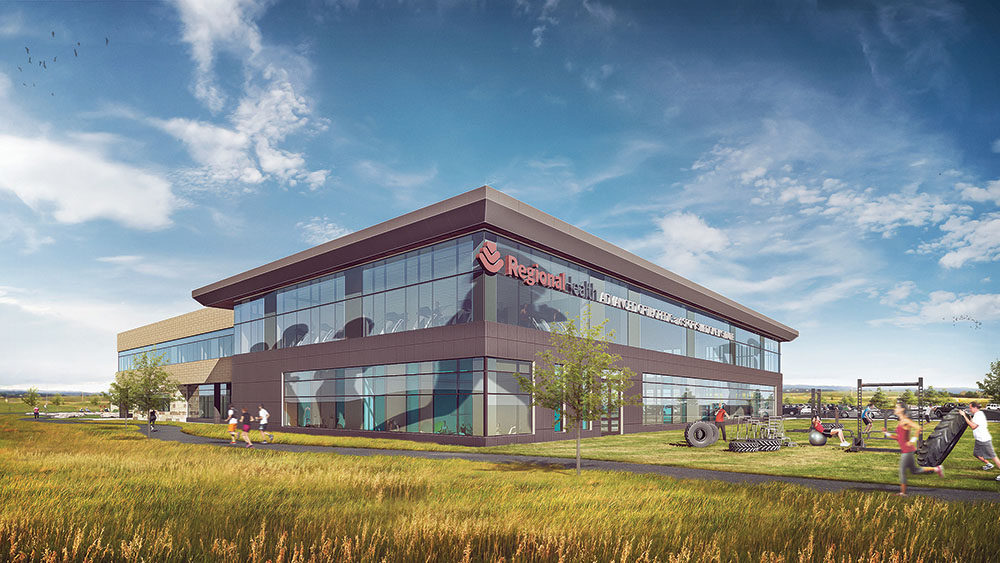 Complementing the architecture of Regional Health's main hospital campus, the exterior of the Orthopedic Specialty Hospital blends local vernacular style with more modern elements.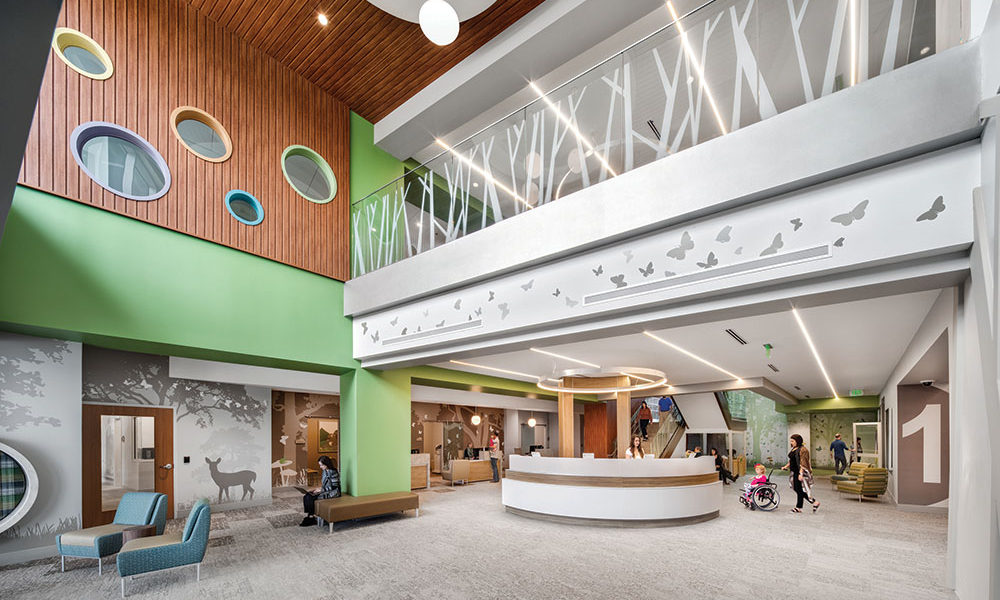 The north main entrance of Anna Shaw Children's Institute serves patients who have more frequent visits for various therapies, including physical, occupational and feeding therapies.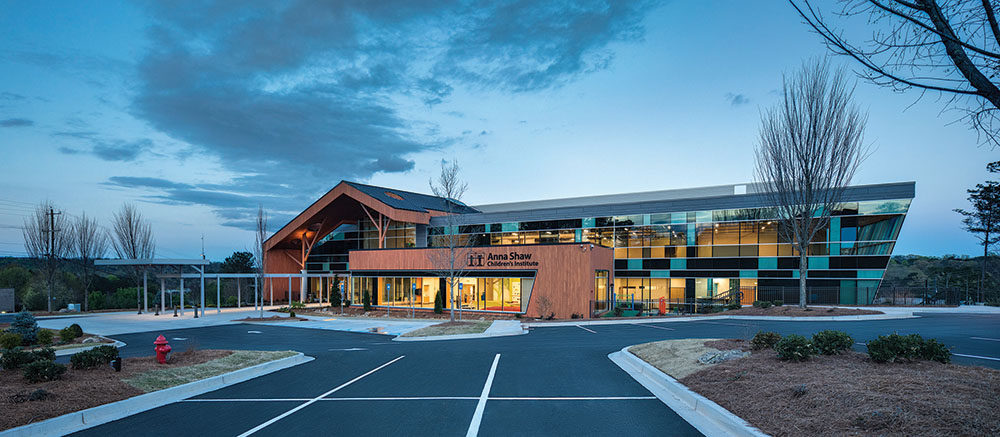 The first level of the Anna Shaw Children's Institute incorporates calming brown tones and carpeted flooring to mask distracting sounds. Portholes are on the second level that children can access to overlook the first level as if in a tree house.
◀
▶
Subscribe Now
Keep up with the latest news with our magazine and e-newsletter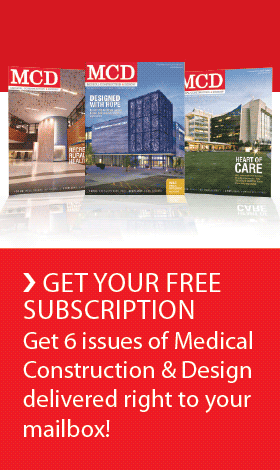 Subscribe to our E‑Newsletter
By Todd Robinson & Kevin Harney
Convenience, immediacy, affordability and specialized services. These are all reasons outpatient centers appear to be filling a discerning consumer demand and proliferating across the country. Scheduling an appointment with a physician in a primary care office may involve weeks of waiting to be seen. And, unless one arrives in an ambulance, walk-ins for an acute-care hospital's emergency department will likely experience several hours of wait time before being seen by medical personnel. 
Standalone outpatient centers, outpatient centers and services integrated with hospitals and clinics in retail settings are addressing time and convenience factors for patient treatment. Obvious advantages of outpatient facilities are that services are provided at a lesser cost than that of the more traditional route — and in some instances, on-demand, with no appointments needed. In the past, reimbursements were not favorable for many outpatient services, but that has changed. Clinical advancements are also allowing previous critical-care procedures to become outpatient.
In January, the Advisory Board released information that the "gap between hospitals' inpatient revenue and outpatient revenue narrowed in 2017," according to an AHA 2019 Hospital Statistics report. The Advisory Board's summation says that AHA's report "found that hospitals' net outpatient revenue in 2017 was $472 billion, while net inpatient revenue totaled almost $498 billion." Outpatient revenue will eventually overtake inpatient revenue in several years, according to predictions.
Initiating a community presence
A trend witnessed over recent years is when a full replacement hospital cannot be justified, the hospital or system will often create a hospital with a strong presence in outpatient services and include limited inpatient beds. This model has proven successful in many markets in order to support a system so a community will not lose care.
Freestanding emergency departments are trending for providing care that urgent care centers cannot, and also creating system growth for outreach into communities. Many of these FSEDs provide an outpatient lab, radiology and diagnostics. Others may include an urgent care component. The urgent care service can take the pressure off the ED, while providing another access point into the healthcare system. 
Still other FSEDs are sometimes positioned to grow into neighborhood hospitals with a limited number of inpatient beds after establishing a medical presence in a community. 
An example of an emergency department initiating a medical presence is AdventHealth Winter Garden in Winter Garden, Florida. Phase I includes a 16-bed ED, 12-bed observation unit, urgent care, imaging, outpatient surgery center and medical office space. After having opened Phase I to patients in 2016, Phase II, which includes a seven-story bed tower and medical office building, is anticipated to open in early 2021.
Latest trending services
Outpatient cancer care, imaging centers, rehabilitation facilities and women's and children's outpatient services have been on the scene for a while, but their numbers are growing — with some becoming more specialized and others more comprehensive. 
In the wake of widespread opioid and other controlled substance addictions, more behavioral health centers are strategically springing up. Outpatient orthopedic surgery centers are addressing sports injuries, baby boomer worn-out hip and knee joints and other multiple orthopedic problems. The new 115,000-square-foot, standalone Regional Health Orthopedic Specialty Hospital, with a sports performance component in Rapid City, South Dakota, opened to patients in January of this year. The result of a Lean-led design effort, the modern building houses both orthopedic inpatient (although a limited number of beds) and outpatient services. The design emphasizes easy access, patient experience, efficiency of patient circulation and providing easy, convenient staff and physician access between inpatient and outpatient environments. 
Another unique example of an outpatient facility is the Anna Shaw Children's Institute for Hamilton Health Care System in Dalton, Georgia. The institute, designed around a tree house theme, focuses on best practices, Lean attributes and Evidence-Based principles in providing diagnosis and treatment for children on the autism spectrum, attention deficit and other developmental disorders. 
Outpatient facilities do not have to necessarily meet the requirements of an inpatient, acute care hospital and are, therefore, more cost effective to build. In order to contain overhead and operational costs to the benefit of the provider with savings passed on to the consumer, there are strategies that can be incorporated into design that will not compromise patient care, but still provide a quality healthcare environment. In addition to affordability, patients/consumers want convenience and immediacy. Some design trends taking place that are answering these needs include:

Space utilization and standardization
Multi-specialty outpatient centers are developing standardization to maximize square footage and support more efficient operations. This may include standardizing exam pods so the medical facility or system can use the spaces as specialty clinics with the ability for physicians to rotate. Standardization can also include work areas for physicians rather than offices and centralizing registration for all clinics with an emphasis on pre-registration.
Prefab building solutions
The envelope continues to be pushed on modular prefabricated building, which is gaining momentum in popularity. Some FSEDs today are completely prefab. There is a push to make prefab construction quality equivalent to that of conventionally built facilities. A critical value to the process is on-time delivery. 
As prefab building components are built offsite, quality control is typically higher than built-on-site facilities. Additionally, the weather-delay factor and labor issues are virtually non-existent. Although prefabrication is more efficient than traditional builds, costs can be higher due to shipping costs. The challenge to designers and contractors is maximization of prefab advantages. 
Modular work stations and other interior modular components are becoming more viable. A modular concept allows easy adaptation of a room and its components for other needs without tearing out casework. While the cost may be higher on the front-end, the result is more flexibility for long-term use. One downside: when different types of casework are merged, coordination can become complicated. 
Hotel accommodations for recovery
A noticeable trend is the provision of adjacent or integrative hotels to a hospital or medical center for patient post-op long-term recovery. Advantages include: 
Reduced costs for the patient staying in the hotel as opposed to hospital costs
A healing environment for the patient minus the typical noises associated with a hospital
Nursing care availability
Comfortable sleeping accommodations for a family member
Dining options for patients and family
An example is The Center for Advanced Healthcare at Brownwood + Brownwood Hotel and Spa in The Villages, Florida. Scheduled for completion at the end of this year, this five-story facility will be the first phase of a long-term ambulatory care program. Designed for future expansion, the specialty center will house multiple medical specialties, ambulatory surgery and retail tenants. 
The boutique Brownwood Hotel and Spa will conveniently connect to the specialty center's second floor, on which are located ambulatory surgery, cath lab, medical oncology and an aesthetics practice. An outdoor courtyard between both projects provides outdoor event space and a gathering space for patients, families and guests. The convenience of the hotel takes the stress out of having to leave home before dawn to be at the medical center for an early surgery. The patient can check in at the hotel the night before and then easily get to the surgical appointment on time. Patients will also benefit with the proximity of the hotel for a next-day post-op checkup.
As advances in healthcare and medical practice continue to evolve, various types of outpatient settings will continue to evolve. The trend toward outpatient care remains solid for the future. The task is to continue to develop and create efficiencies for outpatient facilities that will contain costs from which both the providers and patients will benefit.
Author: Todd Robinson & Kevin Harney
Todd Robinson, FAIA, EDAC, is president and principal at ESa (Earl Swensson Associates). Kevin Harney, AIA, is vice president and principal at ESa.
Posted October 2, 2019
More Articles: