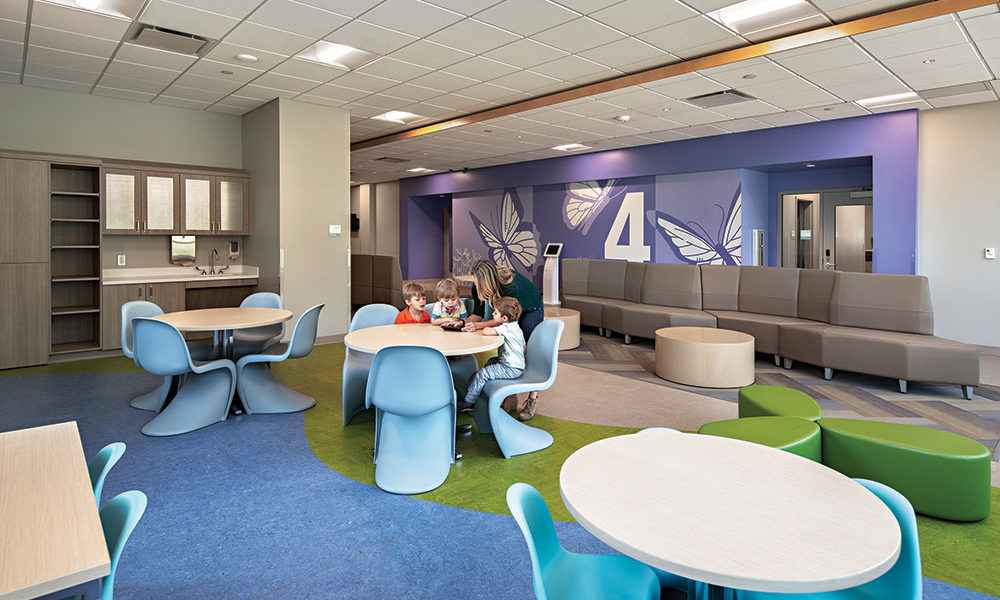 Waiting spaces include child-friendly furnishings and colorful experiential graphics to minimize stress for young patients and their families. Photo by Stanley Capps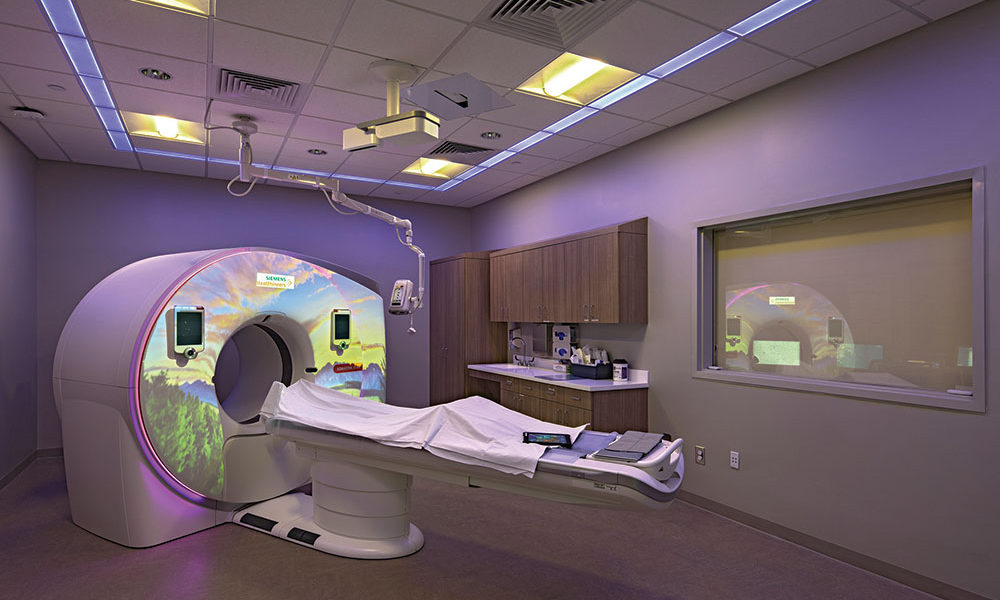 Each patient can choose from a range of age-friendly projection images cast on the equipment and wall in both the CT and MRI rooms giving patients individual control over their environment during difficult procedures.Photo by Stanley Capps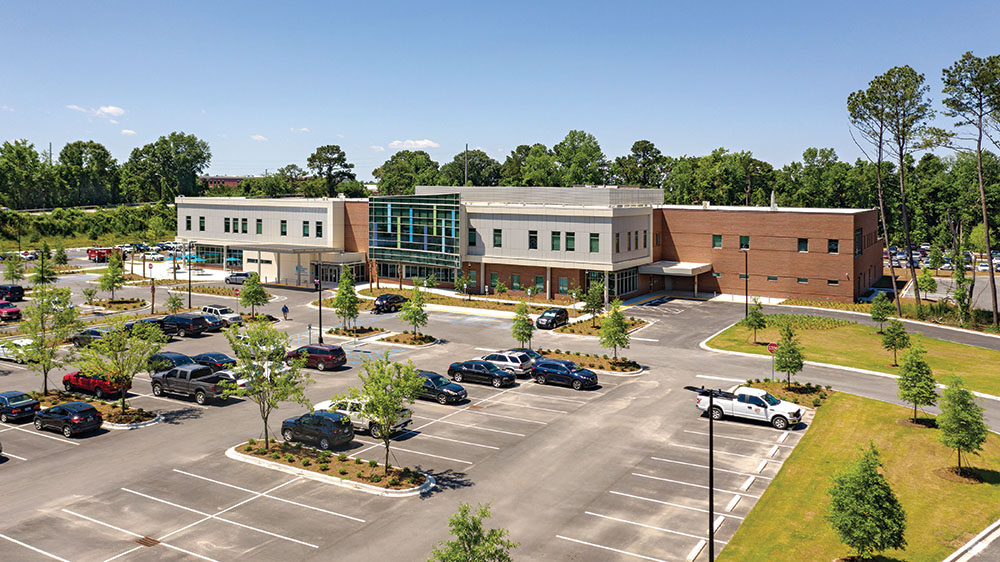 Photo by Stanley Capps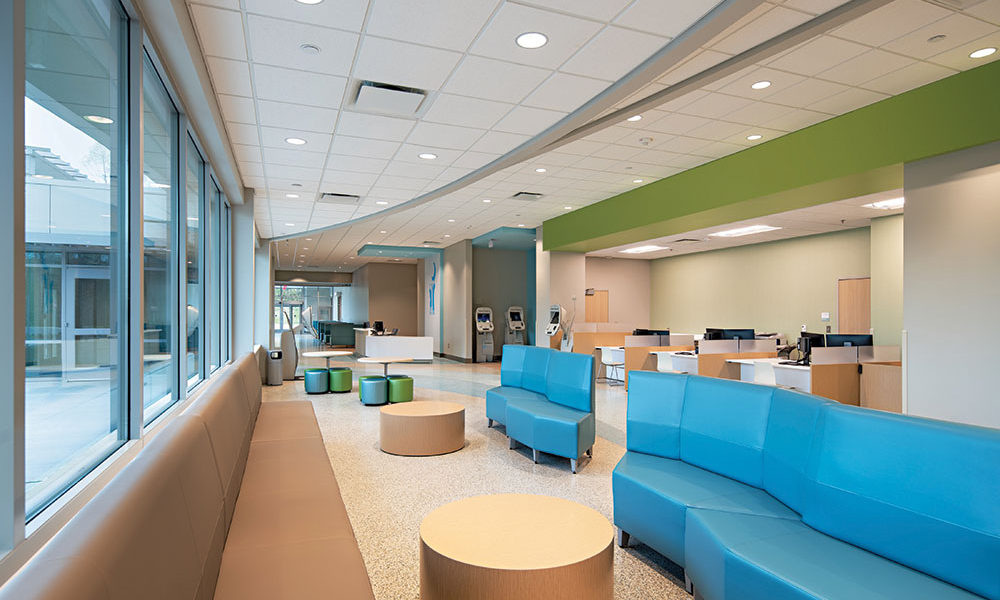 Photo by Stanley Capps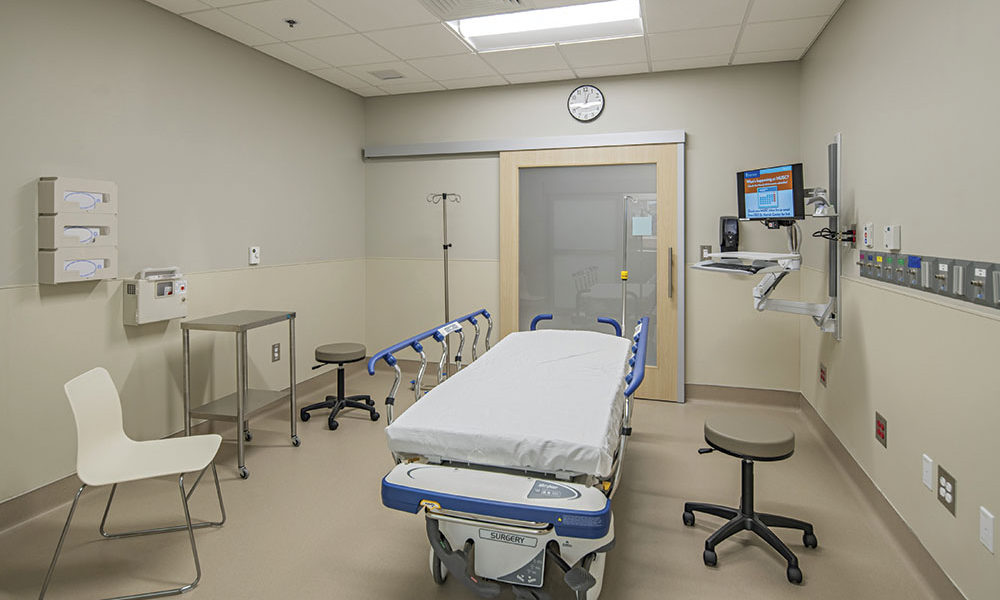 Photo by Stanley Capps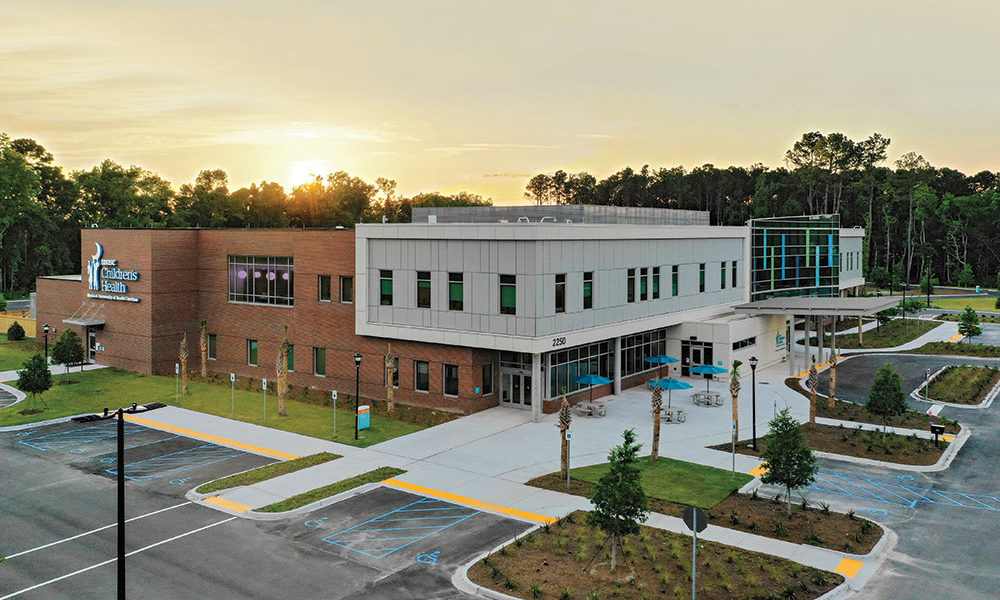 The exterior materials palette of brick, fiber cement panel and curtainwall create visual interest and a human-scale form tying back to MUSC's main campus brand. The curtainwall "sail" element provides a welcoming and highly visible entry point. Photo by Stanley Capps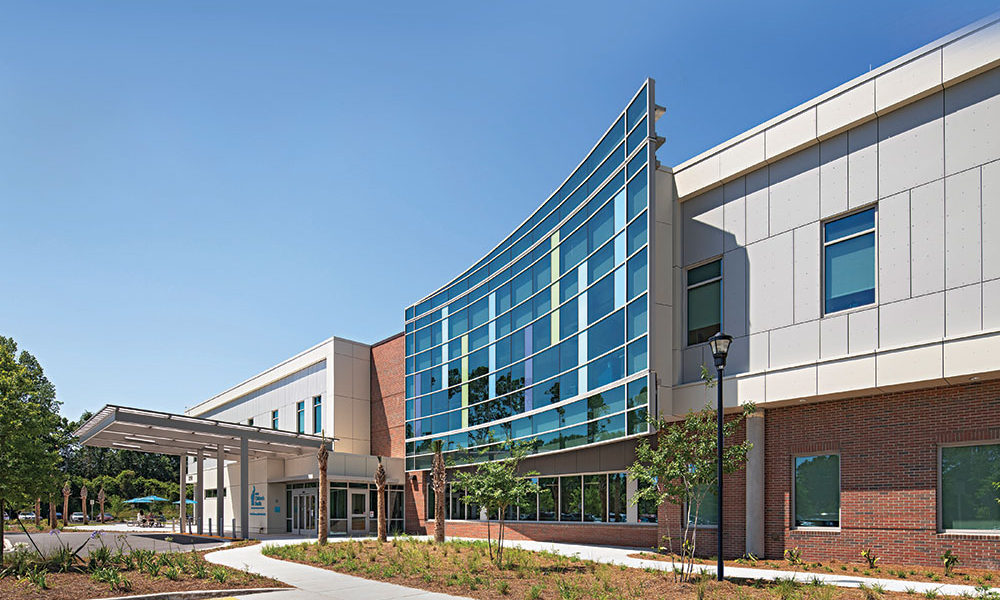 Photo by Stanley Capps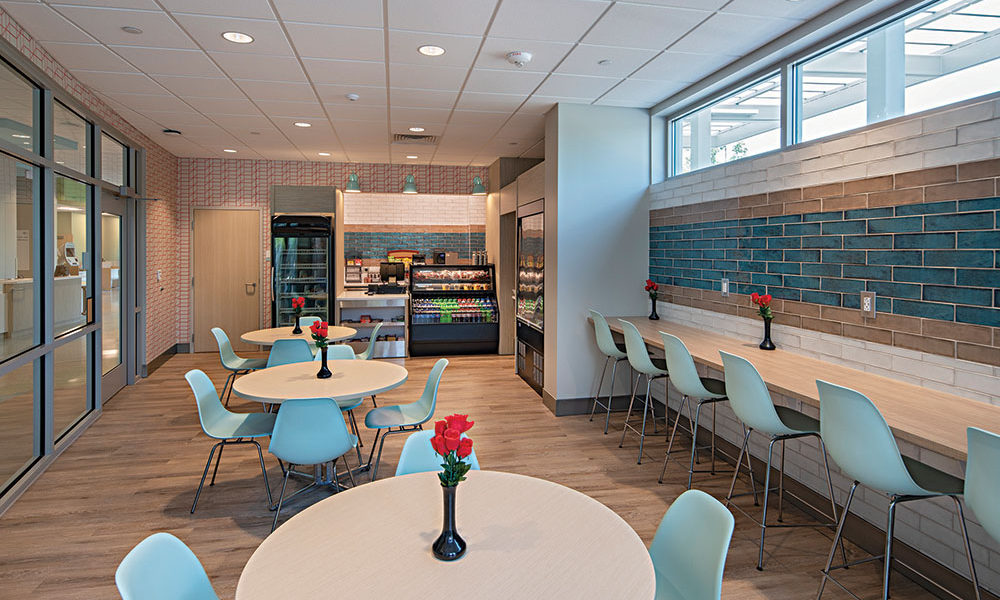 The bright and cozy café offers visiting families a respite while waiting for appointments and procedures. Photo by Stanley Capps
◀
▶
Subscribe Now
Keep up with the latest news with our magazine and e-newsletter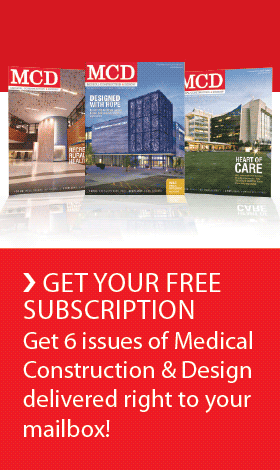 Subscribe to our E‑Newsletter
By Katherine B. Ball
The Medical University of South Carolina, originally founded as a small private medical school in 1824, has been a leading healthcare provider in the Charleston area for close to 200 years. MUSC has long served pediatric patients from its main campus on the Charleston peninsula; however, as the patient population continues to grow and available land in the historic district becomes increasingly scarce, keeping up with patient needs across the region will require new models for healthcare delivery, such as ambulatory care.
With an eye toward that future, the MUSC Children's R. Keith Summey Medical Pavilion opened April 1 in North Charleston. The bright new facility maximizes the advantages of outpatient service delivery models and achieves several key goals for MUSC. The design, led by LS3P, integrates high-impact wayfinding and incorporates strategies to maximize operational efficiencies and multi-use spaces. Additionally, the pavilion relieves pressure on MUSC's main campus facilities on a site which will accommodate future expansion as needs evolve. 
Embodying patient-centered design
In planning and designing the R. Keith Summey Medical Pavilion, every decision was rooted in MUSC's commitment to a patient-centered care model. The design team began by listening to families and patients to develop a deep understanding of their needs and experiences. A family advisory group guided the decision-making process from the earliest project stages, and the invaluable perspective this group provided served as an over-arching tool informing the design. 
LS3P Associate Principal and Architect Lindsey Stang, AIA, GGP, believes a positive patient experience begins before arrival at the facility.
"Ease of access is a critical part of patient-centered care," Stang said. "The North Charleston neighborhood is convenient for both local patients and those traveling from other parts of the state for specialist appointments."
From the generous parking to the self-service check-in kiosks, Stang added, every step of the arrival process focuses on streamlining the registration experience with a blend of technology and strategic staffing. As an added amenity, families can save time by preregistering and initiating the check-in process from home.
Friendly faces at the information desk greet families upon arrival, and direct them to the self-serve kiosks or traditional registration desks. Parents can hit a button to check in and receive a print-out mapping their appointment schedule and location. As part of this streamlined registration process, arrival stations outside of the clinical pods alert the nurses that the patient is ready. Understanding that technologies and visitor preferences evolve, the team designed the registration area for flexibility if clear preferences emerge for more kiosks or more traditional stations. 
When navigating a healthcare event, small comforts take on outsized importance in alleviating stress. With the new facility located in a food desert, the family advisory group advocated strongly for the small café that remained an important program element during the planning and design process despite space and budget constraints. The cozy 500-square-foot space offers grab-and-go service with indoor and outdoor seating in close proximity to waiting rooms, providing access to coffee and the opportunity for brief respite during a long day. 
Child-friendly wayfinding
To make the facility as welcoming and easy to navigate as possible, MUSC invested in environmental graphic design as an economical and high-impact tool for wayfinding. LS3P's EGD specialist Jennifer Howell was careful to design graphics to appeal to a wide range of patient ages. "We deliberately provided multiple touchpoints including color, numbers and graphic Lowcountry animal themes, which would be relatable and comfortable for patients from the 'Disney' stage to the 'iPhone' stage," Howell says. 
A river and marsh theme befitting the North Charleston neighborhood inspired the graphic ecological elements, which draw people in and through the space to the treatment areas. Because of the holistic design and thoughtful detailing of colors, themes and circulation, the facility is easy and enjoyable for families to navigate. 
Built-in operational efficiencies 
The pavilion's design is patient-centered, but also laser-focused on the operational efficiencies, which allow physicians and staff to deliver the highest quality of care. Flexible exam pods designed to support multiple users accommodate rotating teams of specialists each week, a setup that creates the potential for doctors to see more patients and for families to schedule multiple specialist appointments during one visit. 
Outside the operating rooms, separate induction rooms provide multifaceted benefits. Parents can stay with their children during the anesthesia process without donning the traditional "bunny suit" required in an OR setting, reducing stress for everyone involved; providers can maximize OR efficiency and in-use time by prepping patients elsewhere. 
LS3P Vice President and Principal Becky Smith, AIA, NCARB, LEED AP BD+C, was excited the early stages of design coincided with a research study between MUSC and Clemson University on designing the operating room of the future. The four-year project, funded with a National Institutes of Health grant, focused on "Realizing Improved Patient Care through Human-Centered Design in the Operating Room." 
"As a result of this ongoing study," Smith explained, "the design team was able to incorporate research on ideal room orientation and size, the location of the OR table, the placement of the anesthesiologist and other emerging findings to improve OR function, efficiency and safety."
MUSC also planned for multi-use spaces, greatly expanding service capacity without adding to the building's footprint (or cost). The OR transitions to a pediatric urgent care facility at night for nearly 24/7 utilization of the space. A child life/teen area on the second floor transitions to educational space after hours for staff training or events. Flexible furnishings transition easily to open classroom functions. Physician and staff workspaces are flexible as well; the deliberate lack of assigned desks has encouraged a more authentic collaborative-care approach, while creating shared multiuse areas for telemedicine or lounge spaces. Throughout the facility, durable, easy-to-clean surfaces such as composite tile and marmoleum sheet flooring create an additional return on investment by minimizing the maintenance crew during the day to reduce staffing needs. 
Creating a common thread
Aesthetically, the R. Keith Summey Medical Pavilion relates to MUSC's existing materials palette, while integrating into its neighborhood context. The two-story building is designed to accommodate future expansion as needs evolve, and is clad in an economical, durable fiber cement panel and brick façade with a distinctive curtainwall "sail" referencing MUSC's logo and brand. 
Colored glass panels add a sense of playfulness, while a generous canopy delineates the entry and provides a sheltered drop-off point. The varied materials and careful attention to detailing break up the long, linear building mass into engaging human-scale elements.
The interior design relates to MUSC's "sister" children's facility, Shawn Jenkins Children's Hospital, scheduled to open in the fall of 2019 on the hospital's downtown Charleston campus. The two facilities will share an interior color and materials palette, with the R. Keith Summey Medical Pavilion celebrating a river theme acknowledging the area's industrial port history and nature and Shawn Jenkins Children's Hospital incorporating related Lowcountry themes. The visitor experience will be cohesive across campuses, while integrating place-based design strategies to engage patients and their families at each site. 
Bringing vision to life
This new facility represents MUSC's first major investment in combined outpatient surgical center and clinic facilities, and reflects the changing face of hospital systems and outpatient healthcare delivery models. 
Dr. Andrew Savage, MUSC's medical director for pediatric heart failure and transplant and director of the Pediatric Cardiology Clinic, said, "When dreaming about a dedicated outpatient facility for the children in South Carolina, we wanted to make it an enjoyable space for patients, families and providers, alike. We also knew we had to make it an efficient space; we know no one wants to spend unnecessary time at the doctor. The space is truly exceptional." 
Author: Katherine B. Ball
Katherine B. Ball, AIA, LEED AP, is a senior associate, writer and researcher at LS3P.
Posted October 1, 2019
More Articles: