Subscribe Now
Keep up with the latest news with our magazine and e-newsletter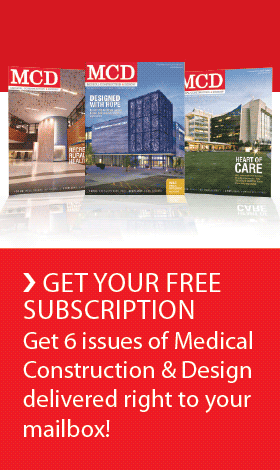 Subscribe to our E‑Newsletter
US Federal Properties Co. has been named developer for the U.S. Department of Veterans Affairs' new outpatient health clinics in Chattanooga, Tennessee, Phoenix, Arizona and San Antonio and Lubbock, Texas. These new clinics will expand the VA's network of outpatient sites that serve 9 million enrolled veterans annually and help to accelerate their access to care. The four new clinics will be designed to accommodate some 225,000 veterans in 733,563 square feet across all four facilities. In collaboration with USFP, which develops, finances, owns and operates federal government-leased properties, Hoefer Wysocki will lead the architectural and interior design of the new healthcare clinics. Construction for each clinic is set to begin in summer 2019.
Each clinic is guided by a design theme woven throughout the interior and exterior spaces, resulting in an environment that is warm and welcoming for patients and visitors, provides efficiencies for providers and administrators, and engages the surrounding community.
VA Community Based Outpatient Clinic, Chattanooga, Tennessee
"A Beacon of Hope"
The design centerpiece of the single-story, 100,570-square-foot Chattanooga clinic is a transparent, iconic "Beacon of Hope" – a distinctive 32-foot glass and wood structure that marks the main entry, creating a strong visual identity and sense of place. A brick veneer finish on the exterior imparts a feeling of comfort and permanence. The clinic is nestled into rolling terrain with native landscape and green space, an iconic memorial to veterans. The outdoor environment, created through extensive landscaping, site amenities, architectural elements and native plantings, contributes to a setting conducive to healing by emphasizing a connection to nature. Waiting areas in the lobby feature expansive glass walls and a clerestory providing abundant daylight and views of the surrounding landscape. Meyer Najem Construction is general contractor.
VA Outpatient Clinic, San Antonio, Texas
"Healing Embrace"
The three-story, 236,595-square-foot VA San Antonio clinic welcomes patients with healing embrace – a grand curved front entrance that guides wayfinding upon arrival. An atrium floods the main lobby with natural lighting and serves to visually connect upper floors with the main level. The building's sweeping curves are defined by a glass curtainwall, flanked on either side by stone veneer. The exterior is clad in Texas limestone and glass. Effective site integration, with extensive native plantings, result in a lush, park-like, pedestrian-friendly setting, further contributing to the healing experience. The interior design finishes create visual connections to the exterior – visual and physical access to the natural elements create a healthy, relaxing environment to comfort patients and visitors, and improves staff productivity and retention. Jacobsen construction is general contractor.
VA Outpatient Clinic, Lubbock, Texas
"A Healing Partnership"
The design vision for the two-story, 124,696-square-foot VA Lubbock clinic is to seamlessly integrate with the Texas Tech University campus on which it will be developed while maintaining a distinct identity to welcome veterans. Inspired by the university's rich history and well-preserved Spanish Renaissance Revival architecture, the clinic's exterior is reminiscent of this style and uses a complementary brick veneer and clay tile roofing. A soaring two-story glass curtainwall forms a majestic entry while flooding the interior with daylight, offering views of the surrounding campus, and creating visual connection between the upper and lower concourses. Jacobsen construction is general contractor.
VA Phoenix Outpatient Clinic, Phoenix, Arizona
"A Healing Oasis"
The VA Phoenix clinic design is inspired by Arizona's vibrant color palette, striations, elevations and geological formations. The site, located in the city of Phoenix Valley Metro light rail Gateway district, includes transit-oriented development features with access to public transit, pedestrian connectivity, shading and other features required pursuant to the prevailing city of Phoenix Walkable Urban Code. The five-story building integrates with the site to capture mountain views that surround it. Other key design elements of the 275,157-square-foot clinic include deep fissures carved into the façades and roof of the building, which align with the rugged terrain. Sun-shading systems are integrated into the façade to efficiently and economically manage heat gain and ensure comfort. Dappled light filters through louvered panels into the cool and sleek interior, which mimic shade trees in an oasis. Linear paths and stairs frame the lobby to guide horizontal and vertical circulation and wayfinding. Jacobsen construction is general contractor.
The project team also includes Bob D. Campbell, structural engineering; Smith & Boucher, mechanical, electrical and plumbing engineering; Protection Engineering Consultants, LLC, façade design and specialty structural engineering; FSC, Inc., fire protection engineering and Merrick, Green Globe consulting.
Tags: Architecture, Veterans Affairs
Posted May 14, 2019
More Articles: