Subscribe Now
Keep up with the latest news with our magazine and e-newsletter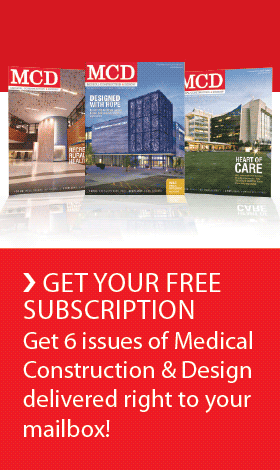 Subscribe to our E‑Newsletter
Haskell Healthcare Division Leader Jim Eaton announced the promotion of several key team members, as well as new team members recently added to the division.
Teddy Mulamba has joined Haskell Healthcare from the Federal group. Mulamba will be joining as the acting assistant project manager on a 13-month renovation project for a labor and delivery unit. He is based in the company's Jacksonville, Florida office.
Chris Henry joined Haskell Healthcare as a project manager II working in the St. Louis, Missouri office. Henry has over 34 years of experience in construction, primarily working for Design-Build companies.
Catalyst, Haskell Healthcare's consultancy division, has promoted Minta Ferguson to director of planning and Erin Nelson to director of strategy. Ferguson will lead the development of valuable and innovative tools and goals that "bridge the chasm" of integrating planning with strategy, operations, engineering, preconstruction services and design. Nelson will lead strategic and master planning services and direct service line or department-specific recommendations based on strategic trends and opportunities within the local market.
Meredith Letendre joined the Catalyst team as a healthcare strategist. Letendre's primary focus will be leading strategic and master planning services for healthcare clients, reviewing client and market data to create service line recommendations based on strategic trends and opportunities within the local market. Prior to Catalyst, she held a variety of roles at Brigham and Women's Hospital spanning innovation and business planning teams.
Michael Gildea joined the Healthcare Division as a project architect III in November 2018 and is based in San Diego, California. Gildea's background includes positions in established West Coast design firms as well as time spent working in health systems in San Diego.
In keeping with Haskell Healthcare's focus on increasing capability for healthcare design excellence, Sam Pruitt has been promoted to team lead for Healthcare Design and Andrea Kingsbury to team lead for Healthcare Interior Design. Pruitt and Kingsbury will continue to serve as subject matter experts in healthcare design. Their new positions will also focus on development of design thought leadership, competitive design strategic development and design-focused content marketing.
Furthering operational excellence in healthcare, Benie Wix has been promoted to team lead for Healthcare Construction Contract Administration. In his 15 years with FreemanWhite, Wix developed and led construction contract administration of many complex healthcare projects nationally. He will continue to serve in this role but his new responsibilities will include the development of CCA best practices and project team development.
Cody Adams joined the healthcare division in Charlotte, North Carolina in August 2018 as the team lead for Engineering Project Management. In his role, Adams brings engineering management experience that will benefit the company's clients as well as the enterprise as we focus on expanding Charlotte as a platform for engineering in all of Haskell's core markets.
Mark Snyder, Kevin Waitkus, Luke Carlson and Kevin Barbee have been promoted to team leaders of the Healthcare Quality Implementation Program; Technical Accuracy, Building Code and Life Safety; Licensure and Engineering Systems, respectively, strengthening the three core elements. Snyder, Waitkus, Carlson and Barbee have a wealth of knowledge in the development of healthcare and institutional occupancy design and will leverage their experience to further the development and execution of the Healthcare QIP.
Posted March 5, 2019
More Articles: