Subscribe Now
Keep up with the latest news with our magazine and e-newsletter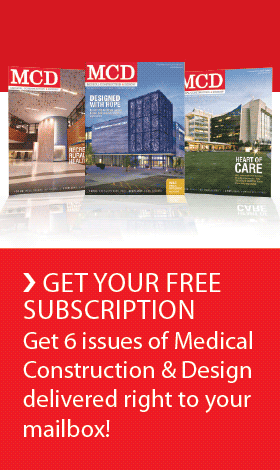 Subscribe to our E‑Newsletter
HOUSTON, Texas — McCarthy Building Companies, Inc. was recently awarded two renovation and expansion projects at Houston Methodist Hospital located in Texas—a demolition, renovation and expansion of the Houston Methodist Research Institute's imaging suite and a build-out of a new GMP cleanroom in the institution's outpatient center. Construction on both projects is expected to be complete in spring 2019.
Within Houston Methodist Research Institute, McCarthy will undertake a complete demolition on the first level, 16,500-square-foot imaging suite. The suite will be reconfigured and expanded; the project will include significant mechanical, electrical and plumbing infrastructure upgrades, structural upgrades and finishes to accommodate new equipment. When completed, the unit will house three new state-of- the-art pieces of imaging equipment including a Siemens 7 Tesla MRI, Siemens 3 Tesla MRI and a PET/CT. The 7T MRI scanner will be the first of its kind in Texas.
The size of the 7T MRI magnet – which weighs 45,000 pounds – and the opening space required to bring it into the facility poses several logistical and construction challenges for the McCarthy team. Positioning of the magnet will require removal of a portion of the existing building curtainwall façade, demolition of an interior stone/concrete masonry wall and 50 tons of magnetic shielding to be in place in the suite's floor, ceiling and walls. Furthermore, it will require re-routing of existing mechanical, electrical and plumbing infrastructure—all of which will happen while the facility is 100 percent occupied.
McCarthy will also work on a 5,000-square-foot demolition and build-out of a new cleanroom on the third floor in the outpatient center. This project will include approximately 1,500 square feet of a pre-fabricated GMP cleanroom space and 3,500 square feet of support spaces including quarantine areas, storage spaces, offices and three mechanical rooms, as well as upgrades to the mechanical, electrical and plumbing infrastructure. Additionally, renovations on level two and four will be required to add a new air handling unit and exhaust fans to support the new cleanroom environment.
Specific challenges will include erecting 40-foot scaffolding in the atrium for underfloor plumbing, building three new mechanical rooms and running overhead MEP infrastructure on three occupied floors for new HVAC. The project will require heavy coordination with the cleanroom manufacturer, owners and trade partners to ensure lab equipment is positioned correctly. New HVAC and plumbing equipment will also be required for the project including seven new exhaust gas scrubbers, a new fluoride removal system, RO/DI System, new bio safety cabinets and new lab wet benches.
Posted November 15, 2018
More Articles: