Subscribe Now
Keep up with the latest news with our magazine and e-newsletter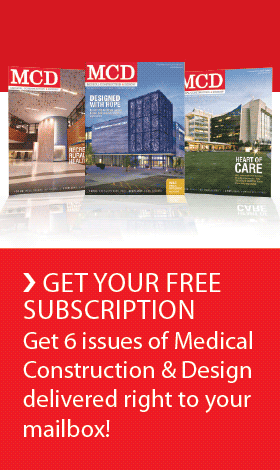 Subscribe to our E‑Newsletter
HDR, with Hourigan Construction as its partner, has been selected as Design-Builder for two new healthcare facilities in Richmond, Virginia. HDR will design the new VCU Health Adult Outpatient Facility and the new Sheltering Arms Rehab Institute, a joint venture between Sheltering Arms Hospital and VCU Health System.
VCU Health System Adult Outpatient Facility
The new Adult Outpatient Facility will consolidate the majority of adult ambulatory services into an approximately 1-million-square-foot facility on the downtown VCU Health Medical College of Virginia Campus. The project includes an integrated parking garage for approximately 1,200 vehicles. Located at the corner of East Leigh and North 10th Streets on the western side of the VCU Health MCV Campus, the facility will serve as a gateway building to the campus. The project is multi-phased and set to an aggressive 26-month construction schedule. The building program includes multi-disciplinary clinics, VCU Massey Cancer Center's outpatient services and the VCU School of Dentistry clinics.
Sheltering Arms Rehab Institute
The new Sheltering Arms Rehab Institute will be built on a 25-acre campus on the west side of Richmond in Goochland County. The facility will consolidate inpatient beds from three locations around the city to create the 200,000-square-foot, 114-bed institute. Expected to open in 2020, the rehabilitation facility will focus on serving patients who have experienced stroke, spinal cord and/or brain injuries and patients in need of general rehabilitation.
Chosen as the result of a four-month Design-Build competition, HDR will provide multiple services to the partnership with Hourigan Construction including architecture, interior design, structural engineering and medical equipment planning.
Posted March 13, 2018
More Articles: