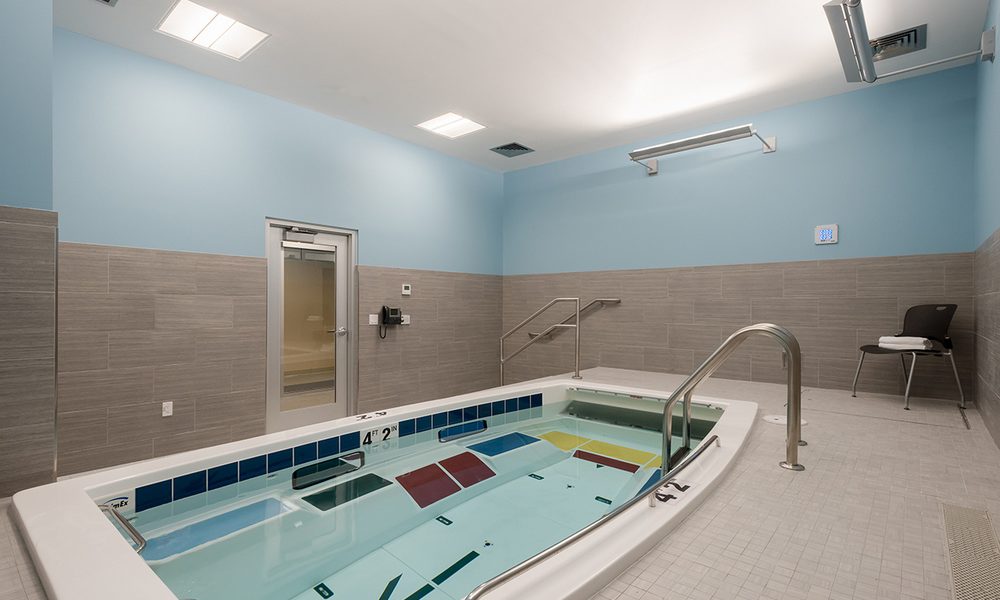 HSS Sports Rehab at Chelsea Piers, Stamford, Connecticut.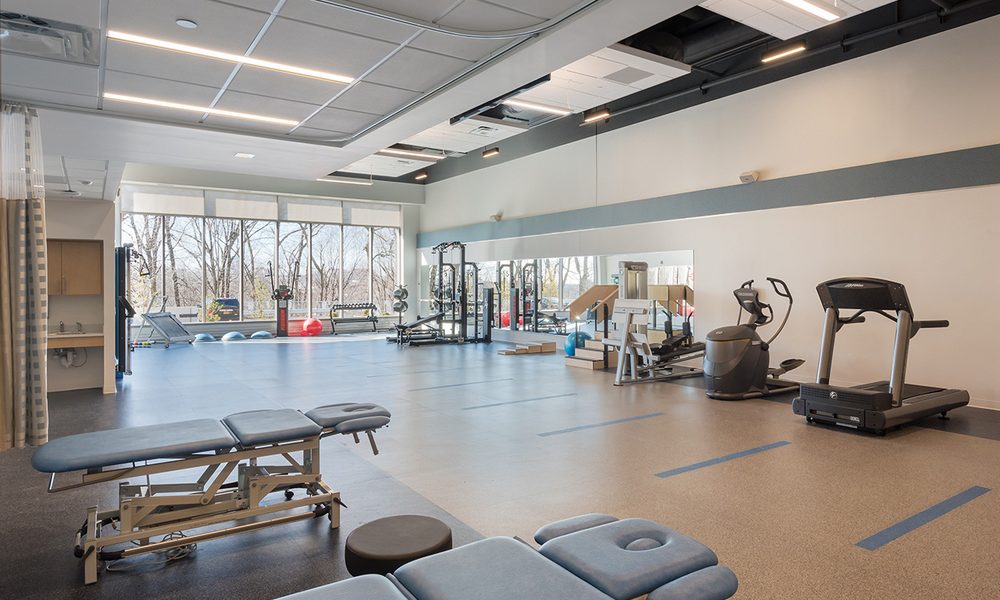 HSS Sports Rehab at Chelsea Piers, Stamford, Connecticut.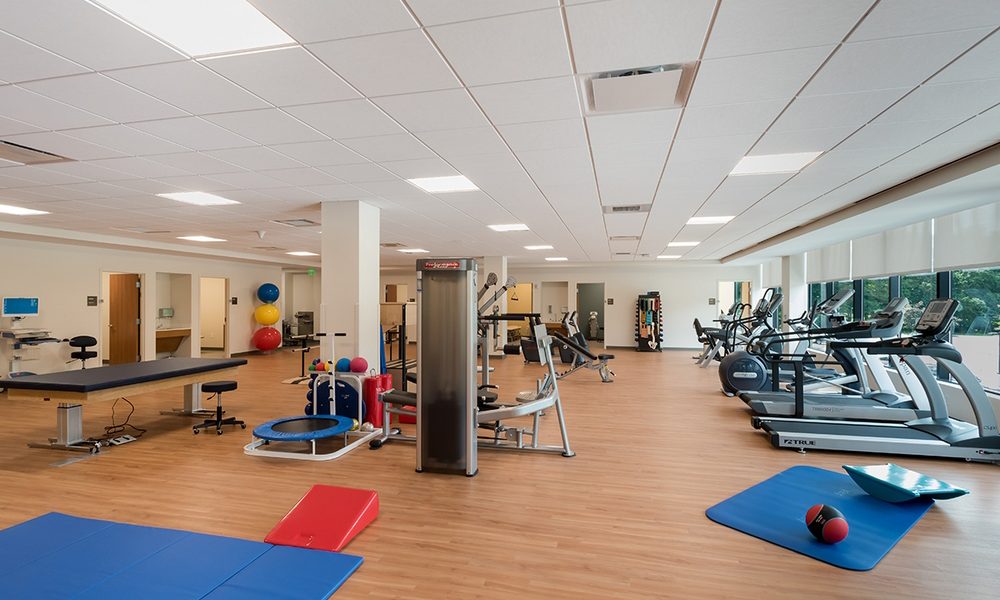 Yale-New Haven Health Long Ridge Medical Center, Stamford, Connecticut.
◀
▶
Subscribe Now
Keep up with the latest news with our magazine and e-newsletter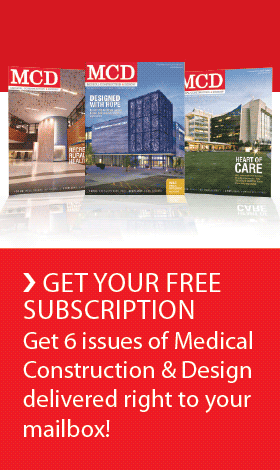 Subscribe to our E‑Newsletter
By Derek Czenczelewski & Breanna Czenczelewski, PT
Partnering for Better Orthopedic Facilities, Rehabilitation Results
The ideal physical therapy clinic is welcoming, clean, flexible and, most importantly, employs a staff committed to excellence. These types of clinics can take on various aesthetics, from a therapeutic spa-like setting or a specialty sports rehabilitation clinic, to a standard medical practice facility. Each facility's aesthetic is largely driven by the specialty offered by the practice. But, like most areas of healthcare, physical therapy practices are adjusting to rapidly changing market conditions and technological advancements, in addition to a growing number of young athletes and an aging baby boomer population impacting the ways in which these types of facilities are being designed.
Evolving treatment methods
Physical therapy practice owners are always searching for the "next best thing" – any new modality, treatment method or specialty area that will provide an edge over their competitors and improve patient outcomes. More traditional modalities, such as ultrasound, heat and ice, are being replaced by cold laser, dry needling, cupping, hydrotherapy pools and cryotherapy chambers. The stationary bike has been replaced by the anti-gravity treadmill; the Total Gym has been pushed aside for the Pilates reformer. While any one of these modalities could potentially set a clinic apart from its competitors, these fancy pieces of equipment are usually cost-prohibitive for most outpatient orthopedic practices. Furthermore, many facilities lack the necessary space and structural reinforcement to handle the latest technology. When coupled with financial limitations due to poor insurance reimbursement rates, many outpatient orthopedic clinics are struggling to stay afloat despite technology supporting greater results. So how is the industry adapting?
Economics & partnerships
Many new clinic owners have opted to avoid contracting with insurance companies, altogether. Instead, they have adopted a cash-based model in which patients pay out of pocket for services and later submit their "out-of-network" expenses to insurance providers for reimbursement. Therapists can see one patient per hour, rather than three or four, with a similar bottom line, thus allowing for more ethical treatments and faster outcomes with fewer visits. Other outpatient practices are teaming up with existing gyms and sports performance facilities to increase their referral base and avoid, or at least share the cost of, purchasing expensive equipment.
From a design perspective, physical therapy gyms greatly mimic their commercial partners, both in types of equipment and overall aesthetic. It should come as no surprise, then, that many new facilities are being created in former "big-box" stores and gymnasiums that offer column spacing and ceiling heights in accordance with a gym or PT clinic's requirements. The key for these retrofits is to ensure adequate natural daylight permeates the treatment spaces. When access to natural light is not possible, the use of circadian rhythm lighting can offer similar therapeutic benefits by simulating natural light. Unlike most other areas of healthcare, physical therapy treatment spaces typically offer a "community-based" setting, with much less emphasis placed on individual privacy and more emphasis placed on teamwork and camaraderie depicted in a sports setting.
Recognizing a growing trend of sports-related injuries, Stamford Health, located in Stamford, Connecticut, teamed with the Hospital for Special Surgery in New York, New York, to create a facility capable of responding to the needs of their most active patients. The HSS Sports Rehab at Chelsea Piers treats active individuals of all ages, including young athletes, competitive athletes and weekend warriors. The 9,300-square-foot facility, designed by The S/L/A/M Collaborative (SLAM) offers non-surgical, pre-operative and post-operative care. Cutting-edge equipment onsite includes a SwimEx physical therapy pool, as well as an AlterG anti-gravity treadmill. The new rehabilitation unit includes a 3,200-square-foot, double-height physical therapy gym, five open treatment bays, three private treatment rooms, hand therapy treatment space, reception area, locker rooms and support space. Incorporating physical therapy clinic design trends, such as the double-height PT gym featuring abundant natural daylight, and utilizing a sleek palette of modern finishes in keeping with a sports-related aesthetic, was important to the client. In addition, the design and finishes afford ample opportunity for environmental branding, another critical component in physical therapy clinic design.
The emergence of new technology, combined with a healthcare system in a constant state of flux, has led medical professionals to come together to ride the wave. Their partnerships may be economical in nature, but are also quite practical and flexible. Patients face challenges beyond a simple diagnosis; comorbidities, medication profiles and even psychosocial issues, all play an important role in the treatment a patient may require, and having multiple medical professionals under one roof makes this process easier for both the patient and the specialist.
An example this type of multi-specialty and physical therapy clinic can be found at the Yale-New Haven Health Long Ridge Medical Center. Designed by SLAM and featuring Yale Medicine's Center for Musculoskeletal Care, the 52,000-square-foot facility, a joint venture between Yale Medicine, Yale-New Haven Health's Greenwich Hospital and Northeast Medical Group, offers multi-specialty care for orthopedics, neurology, rheumatology, physical therapy and occupational therapy. The alignment of central waiting areas forms a "spine" joining the two portions of the fit-out together and supports an on-stage/off-stage organizational model to enhance staff productivity and efficiency, and to foster team-based collaboration. In addition, the design layout was able to maximize exterior views throughout the facility, which was important considering the vertical limitations in the PT gym. Support spaces were carefully planned near treatment areas with future expansion and flexibility in mind – a luxury many clinics strive to incorporate. Within the exam clusters, pairs of alternating, adjoined exam and consult rooms provide operational flexibility based on patient demand for particular specialties, and are designed to break down barriers between the patient and their physician, emphasizing face-to-face communication and increased patient engagement.
The future of PT
Recognizing the need for more extensive education, the Federation of State Boards of Physical Therapy requires all new graduates to complete a Doctorate of Physical Therapy degree. Universities have adapted, offering modernized programs to train the next generation of physical therapists. Many academic medical partnerships have emerged as well, complete with dedicated collaborative space to help enhance fellowship training within the medical center setting.
These alliances extend beyond the classroom to research and development space within engineering programs at academic medical centers. Recent achievements from such partnerships include the development of robotic exoskeletons, used to help paralyzed patients walk, as well as the creations of 3-D printing. Prosthetic limbs, exoskeletons and orthoses, and even internal organs, have been constructed utilizing this new technology, generating a sense of hope for severely injured patients and those with developmental disabilities.
As regulations, technology and reimbursement continue to evolve, it has never been more important for clinicians – and facilities – to adapt. From reducing operating costs and increasing staff productivity, to offering the essential spaces and adjacencies to provide superior care, the orthopedic center of today and tomorrow will greatly influence rehabilitation results.
Photos courtesy of John Giammatteo.
Author: Derek Czenczelewski & Breanna Czenczelewski, PT
Derek Czenczelewski and Breanna Czenczelewski are siblings. Derek handles marketing and business development for SLAM's Healthcare, corporate and Athletics Architecture Studios. Breanna has over 10 years of orthopedic therapy experience and specializes as an aquatic physical therapist at Muller and Weber Physical Therapy.
Tags: Architecture, rehabilitation, Specialty Care
Posted January 16, 2017
More Articles: