Subscribe Now
Keep up with the latest news with our magazine and e-newsletter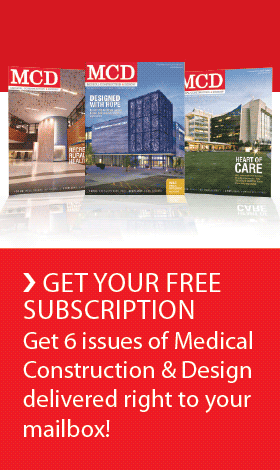 Subscribe to our E‑Newsletter
In response to the ongoing Ebola Crisis in West Africa, a panel of healthcare providers, government agencies and aid organizations gathered at "Digital Aid: Lessons Learned from the Ebola Crisis" on Feb. 11 in Washington, D.C.
The panel—including White House Ebola Response Coordinator Ron Klain—discussed lessons learned from the outbreak in an effort to advance tactics in the fields of infectious disease and disaster response.
Mark Smith, M.D. and chief innovation officer with MedStar Health, presented the HKS-developed exit room concept, initially presented at the October 2014 American College of Emergency Physicians conference "ED Talks." The innovative concept promotes a unidirectional-flow strategy with an exit room on the backside of the isolation room with clean to less clean flow processes until full doffing and decontamination is possible. This scheme eliminates hazardous backtracking of contamination.
"Such an exit room provides safe de-gowning, appropriate cleansing of the provider and containment/disposal of all contaminated materials," said Mik Pietrzak, M.D., director of strategic initiatives, Med Star Institute for Innovation. Pietrzak is also a strategic initiatives consultant for HKS. "In fact, through the Ebola experience, we are quickly learning that a comprehensive infectious disease isolation strategy must also address contamination that can occur with all types of infectious diseases. The exit room strategy eliminates backtracking because people or items would never return to the original entrance where other staff members could be contaminated."
In addition to Klain and Smith, the panel included Jack Dangermond, founder and president, ESRI and a data analysis expert; Daniel Lucey, M.D., MPH, adjunct professor of infectious diseases, Georgetown University Medical Center; Emira Woods, director of social impact, ThoughtWorks and Donna Harris, founder and co-CEO, 1776. Click here for more information on the exit room concept.
Posted February 19, 2015
More Articles: