Subscribe Now
Keep up with the latest news with our magazine and e-newsletter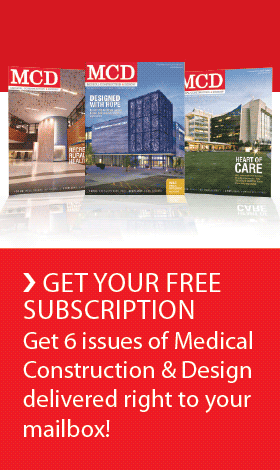 Subscribe to our E‑Newsletter
HARTFORD, Conn. — Hartford Hospital will begin construction of its $150-million Bone and Joint Institute and ambulatory surgical center.
The institute will integrate all elements of orthopedics and musculoskeletal treatment, including specialty care, diagnostics, rehabilitation, rheumatology, neurology, neurosurgery and pain management.
The institute will be constructed on vacant land on Seymour Street and connect directly to Hartford Hospital's main building. It will consist of five floors of 130,000 square feet with 10 inpatient and outpatient operating rooms; 48-52 inpatient beds with the capability of expanding to nearly 80 beds; diagnostic services; orthopedic urgent care and public space. The ambulatory and medical space will consist of three floors of 35,000 square feet with offices for orthopedics, rheumatology and  neurosciences, as well as five ambulatory surgery rooms. The building is expected to open in 2016.
"The Bone and Joint Institute is a game-changer for patients, and for our state. It is about delivering the triple aim: a better patient experience at the most affordable cost with the highest quality of care," said Jeffrey Flaks, executive vice president and chief operating officer for Hartford HealthCare. "This continues our vision of providing one high standard of care, enhances care coordination, improves efficiency. By increasing our volume, we can help us make healthcare more affordable and we can reinvest in our communities."
"This will be the first-of-its-kind, fully integrated institute staffed with top-ranked specialists. It will clearly differentiate Hartford Hospital as the destination for orthopedic care in New England," said Stuart Markowitz, M.S.,, president of Hartford Hospital. "This is a movement to completely redesign the way in which Hartford Hospital provides musculoskeletal care. All relevant subspecialties will be under one roof. There will be a seamless path for patients to provide convenient access to the very best care."
This institute, which will become a laboratory for innovation in clinical care, will be the first patient building to be built on the Hartford Hospital campus in decades. Hartford Hospital is joining the ranks of an elite group—a handful of hospitals across the United States that have created a separate musculoskeletal facility fully staffed with the necessary sub-specialists to provide comprehensive care. "This is an important investment in our patients and in the future," said Flaks. "Despite very real financial pressures, Hartford Hospital is determined to invest in its vision—to build a better system that provides well-coordinated and consistently great care to more people."
The new facility will also allow the renovation of existing older spaces in Hartford Hospital, creating more single-patient rooms and further improving the patient experience. The institute will enhance Hartford Hospital's and Hartford HealthCare's ability to recruit top physicians to the state, and add to Hartford Hospital's capacity as an economic engine for the city and the entire region, enhancing the healthcare reputation of both the city and the state of Connecticut. Hartford Hospital will partner with Orthopedic Associates of Hartford to develop the Institute. Orthopedic Associates, with 30 fellowship-trained orthopedic surgeons, is the largest orthopedic group in the state and shares our vision of developing a premier, nationally recognized orthopedic institute. The institute will be led by Dr. Courtland Lewis, director of research and quality with the Connecticut Joint Replacement Institute. Dr. Lewis also will serve as chairman of the Department of Orthopedics.
"This expansion will allow Hartford Hospital to meet a new era in healthcare," said Dr. Lewis. "Every professional in the institute from anesthesiologists to radiologists will be exclusively trained in musculoskeletal care where they can share best practices centered on the patient. The end result is improving access to quality care, while reducing costs and keeping patients healthy."
In his current role, Dr. Lewis performs more than 300 joint replacement surgeries per year in addition to being responsible for developing a CJRI quality management program. He also serves as clinical professor of orthopedic surgery at the University of Connecticut Health Center.
The institute will be fully integrated with the Center for Education, Simulation and Innovation and will be committed to education and research to cultivate the development of new technology at a national level, giving medical practitioners and students access to state-of-the-art training and providing patients with greater access to the most innovative care.
Editor's Note: Gilbane is serving as general contractor (the firm's Glastonbury, Connecticut office), with Perkins+Will  (New York, New York office) as architect for this project.
Posted October 27, 2014
More Articles: