Subscribe Now
Keep up with the latest news with our magazine and e-newsletter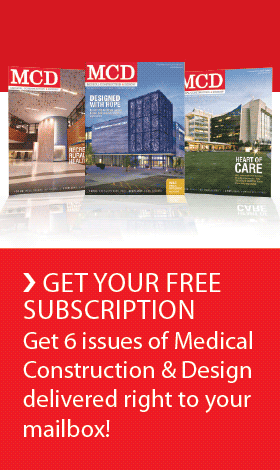 Subscribe to our E‑Newsletter
CoxHealth and CBRE Healthcare announced the ribbon cutting of the new Cox Medical Center Branson expansion and renovation project.
Cox Medical Center Branson is a three-story expansion and renovation project that took place on the existing Branson campus. The new facility consists of all private rooms. The Critical Care Unit has 20 beds, 14 new beds and six existing. The first floor is a 30,700-square-foot emergency department, consisting of 26 exam rooms, two trauma/resuscitation bays, eight rooms in the Clinical Decision Unit and five rapid treatment rooms. The rapid treatment rooms allow patients with less serious injuries and illnesses to be treated and released quickly, separate from the general ED population. This will streamline the operational process and allow for quicker ED turn over times. The second floor was expanded 15,000 square feet with an additional 20 private rooms and family amenity space added to the ICU. The third and final floor is shelled for a future medical/surgical nursing unit of all private rooms.
"On January 1, 2013, Skaggs Regional Medical Center became part of the CoxHealth system and with that partnership came the promise that CoxHealth would invest in the hospital and our community so we could better serve the residents of Taney and Stone counties," said William Mahoney, president of Cox Medical Center Branson. "Over the past 20 months, there have been numerous improvements including aggressive physician recruitment, equipment purchases and building maintenance. Our emergency department and critical care unit expansion is by far the most visible of these improvements and one more way CoxHealth is continuing to make good on their promise."
The first phase of the $30-million Cox Medical Center Branson ED and Critical Care Unit expansion and renovation project has come to a successful end. Grand opening events took place on Sept. 12. Guests were invited on Sept. 13 to participate in public tours of the new ED and CCU.
CoxHealth leadership began construction on the new ED with the vision to enable future growth of the hospital. Previously, Cox Medical Center Branson served approximately 37,000 patients annually in their ED. Now, with the new expansion, Cox Medical Center Branson can provide care to more than 55,000 patients annually. Along with the expansion is the improvement of workflow efficiency. This will ensure patients will receive care right away without prolonging the healing process.
Cox Medical Center Branson anticipates having their first patient later this month.
CBRE Healthcare is currently providing CoxHealth project management services, including launch gap analysis; facilities planning committee organization; project work review and validation; master program schedule and budget development and maintenance; CON submission; project delivery team selection; project staffing plan and project implementation plan development; patient occupancy planning and Management.
Project Team
Owner – CoxHealth
Architects – Beck Group
Construction Managers – Beck Group
Civil Engineer – CJW Transportation Consultants
Mechanical Electrical Plumbing – ccrd Partners
Medical Equipment – Healthcare Building Solutions
Project Manager – CBRE Healthcare
Structural Engineer – Armstrong-Douglass Partners
Technology – SSR, Inc.
Posted September 29, 2014
More Articles: