Subscribe Now
Keep up with the latest news with our magazine and e-newsletter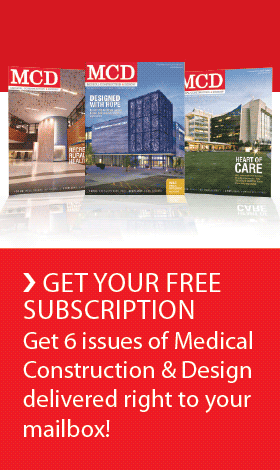 Subscribe to our E‑Newsletter
By Michelle Mader and Kathy Clarke
Viewers of the once popular "ER" medical drama series may have never seen a low-acuity or non-urgent patient, but real life emergency departments are seeing them and others in ever-increasing numbers. The first of three trends that will challenge designers of emergency departments during the next decade is how EDs can timely address the medical concerns of the non-urgent patient, reduce their overall length of stay and improve customer satisfaction. Non-urgent or low-acuity patients are persons not suffering from a truly emergent or potentially life-threatening condition or injury. The second is an increase in the number and complexity of behavioral health patients (persons manifesting a behavioral or psychiatric disorder). The third is the growing pressure to be cost-effective from public and private funding sources.
Vertical treatment rooms
Low-acuity patients are most efficiently handled in a vertical treatment room—a space that allows for the patient to remain in an upright posture. It speeds up the processing of various patient types by treating and releasing non-urgent patients, or beginning treatment protocols on higher-acuity patients, requiring less space than a conventional ED exam room.
The premise behind vertical treatment spaces is mostly related to process and/or the patient's state of mind, rather than designing a destination. Therefore the space is designed for short-term occupancy. Frequently, patients remain dressed in their street clothes and sit in recliner chairs. If patients don't lie down unnecessarily, then they are more likely to appreciate a shorter ED visit, which helps to increase the staff's operational throughput and efficiency. Although it is clean and functional, the vertical treatment space is not conducive to "camping out" for a leisurely stay. Accordingly, there may not be a TV, phone or Internet service or no cushy chairs for visitors. A key component to designing vertical treatment spaces is the ability to have a general sub-waiting space or results-waiting space dedicated and adjacent. This sub-waiting space allows for the staging of non-urgent patients while they wait for test results or treatment to take effect. Clear lines of sight from the vertical treatment areas to the sub-waiting spaces allows for the clinical staff to maintain visual monitoring of all patients.
Why the emphasis on verticality? The reasons are physical, operational and psychological. Chairs have smaller ecological footprints than beds. In addition, studies have concluded that it takes much longer to get patients off a stretcher and dressed, than if the ED staff addressed their minor complaint. The verticality policy also creates a mental and somewhat physical barrier between patients with marginal and critical conditions. Keeping the non-urgent patients out of the acute care treatment spaces frees up much-needed capacity for when an acutely ill or injured patient arrives. However, recliner chairs can easily be made into stretchers if the patient condition abruptly changes.
Universal treatment rooms
In the past, patient waiting was exacerbated because specialized treatment rooms such as pediatric, suture or OB/GYN rooms required all cases needing the same kind of procedure to wait until the corresponding room became available. Universal treatment rooms ease this problem because they are versatile. They can be used for any presenting problem as they are not restricted to specialized treatments.
Universal treatment rooms typically occupy 140 square feet — not large enough for a family to enter for visitation but roomy enough to accommodate a team of providers, if the patient requires stabilizing care. The room design gives providers the space needed to move around and afford quick access to technology. From the perspective of the ED providers, break-away doors with large glass panels allow for views of the patient in each treatment room from the charting workspace.
In addition, a majority of the supplies are kept on carts with push-button access codes so they can remain locked while in the corridor or in storage space. Each cart contains supplies needed for a special type of patient service, such as suturing, wound care, orthopedics or OB/GYN. The supply carts can be quickly wheeled into whichever room needs them. Thus, fewer patients need to wait for their treatments to begin.
Designing zones for safety, access
From one ED exam room to the next, the arrangement of zones for patients, providers and visitors remains uniform. This standardization means that a provider entering the room, possibly for the first time, knows where to look for the electronic medical record screen, the cardiac monitor, the medical gas outlets and the sharps container. The bed placement is parallel to the corridor creating the clinical zone, the patient zone and the family zone. The zone on the right side of the patient's bed is kept clear for provider access and the medical gas outlets should be mounted on the right-hand wall, so the provider doesn't have to reach across the patient to access it or duplicate outlets on a vertical headwall system for flexibility. A hand-washing sink should stand near the entrance so that all persons, providers and visitors entering the room are reminded to wash their hands. The visitors' zone is to the left of the patient so they do not block any providers entering the room to check on or care for the patient. The elevated TV is mounted on the footwall and angled so that both the patient and visitors can view it at the same time. A ledge in the visitors' zone near the TV provides a surface for drinks, coat hooks and purses, and for recharging personal cell phones.
Behavioral health rooms
Behavioral health patients need to be identified (and sometimes isolated) as soon as possible. Ideally, they are escorted out of the central core of the ED and placed in specialized safe rooms or suites optimized for security. Here, patients are monitored and treated by dedicated ED clinical staffs, often supported by crisis team members. As states continue to cut funding for mental health institutions and community resources, behavioral health patients are staying longer in the ED.
Design features optimized for behavioral health patients
Safety is the byword when it comes to design and operational protocols for behavioral health patients. The ED staff must first evaluate behavioral health patients to ensure their medical conditions are stable. Then the patient should be moved out of the regular treatment areas so they don't delay access for other patients. The ED staff must be able to quickly lock down any patient who poses a hazard. To alleviate the need to move the patient from one room to another, some EDs are equipped with drop-down partitions that can quickly surround medical gases and other equipment in the room, eliminating access to any objects that could be detached or torn loose.
Furniture and utilities in a behavioral healthcare unit must also be utilitarian — minimal and sturdy so as to limit opportunities for patients to harm themselves. For example, beds can be mounted on the floor so patients can't use the bed as a weapon or to damage the room. Patient bathrooms are equipped with motion-activated controls so patients can't break off a fixture and cut themselves. No pipes are exposed, no lights are switched on with strings and locks are installed wherever feasible.
Optimizing staff for flexibility
The recommended staffing policy for an ED is to use appropriate providers to offer the right level of care for the right patient. Having the option of a NP/PA to treat lower-acuity patients instead of a physician lowers costs and allows the ED physicians to focus on higher-acuity patients.
Beyond the matching of skill sets to needs, it is critically important to institute uniform and consistent processes and to ensure staff understands and follows them. This can be difficult because the ED staff brings together an assortment of skills. To maintain adherence to protocols on an ongoing basis, a champion should be appointed to advocate for and ensure that practices are consistent regardless of shift and provider dispositions. Today, as in the past, ED clinical staffs must be prepared to handle whatever comes through the door.
Nevertheless, at the end of the day, the ED director must accept the fact that his or her landscape is dynamic. The director should review patient acuity mix and demographics at least once per quarter and, when doing so, consider environmental factors, such as an urgent care opening in the neighborhood, or the closing of nearby hospital, which would affect the ED's daily volume and patient mix. Following these tips will allow the ED director to streamline his or her cost structure in an environment in which forecasting can be challenged in any number of ways.
Author: Michelle Mader and Kathy Clarke
Michelle Mader, MHA, MBA, can be reached at FreemanWhite mmader@freemanwhite.com. Kathy Clarke, RN, BSN, CEN, can be reached at FreemanWhite at KClarke@freemanwhite.com.
Tags: Architecture, Emergency Department, Facilities Management
Posted May 13, 2014
More Articles: