Subscribe Now
Keep up with the latest news with our magazine and e-newsletter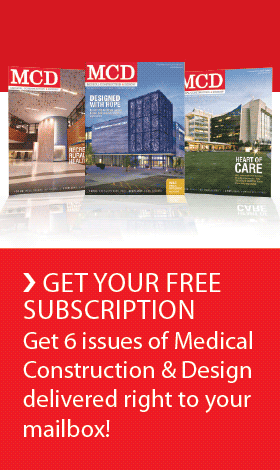 Subscribe to our E‑Newsletter
HOUSTON, Texas — A newly released article reveals many of the greatest achievements in environmentally friendly construction in the health industry. The article celebrates the 30 most environmentally friendly hospitals in the world. Each hospital was selected based on criteria including certifications from environmental bodies, recycling efforts, green construction and innovative energy-saving features.
Many of the hospitals on the list have been the recipients of prestigious awards. The Bronson Methodist Hospital, for instance, was awarded the Practice Greenhealth's Environmental Leadership Circle Award. Meanwhile, the Walter Reed National Military Medical Center was named Project of the Year in the New Construction category of the U.S. Green Building Council's National Capital Region Chapter. The University Hospital of South Manchester received the 2012 Ashden Award after its adoption of a new energy-efficiency plan succeeded in reducing carbon emissions by 28 percent.
According to author Tom Stevens, "Power-guzzling hospitals around the world are increasingly going green in an attempt to minimize their carbon footprints. We created this list for budding healthcare administrators to showcase 30 forward-thinking hospitals that are doing their bit to help save the planet."
The majority of the hospitals on the list have received LEED Gold certification. Most have found unique ways of removing waste efficiently, reducing energy usage or improving air quality.  For the full report, visit: http://www.healthcare-administration-degree.net/30-most-environmentally-friendly-hospitals-in-the-world/.
Here is a list of the facilities:
30. Rush University Medical Center, East Tower, Chicago, Ill.
29. Great Ormond Street Hospital, Morgan Stanley Clinical Building, London, U.K.
28. Johnston Memorial Hospital, Abingdon, Va.,
27. Bronson Methodist Hospital, Main Building, Kalamazoo, Mi.
26. Women & Infants Hospital of Rhode Island, South Pavilion, Providence, R.I.
25. Boulder Community Foothills Hospital, Boulder, Colo.
24. Childrenís Healthcare of Atlanta, Atlanta, Ga.
23. Anne Arundel Medical Center, Hospital Pavilion South, Annapolis, Md.
22. Walter Reed National Military Medical Center, Bethesda, Md.
21. University of Colorado Health, Medical Center of the Rockies, Loveland, Colo.
20. Sentara RMH Medical Center, Harrisonburg, Va.
19. Sunnybrook Health Sciences Centre, Toronto, Canada
18. University Hospital of South Manchester: Wythenshawe Hospital – Manchester, U.K.
17. Dana-Farber Cancer Institute: Yawkey Center for Cancer Care, Boston, Mass.
16. St. Elizabeth Hospital: Heart, Lung & Vascular Center, Appleton, Wis.
15. Helen DeVos Childrenís Hospital, Grand Rapids, Mich.
14. Mount Elizabeth Novena Hospital, Novena, Singapore
13. Martha's Vineyard Hospital, Oak Bluffs, Mass.
12. UF Health Shands Cancer Hospital, Gainesville, Fla.
11. Joe DiMaggio Children's Hospital, Hollywood, Fla.
10. St. Mary's Hospital, Sechelt, Canada
9. Muskogee Community Hospital, Muskogee, Okla.
8. North Shore University Hospital: Katz Women's Hospital, Manhasset, N.Y.
7. West Kendall Baptist Hospital, Miami, Fla.
6. Legacy Salmon Creek Medical Center – Vancouver, Wash.
5. NewYork-Presbyterian Hospital: Vivian and Seymour Milstein Family Heart Center – New York, N.Y.
4. Kiowa County Memorial Hospital, Greensburg, Kan.
3. Providence Newberg Medical Center, Newberg, Ore.
2. Dell Children's Medical Center of Central Texas, Austin, Texas
1. Children's Hospital of Pittsburgh, Pittsburgh, Pa.
Source: Healthcare-Administration-Degree.net.
Posted April 7, 2014
More Articles: