Subscribe Now
Keep up with the latest news with our magazine and e-newsletter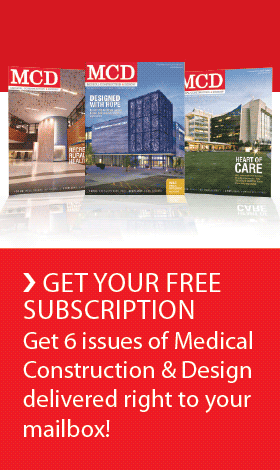 Subscribe to our E‑Newsletter
MIAMI, Fla. — Baptist Health South Florida announced it is building the new $400-million Miami Cancer Institute scheduled to break ground in July. The Miami Cancer Institute at Baptist Health South Florida consolidates under one roof outpatient clinical services, a dedicated cancer research facility and signature technology platforms, including the first proton therapy center in South Florida.
"The Miami Cancer Institute at Baptist Health South Florida will be recognized as a world-class destination for providing evidence-based, individualized care for our patients. It will be a state-of-the-art facility that will be unmatched in our region in terms of clinical excellence and advanced cancer care, and we are recruiting nationally renowned experts to lead the institute," said Brian E. Keeley, president and CEO of Baptist Health South Florida. The Miami Cancer Institute will open in 2016.
Located on the Baptist Hospital campus, the 370,000-square-foot cancer institute will include a 250,000-square-foot clinical cancer center, a 120,000-square-foot research facility, a brand-new inpatient floor designed especially for cancer patients and medical offices for cancer specialists. There also will be two parking garages with 1,400 spaces for the convenience of patients and their families. The stunning, four-story facility is designed by ZGF Architects, renowned for creating healthcare spaces that are both beautiful and patient-centered. Dana-Farber Cancer Institute and Memorial Sloan-Kettering Cancer Center are among ZGF's many prominent healthcare clients. Construction of the Miami Cancer Institute at Baptist Health South Florida is scheduled to start in July.
The Miami Cancer Institute plans to offer comprehensive clinical services, such as bone marrow transplant, diagnostic imaging, infusion chemotherapy and radiation therapies, including standard radiation, tomotherapy, gamma knife stereotactic radiosurgery and proton therapy. The institute will also leverage Baptist Health's nationally renowned robotic surgery program, with special emphasis on gynecology-oncology and thoracic surgery. Baptist Health's highly regarded Breast Center also will be a part of the institute, allowing for the expansion of services while maintaining a highly personalized approach to breast cancer patients. In addition, the institute will provide special programs and support for patients' friends and family members in dedicated areas throughout the cancer center.
The institute's expansive research facility is designed to accommodate space for principal investigators, researchers and staff to pursue clinical trials and translational research. The focus will be on providing patients with access to sophisticated, groundbreaking treatments and cutting-edge clinical trials.
Posted January 31, 2014
More Articles: