Subscribe Now
Keep up with the latest news with our magazine and e-newsletter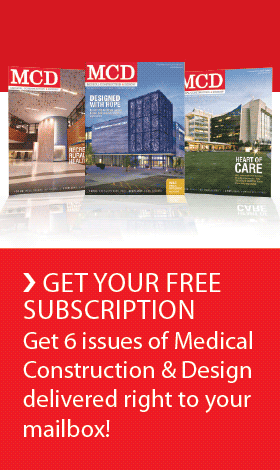 Subscribe to our E‑Newsletter
WALNUT CREEK, Calif. — John Muir Health's new Walnut Creek Outpatient Center recently opened at 1450 Treat Blvd. The center includes 27 primary care physicians, office space for specialty physicians, an urgent care center, lab services, X-ray, ultrasound and patient education services – all in one convenient location for patients.
The facility is part of the organization's commitment to providing patients with high-quality outpatient services in a patient-friendly, convenient and cost-effective environment. It opened with a fully electronic medical record system, Epic, which is being installed throughout John Muir Health, including in physician offices, urgent care centers, outpatient centers and hospitals.
"All aspects of the Walnut Creek Outpatient Center were designed with the patient in mind. Patients can access a range of medical services under one roof rather than traveling to multiple sites for various services," said Lee Huskins, president and CAO of John Muir Health's Physician Network. "This is more convenient for our patients, allows us to better work as a team to coordinate their care and enhance the patient experience."
The building is located next to John Muir Health's corporate offices and is conveniently located just off of Interstate 680, and a short walk from the Contra Costa Centre/Pleasant Hill BART station. There is onsite parking for patients and visitors. The urgent care center, which is located adjacent to lab and imaging services, is available on weekdays from 8 a.m. to 9 p.m. and weekends from 9 a.m. to 5 p.m. to care for patients with sprains, minor cuts or rashes or symptoms such as a sore throat, sinus pain, cough or fever. It also houses an infusion center to deliver fluids for someone who might be dehydrated or need an IV dose of medicine.
Approximately 70,000 square feet of the building will be used for medical services. This allows space for up to 43 physicians, as well as clinical support staff – physician assistants, registered nurses, medical assistants and case managers.
"We are partnering with our patients to ensure that they receive the right care at the right time with an eye toward proactive medicine so they can avoid trips to the emergency room and unnecessary hospitalizations," said Huskins.
The non-medical space in the building will be used as office space, allowing John Muir Health to centralize administrative functions from a number of locations into one campus.
"We are excited to be able to provide our patients with a modern facility to receive the high quality care and patient experience they expect from John Muir Health in a healing environment," said Huskins.
Posted January 20, 2014
More Articles: