Subscribe Now
Keep up with the latest news with our magazine and e-newsletter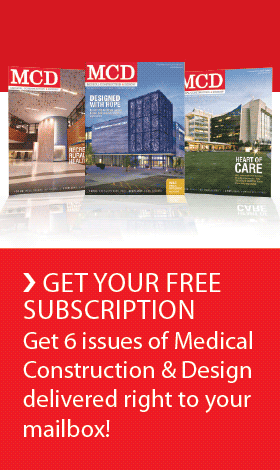 Subscribe to our E‑Newsletter
INDIANAPOLIS, Ind. — One of America's largest safety net health systems opened its doors recently  to the nation's newest urban public hospital campus, one on-track to become the country's first Leadership in Energy and Environmental Design Silver campus.
This marks the first time in more than 40 years that a completely new Indianapolis downtown hospital campus has opened. Saturday, Dec. 7, was the official first day for the new Sidney & Lois Eskenazi Hospital and the final day of operation for Wishard Memorial Hospital, which operated for more than 150 years just east of the new Eskenazi Health campus. Of the more than 1,000 public hospitals in America, Wishard to Eskenazi Hospital is the first new complete public hospital campus relocation in more than a decade, dating back to when Chicago's John H. Stroger Jr. Hospital opened to replace Cook County Hospital in 2002.
In a highly coordinated process involving Eskenazi Health, Indianapolis Emergency Medical Services, the U.S. Navy Reserves, the Indiana National Guard, MESH (formerly known as Managed Emergency Surge for Healthcare), hundreds of volunteers and ambulances from across Central Indiana, patients receiving care at Wishard moved to the new Eskenazi Health campus beginning at 7 a.m. on Dec. 7 and finished hours ahead of schedule just after 2 p.m. On Dec. 9, the Eskenazi Health Outpatient Care Center opened for patient appointments, the final step in the process of opening the new campus.
The new Eskenazi Health campus will provide patient-centered care on 37 acres at the western end of the Indiana University-Purdue University Indianapolis campus, between Michigan Street and 10th Street in downtown Indianapolis. The 1.3-million-square-foot facility includes a 315-inpatient bed hospital with 19 operating rooms and four interventional labs, 12 labor and delivery rooms, a 90-bed treatment room emergency department with a 20-bed clinical decision unit and more than 200 ambulatory clinic exam rooms and an adult Level I trauma center. The hospital links functionally and operationally to the adjoining Eskenazi Health Outpatient Care Center, providing entry for inpatients, outpatients and visitors and approximately 110 exam rooms. The Fifth Third Bank Building at Eskenazi Health also links with and supports the Outpatient Care Center and hospital, housing faculty and support functions, as well as related entities serving and supporting Eskenazi Health. The project also includes a 2,700-car parking garage.
With unique features such as the one-of-a-kind sky farm on the rooftop of the Outpatient Care Center, the Eskenazi Health campus is also on pace to achieve LEED Silver certification from the U.S. Green Building Council for the entire campus. This distinction would make it the first such health campus in the United States registered publicly in the national LEED database. Eskenazi Health anticipates final U.S.G.B.C. certification in 2014.
Eskenazi Health also creates a welcoming environment of health and healing through access to natural settings and an extensive art collection, which studies show contributes to improved health outcomes. Following an extensive public engagement and comment process, Eskenazi Health's art committee selected artists that represent the rich diversity of the Indianapolis community, including native Hoosiers and artists born or living in Indianapolis, and artists representing women, minorities and people with disabilities. More than half – 57.8 percent – of the full art program comes from local Indiana artists, while 47 percent of the artists are minorities, 31.5 percent are female, 10.5 percent are veteran, 5.2 percent are individuals with disabilities and 5.2 percent are seniors.
More than 10,000 individuals worked on the construction site and contributed to the development of the Eskenazi Health campus. Eskenazi Health's construction also outperformed local, state and national averages for work site safety. Eskenazi Health's construction was projected to create 4,400 jobs from its inception in 2009. Marion County voters approved construction of new facilities to replace the current Wishard Memorial Hospital campus in the Nov. 3, 2009, election, with 85 percent support for the measure. Sidney and Lois Eskenazi of Indianapolis contributed $40 million to the project's capital campaign in June 2011, and Health & Hospital Corporation of Marion County recognized their gift in naming the new hospital the Sidney & Lois Eskenazi Hospital and naming the campus and system Eskenazi Health.
Source: Eskenazi Health
Posted December 18, 2013
More Articles: