Subscribe Now
Keep up with the latest news with our magazine and e-newsletter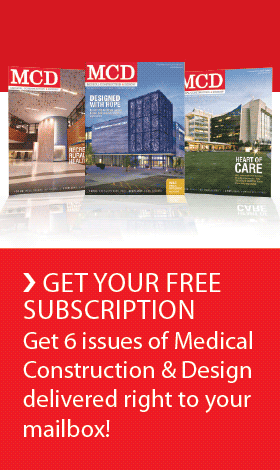 Subscribe to our E‑Newsletter
Submissions are open for speakers for the 27th Healthcare Facilities Symposium & Expo, which will be held Sept. 30-Oct. 2, 2014 at Navy Pier in Chicago, Ill. The deadline to submit is Friday, Feb. 7, 2014. If interested, visit www.hcarefacilities.com/tospeak.asp.
Sessions highlight all stakeholders working together on designing, constructing and managing healthcare facilities both in the U.S. and internationally. Of particular interest are recent challenges and solutions centering on a variety of healthcare facilities (hospitals, long-term care facilities, medical clinics, medical office buildings, rehab facilities, etc.), as well as forward-looking trends and new research.
The selection process is very discerning as more proposals are received that can be accommodated. Those submitting a proposal are agreeing to the following conditions:
All case studies must include a representative from a healthcare facility to co-present so the presentation is well rounded.
The actual presentation must correspond with the original session description.
The session must contain factual, educational content and avoid any sales pitch presentations.
All presentations will be submitted to peer review and, if in non-compliance with the above conditions, the presentation will be removed from the program.
All speakers must provide the symposium with a copy of the presentation (proprietary information can be removed) to post online for attendees to download.
Posted November 5, 2013
More Articles: