Subscribe Now
Keep up with the latest news with our magazine and e-newsletter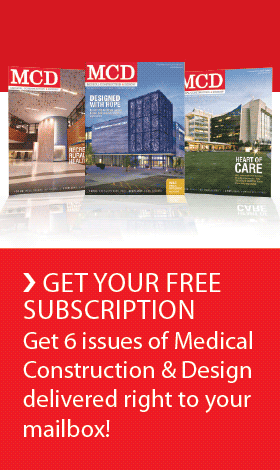 Subscribe to our E‑Newsletter
NEW YORK, N.Y. — New research conducted by experts at Perkins+Will contests the commonly held belief that LEED certification for hospitals is cost prohibitive. The study, titled "LEED Certified Hospitals: Perspectives on Capital Cost Premiums and Operational Benefits," reveals that this is incorrect. Conducted by Robin Guenther, FAIA LEED AP; Breeze Glazer, LEED AP from Perkins+Will and Gail Vittori, LEED Fellow, from the Center for Maximum Potential Building Systems, the study is the first to focus solely on the capital cost premium for hospitals to achieve LEED certification. Research found that the average capital cost premium for LEED-certified hospitals less than 100,000 square feet was 1.24 percent, and for hospitals more than 100,000 square feet the average cost premium was only 0.67 percent, based on analysis of 15 LEED-certified hospitals.
"LEED certification is, in fact, one of the most sound investments a hospital can make in today's economy," said Guenther. "It delivers measurable economic, environmental and human health benefits."
According to the Journal of the American Medical Association, the healthcare sector is responsible for 8 percent of the nation's total carbon dioxide footprint. Hospitals are the largest contributor of carbon dioxide, with the average facility in the U.S. using as much energy in a single year as 3,500 households. Hospitals also use about 2.5 times as much energy per square foot as a commercial office building. However, sustainable hospitals represent a significant segment of the broader green building movement, with goals to curb greenhouse gases, conserve natural resources and protect air and water quality. Moreover, the healthcare sector is uniquely positioned to highlight the links between the environment and human health. For these reasons, a groundswell of environmental stewardship has swept through the sector over the last ten years, starting with the first LEED-certified hospital in 2003.
While most industry experts agree about the benefits of sustainable healthcare design, questions have remained about the cost premium for hospitals to achieve LEED certification. How much added capital is needed, do higher achieving projects correlate with higher capital investments and what real value is associated with LEED certification?
The study used data collected from interviews with project teams representing 15 LEED-certified hospitals completed between 2010 and 2012. The research expands upon a 2008 study also done in part by Guenther and Vittori, which researched the capital cost premiums of 13 LEED-certified healthcare buildings – including hospitals, ambulatory and mixed-use facilities. Both studies found cost premiums ranging from 0 to 5 percent, with modest average construction cost premiums: 2.4 percent in the 2008 study and 1.24 percent in the 2012 study. The average cost premium for hospitals over 100,000 square feet is only 0.67 percent.
In the five years since the 2008 study was released, LEED has become a design and construction standard for many healthcare systems, although the global recession has placed greater emphasis on eliminating unnecessary capital costs. While the cost difference between green and conventional hospital construction today is relatively minimal, the environmental and resource-use differences can be significant. The results of the study can be found in Sustainable Healthcare Architecture, Second Edition, co-authored by Guenther and Vittori, published by Wiley and available on Amazon.com.
Posted September 17, 2013
More Articles: