Subscribe Now
Keep up with the latest news with our magazine and e-newsletter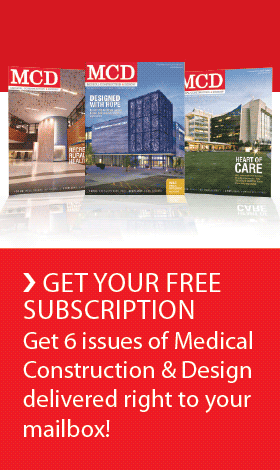 Subscribe to our E‑Newsletter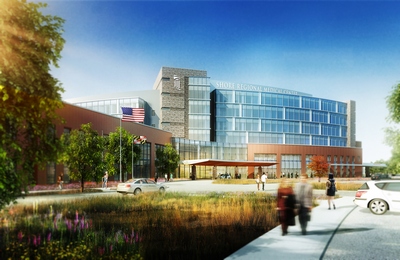 EASTON, Md. – Healthcare has changed dramatically since the original Memorial Hospital was built.
HKS, Inc. unveiled the design of the University of Maryland Medical System's new Shore Regional Medical Center, reflecting current-day changes in physical architecture, as well as technological advances.
Scheduled to break ground in 2013, the hospital will replace the system's 100-year-old Memorial Hospital. The 362,000-square-foot RMC features 126 private patient rooms in over 352,000-square-feet and uses innovative building design to provide maximum use of space.
Located on a 287-acre planned development in Easton, Md., the design enhances efficiency, as well as patient and staff safety. In addition to inpatient and rehabilitation beds, it features a 32-room emergency department, imaging and state-of-the-art operating suites. An ambulatory pavilion adjoins the hospital.
"There is a delicate balance between the shifting and the ever-changing farmland along the Eastern Shore," said Shannon Kraus, principal designer with HKS. "RMC's physical design and location protects and complements the surrounding Eastern Shore landscape, while maximizing healing views of nature and enhancing the patient and visitor experience.
"Inspiration is drawn from open fields of farmland, the brick colonial architecture of area communities and the natural shorelines of the Chesapeake Bay region," he continued.
Planned to meet 2012 Guidelines for Design and Construction of Health Care Facilities, the project features patient-safe, staff-friendly and guest-focused care design solutions informed by the latest evidence and research, according to Kraus.
Healthcare continues to evolve, including the increased role of outpatient care in the community. The goal for RMC is to maximize the hospital experience for patients and their families. Privacy, dignity and respect for patients and their families are at the forefront in designing RMC. All patient rooms are private with 24-hour access for families.
Features such as natural light, soundproofing and aesthetic details are critical to the healing process and RMC design reflects these factors. Patient rooms include individual patient/family controls for temperature, light and sound to provide a comfortable experience. Visitor convenience and ease of navigation, including convenient location of parking relative to hospital entrances and enhanced wayfinding, are exciting complements to RMC design.
LEED-Silver certification for environmentally responsible design and operations is a goal for RMC, which is scheduled to open to the public in 2016.
Posted December 14, 2012
More Articles: