Subscribe Now
Keep up with the latest news with our magazine and e-newsletter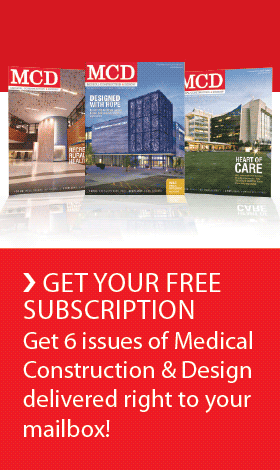 Subscribe to our E‑Newsletter
Patients with heart and vascular disease will be cared for in spacious, state-of-the-art private rooms when Johns Hopkins opens its new hospital building to the first patients on April 29. The Johns Hopkins Heart and Vascular Institute occupies a major part of the 1.6 million-square-foot facility, which has 560 all-private patient rooms with private baths and 33 expansive operating rooms.

"The new building will provide a fundamental change in how we are able to practice medicine and care for our patients," says Edward Kasper, M.D., head of clinical cardiology. "There is real enthusiasm and excitement among the staff."
All of Hopkins' heart and vascular services will be located in the new building. These include the cardiac care unit, the progressive cardiac care unit and the cardiovascular surgery intensive care unit, as well as the cardiac catheterization and electrophysiology laboratories. There are also operating rooms dedicated exclusively for cardiac and vascular surgery patients and a combined prep/recovery unit for surgery patients and those having interventional procedures.
In addition, an echocardiography and vascular noninvasive lab provides one-stop service for patients who need different types of ultrasound testing.
"We have state-of-the-art facilities to provide the highest quality and most efficient care of our patients with heart and vascular disease," says Gordon Tomaselli, M.D., director of cardiology and president of the American Heart Association. "We have designed the new space to accommodate new and emerging capabilities, such as MRI-guided cardiac ablation procedures and transcatheter aortic valve implantation."
The catheterization and electrophysiology labs have new technology and advanced imaging equipment. Two of the five catheterization labs can accommodate peripheral imaging. In addition, an EP lab and a catheterization lab are outfitted as hybrid rooms that can also be used for open surgical procedures, if necessary.
All EP labs have 3-D mapping systems, doubling Hopkins' capacity to perform complex ablations. They are equipped for live broadcast of cases and have an archive system that stores data from all imaging modalities used during a case—ultrasound, X-ray, 3-D mapping, electrograms and event logs.
"In our two hybrid rooms, our medical and surgical specialists work side by side to ensure that patients receive the most appropriate procedures in the safest possible environment," says Duke Cameron, M.D., director of cardiac surgery. Procedures such as transcatheter aortic valve implantation and complicated lead extractions are performed in the hybrid facilities.
"Our six new heart and vascular operating rooms are significantly larger to accommodate the latest technology," Cameron adds, "and we have an operating room dedicated for pediatric heart surgery cases."
Years of planning went into the facility, and the units "were designed with input from the clinical staff to deliver the best, most efficient care while providing a calm and healing environment focused on patient comfort and privacy," says Bruce Perler, M.D., director of vascular surgery and endovascular therapy. "Because our units are all located adjacent to one another on one floor, we have new opportunities for multidisciplinary consultation and collaboration and more convenience for patients and their families."
In fact, the entire building is designed for convenience and comfort, providing a welcoming environment, with such features as landscaped gardens, soaring lobbies, a carefully selected art collection and cheerful, light-filled patient rooms. Sound-absorbing features are incorporated in patient care units and corridors, and a quiet nurse call system replaces overhead paging. Workstations between every two patient rooms throughout all intensive care units enable nurses to stay close to the bedside.
The new building includes two 12-story towers: the Sheikh Zayed Tower, named in honor of the father of the president of the United Arab Emirates, and The Charlotte R. Bloomberg Children's Center, named in honor of the late mother of New York Mayor Michael Bloomberg. The Heart and Vascular Institute occupies the entire fifth floor, with units spanning both towers. The echocardiography and vascular noninvasive laboratory is located on the building's fourth floor.
Highlights at a glance
6 cardiovascular operating rooms
32 general cardiology beds
12 cardiac care unit beds
18 cardiovascular surgery intensive care unit beds
5 cardiac catheterization labs
4 electrophysiology labs and a fifth room for MRI-guided ablations
Find more information at: http://www.hopkinsmedicine.org/news/media/media_kit_new_building.
Posted April 18, 2012
More Articles: