Subscribe Now
Keep up with the latest news with our magazine and e-newsletter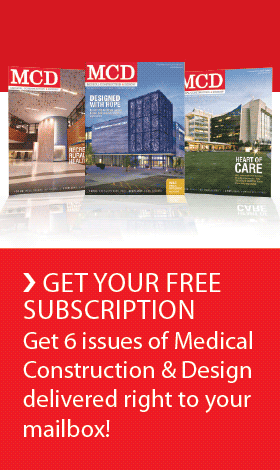 Subscribe to our E‑Newsletter
OAKLAND, Calif. — Kaiser Permanente named both Aditazz and Mazzetti Nash Lipsey Burch with Perkins+Will as winners in its international Small Hospital, Big Idea competition.

The Aditazz and M+NLB/ Perkins+Will teams were selected by a design jury for small hospital designs that:
• Create spaces to inspire human-to-human connection and collaboration
• Include civic spaces that blur the boundaries between the community and the traditional hospital setting
• Bring nature inside with light-wells and rooms that are oriented around a large central courtyard, building on research that shows a positive correlation between exposure to nature and healing
• Move beyond carbon neutrality to restore ecosystems and biodiversity, and improve the conditions for community health
• Make use of a unique tool that applies silicon-chip technology to the building and design process, enabling designers and frontline professionals to quickly explore an almost unlimited number of operational and space scenarios.
The teams were selected after an 11-month evaluation process that concluded in Los Angeles when the three finalists presented designs for a small, net-zero-energy hospital that uses new technology to improve health care delivery and outcomes.
"Kaiser Permanente is enormously grateful for the hard work and thought Aditazz and Mazzetti Nash Lipsey Burch and Perkins+Will put into their designs. Together, they offer us a fresh new approach to delivering care in a way that reinforces our commitment to providing exceptional and convenient care to our members and to building healthy communities," said Benjamin Chu, MD, MPH, group president of Kaiser Permanente Southern California and Hawaii regions.
The Small Hospital, Big Idea design competition launched in February 2011, seeking ideas for a small hospital that provides a patient-centered healing environment with a near-zero energy impact on the environment, while using the latest technology to improve quality and reduce costs.
Aditazz and M+NLB with Perkins+Will were selected over an excellent submission by finalist Gresham, Smith and Partners.
Both Aditazz's and M+NLB with Perkins+Will's designs include compelling ideas for such things as intimate patient-healing gardens and vibrant public spaces, as well as onsite renewable energy systems. The jury decided during final deliberations that these two teams together offered an exciting, game-changing approach to improving the quality and personalization of care, and the development of healthy communities.
As winners, Aditazz and M+NLB with Perkins+Will are eligible to contract with Kaiser Permanente for a small hospital project. The new small hospital is tentatively planned for Southern California, and the model will be adapted for use in other markets as well.
After years of experience building larger hospitals, and faced with the need for smaller hospitals to serve members in outlying, suburban communities, Kaiser Permanente launched the design competition to cast its net wider in the search for the brightest ideas in health care design and delivery. The competition generated widespread interest, with more than 108 design concepts submitted from around the world. After a rigorous evaluation process that narrowed the list to nine semifinalists, the design jury selected three finalists last May.
The finalists spent the next eight months evolving initial concepts into modified schematic design packages, with detailed drawings, cost projections, and thorough analyses to support their ideas. These proposals ran to several hundred pages. The finalists assembled teams of some of the world's top minds in health care design, technology and architecture, who later previewed designs with Kaiser Permanente caregivers and staff for reactions and insights. The finalists submitted final plans for a small hospital on Jan. 31.
Designs were judged on such factors as efficiency, including sustainability features; innovation; life-cycle costs, incorporation of methods to improve health outcomes; flexibility; and environment of care, including how successfully the design integrates the hospital into the local community.
"This has been an arduous process for all of the teams, but the results have yielded an abundance of ideas that could shape how the health care industry responds to changing demographics, technology and expectations," said David Allison, professor of graduate studies in architecture and health at Clemson University, and one of three architects on the jury. "The competition challenged us to think broadly about sustainability to include operational sustainability and economic sustainability in addition to environmental health as necessary attributes of a successful small hospital."
Other jury members included Charles Siconolfi, director of healthcare planning and design for HOK; Marilyn Chow, vice president of National Patient Care Services at Kaiser Permanente; and Jeffrey D. Selberg, executive vice president and chief operating officer of the Institute for Healthcare Improvement. Full details on the jury are available on the competition website.
The competition builds upon Kaiser Permanente's long history of environmental stewardship and green hospital design. Through its green building efforts, Kaiser Permanente saves more than $10 million per year and has eliminated the purchase and disposal of 40 tons of harmful chemicals in its facilities.
For an overview of the Aditazz and M+NLB with Perkins+Will designs, and that of the finalist, as well as images, visit http://design.kpnfs.com/.
Posted March 23, 2012
More Articles: