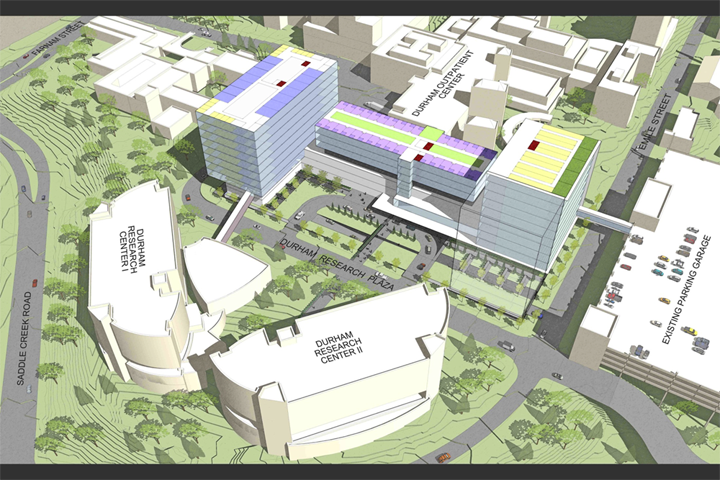 Subscribe Now
Keep up with the latest news with our magazine and e-newsletter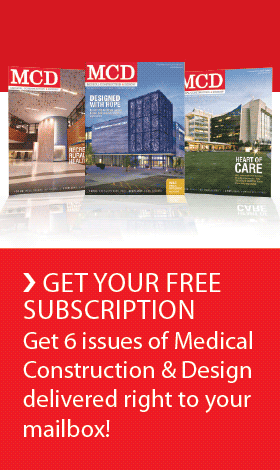 Subscribe to our E‑Newsletter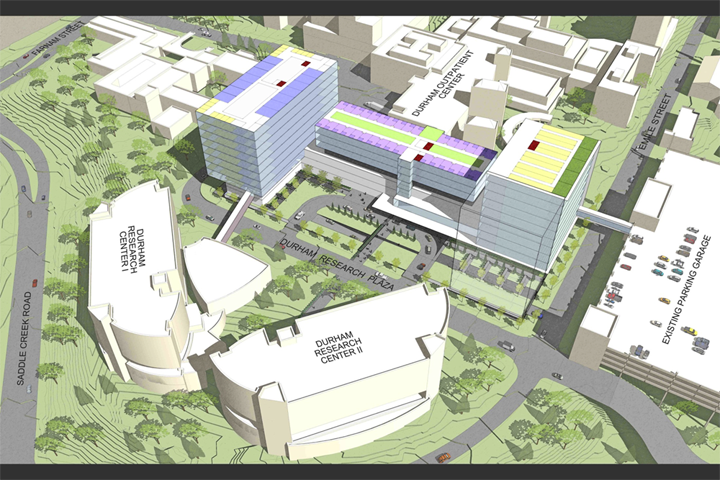 OMAHA, Neb. – Leaders from the University of Nebraska Medical Center and its hospital partner, The Nebraska Medical Center, announced preliminary plans for a new cancer center at the medical center's Omaha campus.

The cancer center would house research facilities, a multidisciplinary outpatient treatment center and clinic, and a new hospital tower. Medical center leaders call it the largest project ever proposed here.
"We have some of the leading cancer experts in the world right here at this medical center," said Glenn A. Fosdick, president and CEO of The Nebraska Medical Center. "This project takes that commitment to the next level. Having all of our experts, patient care areas and research in one location is more convenient for patients and will allow medical teams to collaborate on patient care and the development of new treatment options."
"This is a transformational project for all Nebraskans," said UNMC Chancellor Harold M. Maurer, M.D. "These facilities will elevate our cancer services, enhance our educational programs and provide a central location and synergy that not only will benefit our clinicians and researchers but most importantly, patients."
The new cancer center would be built on the west side of the medical center campus. While details of the project are still being reviewed, plans call for three facilities — a multidisciplinary outpatient clinic, a 98-lab research tower, and a hospital tower with 108 beds dedicated to oncology patients.
In addition to the cancer center, project plans also call for construction of a fourth building – an ambulatory care clinic – to be built near 42nd and Farnam streets. This building would provide outpatient clinic space for the medical center's various programs outside of cancer.
The new cancer center does not have an official name yet. Medical center officials refer to it as the Cancer Center Project. The best layout of the three structures in the Cancer Center Project is still being studied and will be announced as more details come into focus.
Building the new project will require the demolition of Swanson Hall and the parking structure to its south. New parking structures are part of the design for the new cancer center. The project does not call for any expansion west of Saddle Creek Road. Swanson Hall was built in the 1920s and currently houses offices for UNMC physicians, staff and researchers. No patient care is provided there.
Comprehensive Cancer Care
The National Cancer Institute has given just 40 cancer centers in the United States the comprehensive designation. This new facility would be built with the goal of including UNMC and The Nebraska Medical Center in that prestigious group by the year 2020.
"This kind of single-site facility is the future of cancer care and research," said Ken Cowan, M.D., Ph.D., medical director of the UNMC Eppley Cancer Center and oncologist at The Nebraska Medical Center. "Very few academic medical centers are positioned this well geographically and programmatically. We can provide an all-encompassing cancer center with great access, and more importantly, outstanding care and expertise."
Economic Impact
An economic impact study is being done as part of the proposal for the cancer center project. Medical center leaders expect the impact on the local economy to be profound with the project creating an estimated 1,200 new jobs by 2020 with an infusion of $100 million annually to Nebraska's economy.
"This is a very collaborative effort to bring a sizable amount of economic development to our community and state," said Michael Yanney, local businessman and chairman of the UNMC committee for Campaign for Nebraska, the University of Nebraska Foundation's comprehensive fundraising campaign. "It will make the city and region a major player in cancer treatment and research."
More than 85 percent of the project's costs are expected to come from private funds.
Cost and Construction
A project of this size and scope will require a significant amount of time and money. The exact cost of the project has not yet been determined. Estimates at this early stage in the proposal indicate the project would cost around $370 million. No construction date has been set. Funding sources are still being sought, including $50 million from the state of Nebraska to support the construction of the cancer research tower.
"Nebraska has an opportunity to make an investment now that will serve the people of the state well into the future," said James B. Milliken, president of the University of Nebraska. "Education and job creation are high priorities for Nebraska, and our proposal advances both. We are delighted that our partners in the Legislature are joining us to help build a stronger, more competitive Nebraska – which is a central part of our mission as the state's only public university. This is an excellent example of how the public, education and private sectors can work together for the betterment of the state."
"This is an investment in the future," Fosdick said. "This proposed project would ensure we maintain our current standing as a nationally recognized cancer care provider and allow us to organize ourselves in a new way that would ensure our cancer care is second to none nationally."
"These new facilities will elevate Nebraska's status as an international leader in health science and health care," Dr. Maurer said. "Most of the current comprehensive cancer centers are on the east or west coast. There is a real need for a complex like this here.
Rendering Source: http://www.unmc.edu/cancercenter.
Posted January 19, 2012
More Articles: