Subscribe Now
Keep up with the latest news with our magazine and e-newsletter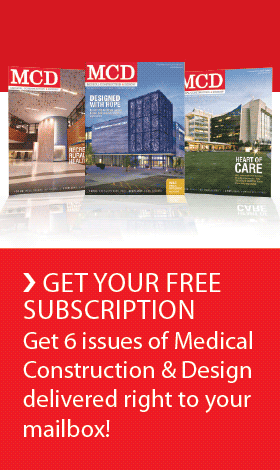 Subscribe to our E‑Newsletter
A survey of 20 major metropolitan areas in North America reveals that a number of interrelated perceptions are creating bottlenecks in achieving more cost-efficient and sustainable healthcare facilities.

Prevalent are:
• Apprehension about performance of new technology;
• Buying decisions are based on first cost;
• Proliferation of greenwashing by manufacturers and service.
It appears these three issues are linked in the minds of buyers and specifiers, as eight of 10 survey respondents share these opinions. A change in behavior and more education is needed to change these perceptions.
The survey was conducted as part of the "Economics, Efficiency, Energy & Environment: Making the 4Es Work Together in Healthcare" seminar series conducted throughout 2010-11 by the Corporate Realty, Design & Management Institute in partnership with the IFMA Healthcare Council (now the Healthcare Institute of IFMA).
The survey results can be downloaded on CRDMI's website, www.squarefootage.net (Direct link: http://www.squarefootage.net/2011_surveyresults.html).
Among the key findings:
• Lack of confidence in installing or specifying new technology;
• Lowest first cost still dominates purchasing decisions, except in Cleveland;
• Greenwashing plagues industry as 85 percent says it's becoming more prevalent ;
• Far too many lack the fundamental financial knowledge needed to overcome first cost issues with life cycle cost analysis;
• Majority feel healthcare still lags other industries in implementing sustainable solutions, except in Midwest cities;
• Crystal ball gazing: More than 90 percent forecast energy costs will rise 4 percent or higher;
• Reliability of infrastructure is top concern except in five cities where regulatory pressures is tops;
• Next step to retool for sustainability – 68 percent say appoint a sustainability manager
An immediate roadblock surfaced as attendees were quizzed about installing or specifying energy saving technology. When asked about what concerns them the most, 78 percent answered, "May not deliver projected performance." More than 85 percent of those survived say greenwashing is more prevalent today than two years ago. Only 4 percent think it is less than it was two years ago.
Linked to these concerns is that 80 percent say first cost takes precedence in the final selection of equipment and materials on their most recent projects. Less than 15 percent say they select products or equipment based on durability and expected life of the item. Cleveland, Chicago and Denver were the only cities where more than one third of respondents used durability or sustainable features as selection criteria. It is significant to note, however, some of the medical centers where the 4Es seminars were held displayed how long-term thinking was paying big dividends in energy savings and waste reduction.
Two survey questions tested attendees' financial knowledge: a prerequisite for presenting lifecycle cost analysis. More than 60 percent incorrectly answered both questions. The answers to the questions reveal the impact that design and operations has on a hospital's financial health. Given a 4 percent total margin, saving $1 in energy equals $25 in revenue, and for the average sized hospital in the U.S. that translates to an additional $7.2 million in revenue.
A lack of self-confidence was evident on sustainability issues, as more than 50 percent think healthcare is performing worse than other industries. The Midwest region had the highest opinion of itself, as the majority there believe the industry is as sustainable if not more so than other regions. Appointing a sustainability manager was considered the most important step in retooling a hospital for sustainability. Nearly 70 percent thought this would produce better results than creating a committee or relying on participation in Energy Star or LEED.
The Healthcare Institute of IFMA is part of the International Facilities Management Association, the world's largest organization of facility managers with nearly 20,000 members.
Posted December 14, 2011
More Articles: