Subscribe Now
Keep up with the latest news with our magazine and e-newsletter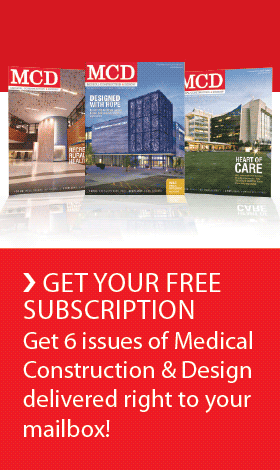 Subscribe to our E‑Newsletter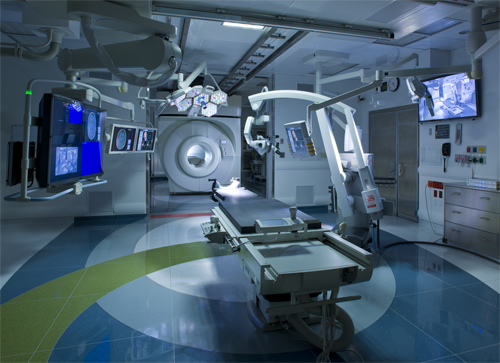 BOSTON, Mass. – Payette announced that the 5,700 GSF Advanced Multimodality Image Guided Operating (AMIGO) suite  has opened at the Brigham and Women's Hospital in Boston, Mass. As the world's first three-bay operating suite to house MRI, PET/CT, Ultrasound and Angiography in one place, along with surgical navigation tools and image registering and integration software, AMIGO offers significant advancements to developing image-guided surgical treatment procedures.

In this groundbreaking clinical care and research facility, a central operating room is linked to adjacent imaging rooms on either side, allowing the patient to remain positioned on the operating table while the ceiling-mounted MRI can move to the patient during a surgical procedure. By suspending a moving 33,000-pound magnet system on a ceiling mounted track, this unique feat of architectural engineering allows for unprecedented interoperable flexibility and permits rapid and seamless transitions between imaging and intervention.
Within the same environment, multiple imaging activities can occur, allowing the patient to receive care from teams of multi-disciplinary specialists. The integrated systems provide immediate access to imaging and enable the precise, minimally-invasive image-guided techniques. The end result is a safe and expeditious experience for the patient and a more effective application of intraoperative imaging for the surgeons, radiologists, nurses and technologists providing care.
"Building an operating suite of this complexity is unprecedented," says Brendan Whalen, AMIGO project manager from BWH Real Estate and Facilities. "Never before has a project involved so much design planning around surgical suite safety. Because of the radiofrequency energy and magnetic field from the MRI and energy from radioisotopes, and x-ray equipment, the suite has extensive lead, steel and copper shielding to protect staff and patients from these emissions."
The array of infrastructure necessary to enable this technology was deftly concealed behind walls and above ceilings, which were kept neutral in appearance so as not to compete with critical patient information displays. The kinetic qualities of the suite are captured on the floor, where the arc of the operating table's rotation and the limits of the magnet's Gauss lines are vividly rendered in a palette of colors.
While the AMIGO Suite is innovative by today's standards, its design also incorporates opportunities for future growth and development. The project team strove to create an environment that was 'future-proof,' using insights from previous installations at BWH and other hospitals that incorporated intraoperative MRI only to better anticipate future needs and accommodate growth and change.
Project team members included Suffolk Construction of Boston as the Construction Manager; BR+A Engineers of Watertown as the mechanical and electrical consultant; RW Sullivan of Boston as plumbing and fire protection consultant; and Weidlinger Associates, Inc. of Cambridge as structural engineer.

Image: Warren Jagger Photography
Posted December 27, 2011
More Articles: