Subscribe Now
Keep up with the latest news with our magazine and e-newsletter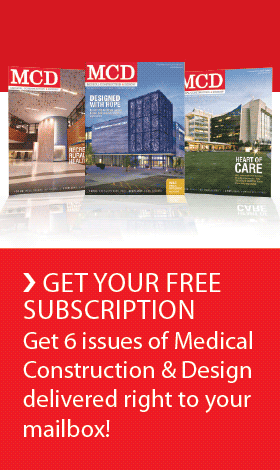 Subscribe to our E‑Newsletter
PLYMOUTH MEETING, Pa. — ECRI Institute, an independent nonprofit that researches the best approaches to improving patient care, announces the release of PriceGuide 4.0, the latest generation of its PriceGuide membership advisory service for the procurement of medical-surgical supplies and implants.
"The 4.0 platform adds a whole new level of interactivity and functionality for our PriceGuide members," states Tim Browne, director of ECRI Institute's PriceGuide service. "We've been able to deliver enhanced comparison data for better benchmarking."

In addition to viewing benchmarks against the PriceGuide national low, average and high price, members may now customize benchmarks by comparing against similar facilities based on annual spend, hospital vs. healthcare system, bed size and region. The new "date slider" tool allows members to customize the timeframe for data utilized for benchmarking, giving more concise analytics.
"PriceGuide 4.0's pricing and technology data, spend analytics, and other custom reporting tools allow for smarter, safer buying decisions based on price and clinical efficacy," says Anthony J. Montagnolo, executive vice president and chief operating officer, ECRI Institute. "Faced with limited resources and increasing supply costs hospital executives and supply chain professionals need objective, evidence-based market intelligence to inform and substantiate their supply purchasing decisions," adds Montagnolo.
The enhanced database includes comparative pricing on more than 1 million unique medical-surgical supply items and implants, submitted by ECRI Institute's PriceGuide member healthcare organizations. Hospitals can benchmark current and proposed pricing against the PriceGuide national low, average and high price for a particular item, and quickly identify where there are opportunities to negotiate for savings.
PriceGuide 4.0's interactive graphs and powerful drill-down data sets provide detailed decision support information for supply chain and materials managers, clinical administrators, value analysis teams and C-suite staff. The tool is helpful for garnering group buy-in and sharing costs across hospital departments.
With PriceGuide 4.0, member hospitals can:
• Customize time periods for which data is being benchmarked
• Differentiate between "hospital" pricing and "system" pricing
• Quickly identify top suppliers with the greatest opportunities for savings
• Analyze their total spend by supplier, manufacturer, department, category and item
• Compare proposed supplies and implants based on clinical effectiveness
For more information, please contact Tim Browne 610-825-6000, ext. 5118, or email tbrowne@ecri.org. To learn more about ECRI Institute, e-mail communications@ecri.org, call (610) 825-6000, or mail to 5200 Butler Pike, Plymouth Meeting, PA 19462-1298 USA.
ECRI Institute (www.ecri.org), a nonprofit organization, dedicates itself to bringing the discipline of applied scientific research to healthcare to discover which medical procedures, devices, drugs, and processes are best to enable improved patient care. As pioneers in this science for more than 40 years, ECRI Institute marries experience and independence with the objectivity of evidence-based research. Strict conflict-of-interest guidelines ensure objectivity. ECRI Institute is designated as an Evidence-based Practice Center by the U.S. Agency for Healthcare Research and Quality. ECRI Institute PSO, listed as a federally certified Patient Safety Organization by the U.S. Department of Health and Human Services, strives to achieve the highest levels of safety and quality in healthcare by collecting and analyzing patient safety information and sharing lessons learned and best practices. Find ECRI Institute on Facebook (www.facebook.com/ECRIInstitute) and on Twitter (www.twitter.com/ECRI_Institute).
Posted September 14, 2011
More Articles: