Subscribe Now
Keep up with the latest news with our magazine and e-newsletter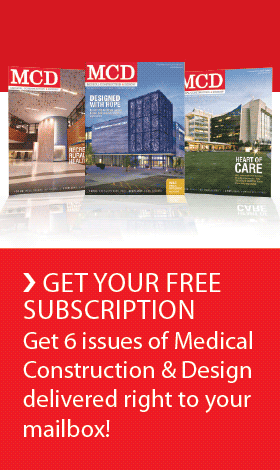 Subscribe to our E‑Newsletter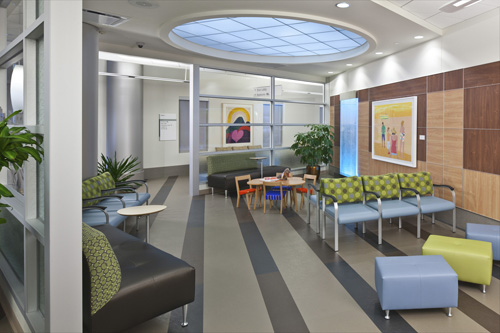 BEACHWOOD, Ohio — The U.S. Green Building Council awarded University Hospitals Ahuja Medical Center a LEED New Construction 2009 (NCv2009) Silver certification – making the new hospital the first healthcare facility in the country to receive certification under this version. LEED NCv2009 raised the bar with higher and more stringent sustainable requirements.

University Hospitals selected HKS Architects, in collaboration with Array Healthcare Facilities Solutions, for the UH Ahuja Medical Center project in Beachwood, Ohio. HKS served as the project's design architect, and Array was the corporate architect and interior designer. Gilbane Building Company was the construction manager.
The $298 million, 53-acre campus features calming gardens, ponds and fountains, offers a comprehensive array of inpatient and outpatient services ranging from high-tech, minimally invasive surgery to leading-edge diagnostics and procedures. Physician offices and space for community outreach and education programs are also available.
According to Chris Mundell, sustainable design manager with HKS, the design, construction and operation teams created sustainable tools that allow the owner to monitor and adjust energy and water consumption throughout the life of the building. "The design is expected to reduce energy consumption by 17 percent and water use by 25 percent."
Design highlights:
• Use of bio-swales and bio-retention basins to manage onsite stormwater ;
• Implementation of a measurement and verification plan to reduce energy use through metering and monitoring;
• Installation of photovoltaic panels on the roof through a Solar Power Purchase Agreement;
• Selection of sustainable and eco-friendly materials to provide a healthy indoor environment;
• Development of operational policies for green cleaning, organic landscaping and integrated pest control.
"Using the guiding principles and vision set forth by the Ahuja family, UH Ahuja Medical Center is a world-class facility where care is brought to the individual in a personalized and sustainable way," said HKS designer Shannon Kraus, AIA. "The design concept is community.  Both in form and function, the priorities and guiding principles of the project are about embracing the community and the surrounding environment."
The form itself is shaped to reach out and engage the surrounding neighborhoods. "Natural light and materials as well as expansive glazing are used strategically to bring the outside in, making the project one with its natural site and protected wetlands," said Kraus. "The modern style of the design is set to complement the civic buildings of Beachwood, while creating a new center where people are brought together to work, live and heal."
The 144-bed University Hospitals Ahuja Medical Center offers an exceptional model of community-based care and convenient access to specialized medical services. The hospital has an open medical staff and was built using evidence-based design principles and input from clinicians to promote shortened hospital stays and accelerated recovery times in a patient- and family-centric healing environment. Private patient rooms with dedicated family spaces offer the utmost in privacy and comfort while preeminent digital imaging technology allows for faster, more comprehensive diagnoses. To promote a calming, therapeutic environment, the hospital features bright, airy common areas, outdoor gardens and walkways and original works of art. Green building standards were incorporated to improve energy and water-use efficiencies and preserve existing natural resources. UH Ahuja Medical Center is designed to expand to three towers and 600 beds and is a centerpiece of the $1.2 billion investment University Hospitals is making into the future of health care in Northeast Ohio. For more information, go to www.uhahuja.org.
HKS, ranked among the top healthcare-specialized architectural firms by Modern Healthcare and BD World Architecture, understands and embraces holistic healthcare. Operating from 23 offices throughout the United States, Latin America, United Kingdom, Middle East, India and China, the firm focuses on innovative design, process and delivery. Through a focused visioning approach, HKS collaborates with each client to evaluate transformational concepts that support and improve the patient/family experience, operational efficiency, the latest in technology and future flexibility.  For more information, visit www.hksinc.com.
Posted August 4, 2011
More Articles: