Subscribe Now
Keep up with the latest news with our magazine and e-newsletter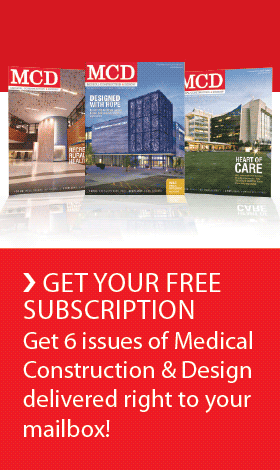 Subscribe to our E‑Newsletter
FARGO, N.D. & SIOUX FALLS, S.D. — Sanford Health officials unveiled major plans for the much-anticipated $360-million, 371-private room Sanford Fargo Medical Center. The announcement was part of Sanford Gala Week, representing the celebration of major facility projects and improvements, and one of the most ambitious construction projects Sanford has undertaken.

The new Fargo campus is the largest project of its kind in North Dakota history and will encompass more than 100 acres in a fast-growing area of southwest Fargo. The new campus provides the capacity for future expansion along with convenient access from two major interstates. It is a massive construction project that will have far-reaching economic impact. From architects to electricians, it is expected to require several thousand people to build the facility over the course of three years.
"Designing a new medical center from the ground up is an extraordinary opportunity to do things right for our patients," said Kelby Krabbenhoft, Sanford Health president and CEO. "This project and other system developments around the world are a credit to the vision of past and current boards, and the administrations of our legacy organizations and all of our staff involved today."
Sanford's overall commitment to facility improvements is equal to more than $600 million in construction projects reaching hundreds of miles from northern Minnesota across the Dakota's. On Aug. 17, Sanford announced the Edith Sanford Breast Cancer Center named in honor of Denny Sanford's mother. It includes a new building in Sioux Falls and an expansion in Fargo.
Sanford's new Fargo medical center models the future of healthcare. The unique "X" shaped facility optimizes integration between the hospital and clinic environments within the signature Sanford collegiate gothic design, introduced in the heart hospital currently under construction in Sioux Falls. Guiding principles for the project included focus on a healthy environment, convenience for patients, patient and staff safety, enhancement of privacy, reduction of noise, standardization and support for clinical research and education.
Room for growth, facility design limitation and aging buildings are the main reasons for the project. About 58 percent of Sanford's downtown Fargo campus patients come from outside the metro area. Downtown Fargo is difficult to navigate with multiple railroad crossings and congested traffic. The threat of flooding is also a factor – many of the downtown campus buildings are antiquated and the campus is land-locked. By 2015, it is estimated that 7,178 Sanford employees will be needed to serve 200,000 people in the Fargo-Moorhead metro area. Sanford currently employs over 5,600.
Groundbreaking is expected in 2013, with anticipated completion in 2016. The 704,000-square-foot, 11-story facility will house Sanford's medical and surgical services, emergency medicine, and four out of five Centers of Excellence (heart, children's, women's, orthopedics/sports medicine). Highlights include: 30 operating rooms (includes two cesarean birth rooms), 10 heart catheterization/interventional labs, 40 emergency treatment/trauma rooms, 300 clinic exam rooms, and space for 200 physicians and 2,700 employees.
The fifth Center of Excellence, cancer, will be the focus of a $30 million enhanced and expanded Roger Maris Cancer Center at the downtown campus. Sanford's commitment to continued investment in downtown Fargo is strong. The downtown campus will be home to about 2,000 employees and will occupy about 200,000-square-feet with 220 private rooms.
"The Trustees of Sanford Health see the new Sanford Fargo Medical Center and other developments across our footprint as the successful result of shared vision, incredible generosity, significant planning efforts and fulfilling of the role of our organization and board of trustees," said Ron Moquist, Sanford Board of Trustees Chair. "The positive impact of these new developments will be most importantly experienced by our patients and families, and in supporting our staff and physicians and researchers in their work serving our communities."
In conjunction with this extraordinary construction project, the Sanford Health Foundation is launching The Building Tomorrow Today Campaign; an effort to raise $50 million in endowment funding that will provide perpetual support for the new facility, its programs and services. The Foundation announced lead gifts totaling more than $7 million, including a $5 million gift from the Sanford Health Center Partners, formerly the Volunteer Auxiliary at Sanford in Fargo. "This important campaign will work in tandem with Sanford's capital resources," said Brian Mortenson, president of the Sanford Health Foundation.
About Sanford Health
Sanford Health is an integrated health system headquartered in Fargo, ND and Sioux Falls, SD and consists of two long-standing organizations that merged in 2009. Sanford is now the largest, rural, not-for-profit health care system in the nation with a presence in 112 communities in seven states. In addition, Sanford Health is in the process of developing an international clinic in Ireland. Sanford Health includes 34 hospitals, 116 clinic locations and more than 900 physicians in 70 specialty areas of medicine. With more than 20,000 employees, Sanford Health is the largest employer in North and South Dakota. The system is experiencing dynamic growth and development in conjunction with Denny Sanford's $400 million gift in 2007, the largest gift ever to a health care organization in America. This gift is making possible the implementation of the several initiatives including global children's clinics, multiple research centers, eradicating breast cancer and finding a cure for Type 1 diabetes. For more information, visit sanfordhealth.org.

Rendering: www.sanfordhealth.org.
Posted August 23, 2011
More Articles: