Subscribe Now
Keep up with the latest news with our magazine and e-newsletter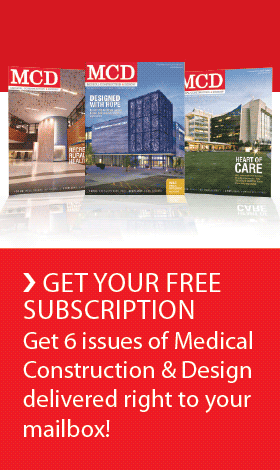 Subscribe to our E‑Newsletter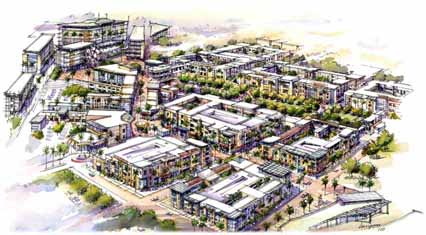 HENDERSON, Nev., Aug. 10, 2011 — It began as a vision for a new kind of healthcare campus, and tied in perfectly with the need to replace St. Rose Dominican Hospitals' aging Rose de Lima campus currently located in the southeast Las Vegas suburb of Henderson.

The planned development called UnionVillage will encompass  much more than simply replacing the 64-year-old hospital, UnionVillage has emerged as a visionary plan to create the nation's first integrated health village on a 171-acre site at U.S. Highway 95 and Galleria Drive. Preeminent healthcare firms, Hammes Company and HKS, have been engaged to provide project management and design services, respectively.
UnionVillage will be a multi-phase, master-planned, mixed-use development anchored by a range of healthcare and senior living facilities. The project consists of:
UnionCentre, the centerpiece of the new campus, will include a new 214-bed St. Rose de Lima acute care hospital, a cancer hospital, a long-term acute care and rehabilitation facility, a skilled nursing facility, a proton therapy center, and a wellness center, as well as medical office buildings (MOBs), and education and research space.
UnionPlace, a continuing care retirement community (CCRC) for up to 1,500 active seniors, will offer amenities including a clubhouse with dining facilities.
UnionPlaza will include 300,000 square feet of specialty retail space and a mid-range, all-suites hotel and conference center, along with restaurants, a multi-screen theater, an athletic club, a food court, an inter-generational child development center and offices.
UnionPark will consist of a series of thematic walks and pedestrian pathways and parks that link the village together with a proposed Henderson Space and Science Center, a possible Performing Arts Center, and future commercial development.
According to Rex L. Carpenter AIA, LEED AP project designer, HKS is excited about the opportunity to bring expertise in healthcare, hospitality, residential, retail and entertainment together to truly enhance peoples' lives. "From day one, the project has focused on building a place where the quality of life is improved through better healthcare in a sustainable community with the latest technology," explains Mr. Carpenter.
"The demographics of the Henderson area and greater Las Vegas indicate intense demand for better-quality outpatient, acute-care and post-acute healthcare and senior living services," notes Rich Galling, president and COO of Hammes Company. "We are thrilled to have been selected to provide project management services for UnionVillage – not only because this campus will help to satisfy that demand, but also because this is an opportunity for Hammes Company to be part of a pioneering effort to formulate a new model of integrated healthcare."
In addition to Hammes Company, HKS and St. Rose Dominican Hospitals, which is a member of Catholic Healthcare West (CHW), the UnionVillage project team includes Haskell design-build firm, Penta Building Group and Juliet Cos., which will develop the retail components of the project.
The UnionVillage plan enjoys broad support from a range of state and local politicians, including U.S. Sen. Harry Reid, Rep. Joe Heck, Gov. Brian Sandoval and Henderson Mayor Andy Hafen. With an estimated total initial phase investment of $1.6 billion, it is projected that the project will generate 17,000 direct, indirect and construction jobs; more than $8 billion in payroll and income tax; and $1.5 billion in property and sales tax.
On June 14, the Henderson City Council unanimously approved selling 171 developable acres of the city owned site to UnionVillage for $11.6 million. UnionVillage plans to close on the land acquisition later this year when the City completes its required improvements, and work will begin in earnest when permanent financing is in place. According to Foulkes, design work for the site and hospital will require about 14 months.
Hammes Company will oversee site preparation and infrastructure improvements for UnionVillage, and is also analyzing local demand to determine the appropriate amount of medical office space to be included in the project.
About UnionVillage
Located in Henderson, Nev., UnionVillage will be the first Integrated Health Village in the world. The visionary model for health care will offer a world-class hospital complex, residential, entertainment and specialty retail space, a vibrant senior retirement community and cultural arts center integrated into a master planned community. The first of the three phases of the architecturally aesthetic, technologically innovative and environmentally sustainable village to be developed on 171 acres, will include UnionCentre, featuring a state-of-the-art hospital and healthcare complex; UnionPlaza, a specialty retail center with medical offices, residential apartments, entertainment and a mid-range all-suite hotel; UnionPlace, home to a vibrant Continuing Care Retirement Community for seniors; and UnionPark, serving as the village's cultural center complete with the Henderson Space and Science Center and a possible performing arts theater. For more information visit UnionVillage.net.
About Hammes Company
Hammes Company is a single source of market-based and financially sound healthcare solutions. The full-service consulting firm is at the forefront of providing strategic planning, facility development, project management and implementation, and real estate acquisition and advisory services to hospitals, healthcare systems, and major physician groups. The company has been ranked as one of the nation's top developers of healthcare facilities for 12 consecutive years by Modern Healthcare magazine. Hammes Company is headquartered in Brookfield, Wis. and provides services through a network of regional offices strategically located across the country. For more information, please visit www.hammesco.com.
About HKS Architects
HKS, Inc. is a leading architectural design firm ranked among the top five architectural/engineering firms, according to Building Design+Construction magazine, and among the top 11 architectural firms, according to BD World Architecture magazine. Since its founding in 1939, HKS has completed construction projects totaling more than $69 billion in more than 1,069 cities located in 46 states, the District of Columbia and 65 foreign countries. HKS is ranked among the top healthcare-specialized architectural firms by Modern Healthcare and BD World Architecture. The firm operates from 23 offices worldwide. For more information, visit www.hksinc.com.
Posted August 10, 2011
More Articles: