Subscribe Now
Keep up with the latest news with our magazine and e-newsletter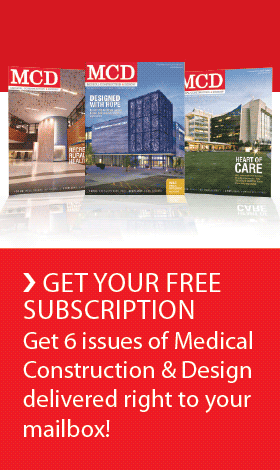 Subscribe to our E‑Newsletter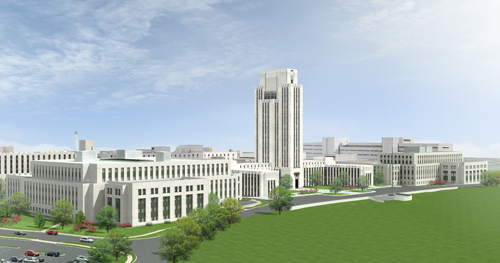 BETHESDA, Md. — The Walter Reed National Military Medical Center achieved LEED Gold certification in the LEED for New Construction rating system – an impressive feat for a state-of-the-art medical facility that operates around the clock and uses high-energy medical equipment. On July 20, the project was named Project of the Year – New Construction by the U.S. Green Building Council National Capital Region Chapter.
Under a design-build contract awarded by the Naval Facilities Engineering Command, Clark/Balfour Beatty, A Joint Venture, created the Walter Reed National Military Medical Center on the campus of the National Naval Medical Center in Bethesda, Md. Design efforts were led by HKS Architects, executive architect; Wingler Sharp, architectural renovation and construction design; and Hartman-Cox Architects, historic preservation. Design-build partners integral to achieving LEED certification include Southland Industries (mechanical) and M.C. Dean (electrical). The $826 million project included new construction as well as expansions and renovations to existing hospital facilities. The Walter Reed National Military Medical Center was created through the Base Realignment and Closure Act of 2005.
The new construction work that is LEED Gold certified (the renovation work was not submitted for LEED certification) consists of the following projects that were scored together:
• America Building (Building A): 560,000-square-foot, six-story outpatient facility providing services for cancer patients, amputees and other outpatient clinical needs. This is the largest outpatient medical building in the military health system.
• Arrowhead Building (Building B): 165,000-square-foot, four-story addition to the existing hospital housing emergency in-patient services.
• Patient Parking Garage: 939-space, eight-story parking structure located to the east of Building A.
The Navy required LEED Silver for this project, but the design-build team voluntarily went beyond that, earning Gold by achieving 43 points, 30 percent more than required for Silver.
"Our team is the truest example of how intense collaboration between designers and builders, coupled with an unwavering focus on sustainability throughout all project phrases, can yield exceptional results, even on a demanding healthcare project," said Joe Hogan, Senior Vice President, Clark/Balfour Beatty.
Sustainable Design Highlights:
• The heating, ventilation and cooling systems incorporate cutting-edge technology such as efficient lighting systems, an Enthalpy heat recovery wheel to transfer energy between exhaust and incoming outside air, and high-efficiency water-cooled centrifugal chillers to save 28 percent energy to heat and cool the building.
• The Enthalpy wheel allows the occupants to enjoy 100 percent outside air in lieu of the usually re-circulated air.
• The site stormwater system performs 25 percent better in preventing flooding downstream than code due to local water pollution issues.
• By selecting native and adaptive landscaping, the need for permanent irrigation systems was negated. In addition, water-efficient fixtures reduced water usage by 33 percent inside the building.
• Covered parking and new landscaping camouflage cars and reduce the amount of hot pavement that would upset the circadian rhythm of the natural habitat and systems.
• Light pollution controls prevent interior and exterior lighting from illuminating the night sky and unnecessarily spilling light onto adjacent plazas and buildings.
• An innovative construction waste management plan diverted 89 percent of waste from landfills.
• All interior materials products are selected based on toxicity, performance and environmentally friendly aspects.
"As we accept the certification for LEED Gold, we recognize our responsibility to the nation, the taxpayers and the American people to be good stewards of the resources that have been provided to us," said Col. Charles Callahan, deputy commander, National Naval Medical Center.
New construction and the parking garage submitted for LEED certification was complete in January. Renovations to the existing hospital at National Naval Medical Center and additional work continue through July.
About Clark Construction Group
American owned and operated since 1906, Clark Construction Group, LLC, is one of the nation's leading construction services providers. Clark is currently ninth on Engineering News-Record's Top 400 General Contractors list, third on Engineering News-Record's Top Green General Contractors list, and first on Modern Healthcare's 2011 Healthcare Industry Construction and Design Survey. Based in Bethesda, Md., Clark has offices strategically located across the country to meet client needs. For more information visit www.clarkconstruction.com.
About Balfour Beatty Construction
A leader in the U.S. commercial construction industry, Balfour Beatty Construction provides general contracting, at-risk construction management and design-build services through 2,100 professionals nationwide. For the past two years, the company has been cited as a Top 10 Green Builder by Engineering News-Record and as one of the 100 Best Companies to Work For® by FORTUNE magazine. The company is part of London-based Balfour Beatty plc, a global leader in professional services, construction services, support services, and infrastructure investment, with more than $18 billion in annual revenues. To learn more about the company and its subsidiaries—Barnhart Balfour Beatty, Charter Builders and SpawMaxwell—visit www.balfourbeattyus.com.
About HKS
HKS, ranked among the top healthcare-specialized architectural firms by Modern Healthcare and BD World Architecture, understands and embraces holistic healthcare. Operating from 23 offices throughout the United States, Latin America, United Kingdom, Middle East, India and China, the firm focuses on innovative design, process and delivery. Through a focused visioning approach, HKS collaborates with each client to evaluate transformational concepts that support and improve the patient/family experience, operational efficiency, the latest in technology and future flexibility.  For more information, visit www.hksinc.com.
Posted July 22, 2011
More Articles: