Subscribe Now
Keep up with the latest news with our magazine and e-newsletter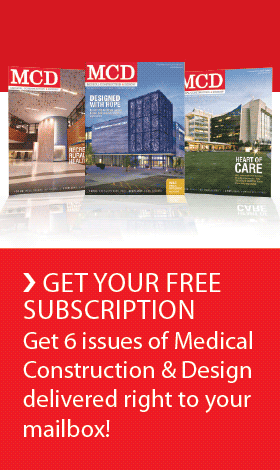 Subscribe to our E‑Newsletter
ATLANTA — Perkins+Will, global interdisciplinary design firm, is pleased to announce Willson Hospice House in Albany, Ga. was awarded LEED Silver certification.
Perkins+Will provided planning, landscape architecture, architecture, and interior design services for Willson Hospice House, which opened in July 2010. Its 210-acre site was carefully developed to preserve perimeter wetlands, and create a series of gardens and walking trails through the natural forest of dogwood, pines and oaks.
While access to nature is an important part of the Willson Hospice's stress-relieving care for terminally-ill patients, the project was also planned from its inception to be an ecological oasis for its larger community. For its care in establishing sustainable resource management, Willson Hospice has become the only healthcare facility in the world designated a Silver Signature Sanctuary by Audubon International.
Perkins+Will's design for Willson Hospice House created an approachable, welcoming building to suit its staff's extraordinary mission. Simple geometric shapes and familiar warm materials like fieldstone, cedar, pine, and Douglas fir invite visitors to linger. The administrative component which houses 50 homecare staff members, and the residential areas for 18 inpatients are knit together by shared staff spaces and exterior courtyards between the small building wings.
"Perkins+Will has completed more than 100 LEED-certified projects. That deep expertise in sustainability informs all our work," said Ila Burdette, AIA, LEED® AP, principal, senior living + hospice expert for Perkins+Will, Atlanta. "Willson Hospice House was a particularly wonderful opportunity to work with Phoebe Putney Memorial Hospital as their system leads the way in providing sustainable healthcare for this part of the country."
Willson's sustainable features include a 20.8 percent reduction in annual energy use costs, a 21.9 percent reduction in potable water usage, the preservation of 93.5 percent of the site for native flora and fauna, and the diversion of more than 50 percent of construction waste from landfills. More than 80 percent of the building's spaces are directly daylit, and more than 90 percent have exterior views into the landscape.
"Patients have enjoyed the beautiful surroundings both inside and outside the building," said Patty Woodall, director of Willson Hospice House. "The building is flooded with light during the day hours which lifts their spirits. Some enjoy going out onto the patio to sit.
"Families are also able to enjoy the building and surroundings," said Woodall. "They are able to walk through the gardens and visit the outdoor chapel. They comment on how beautiful and quiet it is here," she said. "One daughter told us letting her mother go was easier here, surrounded by so many reminders of nature's seasons and cycles."
Willson Hospice House is the only inpatient facility in Southwest Georgia. Along with its LEED and Audubon awards, the facility was named 2011 Best in Show and given a Citation of Merit by Vendome's Long Term Living DESIGN Magazine and Environments for Aging Conference.  It was named Southeast Construction's 2010 Best Architectural Design. Willson also earned the Georgia Chapter of IIDA's 2011 Award of Merit for Healthcare, as well as Southeastern WoodWorks' 2011 Best Institutional Award. 
About Perkins+Will
Established in 1935, Perkins+Will (www.perkinswill.com) is an integrated design firm with offices in Atlanta, Boston, Charlotte, Chicago, Dallas, Dubai, Houston, London, Los Angeles, Miami, Minneapolis, New York, Orlando, Ottawa, Philadelphia, Research Triangle Park, San Diego, San Francisco, Seattle, Shanghai, Toronto, Vancouver, and Washington, DC. The firm has practices in architecture, interiors, branded environments, planning + strategies, preservation + adaptive reuse, and urban design for clients in the aviation + transit, corporate + commercial + civic, healthcare, higher education, K-12 education, science + technology and sports + recreation markets. Perkins+Will routinely ranks among the world's top design firms and has received hundreds of awards, including the prestigious American Institute of Architects' "Firm of the Year Award." Social responsibility has been a driving philosophy at Perkins+Will since the firm's beginnings in 1935. The firm has committed to the 1% Solution through Public Architecture, donating pro bono time to non-profit organizations in need of design services. With more LEED® Accredited Professionals than any design firm in North America, Perkins+Will is recognized as one of the preeminent sustainable design firm in the country. Perkins+Will was the first multi-office company to commit to the 2030 Challenge, in which the firm has pledged that all of their projects be designed to carbon neutrality by the year 2030.
About Willson Hospice House
Willson Hospice House, an inpatient hospice care facility, is open to patients and their families who are facing end-of-life issues. Built amidst the woodlands in Northwest Albany and designed with a home-like environment, Willson Hospice provides patients and their families a safe and comfortable environment during times when a patient cannot be cared for in his or her own residence. Also the new home for Albany Community Hospice and Palliative Care, the 39,135-square-foot Willson Hospice House houses on one side of the building the inpatient care program in pods featuring six rooms each. On the other side is the home care program for patients residing at home or in an assisted or long-term care facility.
Posted June 21, 2011
More Articles: