Subscribe Now
Keep up with the latest news with our magazine and e-newsletter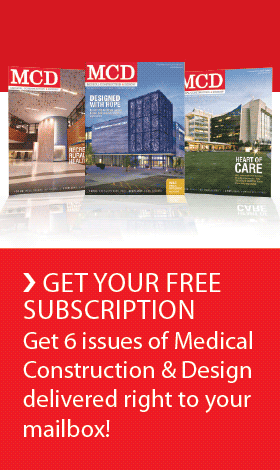 Subscribe to our E‑Newsletter
DENVILLE, N.J. — A new era of surgical care recently arrived at Saint Clare's Hospital/Denville Monday, when hospital officials held a blessing and opening event to celebrate the technologically advanced $14 million Surgical Pavilion, which will open for patients in early July.
With the most advanced systems in LED surgical lights and operating room ceiling-mounted Equipment Management Systems from TRUMPF, Saint Clare's will be the first in the state and only the second in the country with this combination of advanced technologies.

Additionally, real-time integrated video and communications systems from Black Diamond Video will place Saint Clare's in the company of renowned healthcare organizations with the same technology, such as Cleveland Clinic, Duke, Mass General and Yale, among other select hospitals nationally. Surgeons will also have access to the first hospital-owned simulation equipment in New Jersey for the latest in robotic surgery with the da Vinci Si Dual Console Surgical System, cutting-edge technology which has shown to decrease blood loss and offer a shorter recovery time for patients.
"The new Surgical Pavilion is the culmination of two years of extensive planning and construction to transform Saint Clare's surgical capabilities," said Leslie D. Hirsch, president and chief executive officer at Saint Clare's Health System. "With the support of our sponsor, Catholic Health Initiatives, this new facility will provide the latest in leading edge surgical technology to the communities we serve."
In support of the new surgical facility, Saint Clare's Foundation Trustees and long-time donors to the Health System, Gale and Bruce Bott, announced a $1.5 million gift. The Botts' gift is the largest they've ever made to any organization, and represents one of largest individual gifts in Saint Clare's history. In recognition of their philanthropic support, the new Surgical Pavilion will be named "The Bott Family Surgical Pavilion" in their honor.
"Bruce and I are so indebted to Saint Clare's for their help through the years," said Gale Bott. "Life has been wonderful to us, and we thank God for that. This is our opportunity to give something back."
"We are enormously grateful to the Botts for their continued generosity," said Hirsch. "They have always demonstrated a deep commitment to Saint Clare's, and we thank them for their leadership vision and commitment to health care in our community."
Through the funding for this project, the 20,985 square foot Surgical Pavilion was created as a self-contained unit that features seven operating rooms connected to a central area for storage of supplies, entry to the operating rooms, and more private patient holding areas.
To ensure that the new Surgical Pavilion met the needs of surgeons and medical staff, the designers, Francis Cauffman Architects of Philadelphia, consulted with a select team of Saint Clare's surgeons to choose the best design, which was constructed by Torcon Inc. of Philadelphia. Officials and doctors also toured other hospitals to gain first-hand knowledge about the most beneficial facilities that could be employed at Saint Clare's.
The result is an impressive array of new technology that will put information at the fingertips of a surgical team. Some of the key benefits include:
Saint Clare's will be one of three hospitals in the country to feature this sophisticated combination of technologies, which includes an LED lighting system that improves visibility by virtually eliminating harsh shadows at the surgical site and reduces physician eye strain.
The operating rooms will also have windows that bring in sunlight as a natural addition to the LED lighting system.
The technology and equipment will be powered through a state-of-the-art system, which offers easy access while reducing clutter and adding to the overall efficient design of the surgical pavilion.
Physicians will have direct access to radiology images, with X-ray images able to be displayed on any monitor in the room during surgery.
A video integration system will provide for real-time, high-definition communication; pathology can view the surgery from their desk and the surgeon can view pathology when analyzing the specimen.
All technology systems will be supported by touchscreen monitors for multi-purpose communication and other functions.
Ensuring that surgeons and operating room staff have access to supplies as quickly and efficiently as possible prior to and during surgery, the Surgical Pavilion design will allow each operating room to have access to a dedicated staff member in the center core supply room.
Dedicated holding rooms with heated panels that provide radiant heat to warm patients and reduce the potential for infections will be available, as will an anesthesia procedure room for pre-operative implementation of pain management.
In addition, Saint Clare's will feature the newest robotic technology, the $2 million da Vinci Si Dual Console Surgical System, with simulation technology, allowing physicians to refine their skills. Saint Clare's is the first New Jersey hospital to purchase the simulation technology.
Patient tracking boards will allow family members and physicians to track patients through a private identification number, offering physicians the ability to check the status of their case and family members to follow their loved one's medical procedure and recovery. This system will be available in spring 2012. In the near future, Saint Clare's will begin updates to Same Day Surgery and the Recovery areas for patients post-surgery.
"The new, state-of-the-art operating suites will provide the Saint Clare's surgical team with another cutting-edge tool to care for its patients," said Dr. Lawrence Friedman, Chairman, department of Surgery.  "It is just another example of how the Saint Clare's healthcare 'family' is continually working to improve and excel for its patients and their families."
About Saint Clare's Health System
Saint Clare's Health System, which has served the healthcare needs of northwestern New Jersey residents since 1895, is the region's premier provider of community-based healthcare and behavioral health services.  Saint Clare's operates hospitals in Boonton Township, Denville, Dover and Sussex Borough and other facilities located throughout Morris and Sussex counties.
Saint Clare's is part of Catholic Health Initiatives (CHI), a national nonprofit health organization with headquarters in Denver, Colorado. The faith-based system operates in 19 states and includes 73 hospitals; 40 long-term care, assisted- and residential-living facilities; two community health-services organizations; and home health agencies.
About Gale and Bruce Bott
Gale and Bruce Bott are long-time members of the community, now in their 36th year as residents of Flanders, NJ.  Bruce is a Lehigh University graduate, with both a BS and MS in Civil Engineering and Gale is a Registered Nurse who previously served as an operating room nurse at Saint Clare's Hospital/Denville.
Bruce Bott founded Advanced Digital Data, Inc., which develops software for energy distribution companies such as fuel oil distributors and propane companies. Bruce and Gale have a rich history of philanthropy concerning Saint Clare's Health System, were chairs of the Miracles capital campaign several years ago, and made a significant gift that named the Newborn Nursery in the Katena Center for Mother and Child at Saint Clare's in memory of their grandniece.  Both Gale and Bruce are current trustees of the Saint Clare's Foundation, with Bruce serving as Vice Chair.
The couple has six children (four born at Saint Clare's) and 16 grandchildren.
Posted June 21, 2011
More Articles: