Subscribe Now
Keep up with the latest news with our magazine and e-newsletter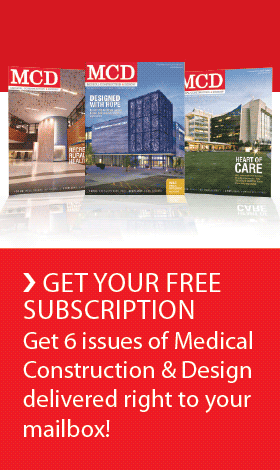 Subscribe to our E‑Newsletter
PLANO, Texas & HACKENSACK, N.J. — LHP Hospital Group, Inc. (LHP) and Hackensack University Medical Center (HUMC) announced that Richard S. Freeman has been named CEO of Hackensack University Medical Center at Pascack Valley.
HUMC and LHP formed a joint venture in 2009 to reopen the former Pascack Valley Hospital in Westwood, N.J., which was closed in April 2008. This announcement follows a recent filing of the Certificate of Need application on behalf of LHP and HUMC, doing business as Pascack Valley Health System, LLC.
"I am thrilled to have Rich Freeman come aboard as we work to restore the much needed hospital services to Pascack Valley and Northern Valley," said Robert C. Garrett, president and CEO of Hackensack University Medical Center. "His proven leadership experience will help us to bring high quality care to Westwood, while maintaining the close-knit community once familiar at Pascack Valley Hospital."
Freeman recently served as the COO of Beth Israel Medical Center in New York City, where he was responsible for the ongoing operations of the two campus, 1,200-bed major academic community hospital. Prior to his tenure at Beth Israel, Freeman held a number of positions with Tenet Healthcare as the CEO of Medical College of Pennsylvania, Vice President of the Tenet Louisiana Operations, and CEO of Delray Community Hospital. Freeman began his healthcare career with National Medical Enterprises (now Tenet) and held regional positions in California in addition to several CEO and COO positions in Florida and Louisiana.
"Rich Freeman is an outstanding, experienced hospital administrator, and we are fortunate to have him join the LHP team in this critical leadership role. Rich has had a very successful career of working with physicians and employees to deliver high quality patient care to the communities we serve," said Dan Moen, LHP CEO.
"I am honored to join the teams at LHP and Hackensack University Medical Center. LHP is recognized nationally as a leader in collaborating with physicians and employees. LHP's strategy of forming joint ventures with not-for-profit hospitals is unique and well-respected throughout the healthcare industry," said Freeman. "Hackensack University Medical Center is one of the most outstanding systems in our nation based on any quality measure. They have been recognized regularly for care quality, outcomes, and clinical research-both locally and nationally, and we are fortunate to benefit from their clinical expertise and standards. The people of Westwood and the surrounding communities deserve to have their local hospital reopened. It is a privilege for me to be on the team that will respond to the overwhelming support this project has enjoyed," Freeman went on to say.
Freeman holds an MBA from Temple University, where he was awarded the Kellogg Grant for Hospital Administration, and completed his BS degree at LaSalle College in Philadelphia. He and his wife, Lisa, have three children: Michael, 30; Lauren, 28 and Nick, 19.
About Hackensack University Medical Center
Hackensack University Medical Center (HUMC) is a 775-bed not-for-profit, tertiary care, teaching and research hospital and provides the largest number of admissions in New Jersey. Founded in 1888 with 12 beds and as Bergen County's first hospital, HUMC has demonstrated more than a century of growth and progress. HUMC is a nationally recognized healthcare organization offering patients the most comprehensive services, state-of-the-art technologies, and facilities. Honors include being named one of America's 50 Best Hospitals by HealthGrades® for five years in a row. HUMC is the only hospital in New Jersey, New York, and New England to receive this honor for five consecutive years. HUMC was also named one of the 50 Best Hospitals in America by Becker's Hospital Review and has been named one of Becker's ASC Review/Becker's Hospital Review's "100 Best Places to Work in Healthcare." U.S. News & World Report ranked HUMC eighth in the New York Metro Area in its first-ever Best Hospitals metro area rankings, giving it the top ranking out of all the New Jersey hospitals listed. Additionally, HUMC is a Magnet® recognized hospital for nursing excellence, first in New Jersey, second in the nation, receiving its fourth designation in April 2009. HUMC is the hometown hospital of the New York Giants and the New Jersey Nets. For more information, please go to www.humed.com.
About LHP Hospital Group, Inc.
LHP Hospital Group, Inc. (LHP) is a privately held company established to provide essential capital and expertise to not-for-profit hospitals and hospital systems. In cooperation with local hospitals, LHP forms joint ventures to acquire, own, operate and manage acute care facilities in small cities and select urban markets throughout the United States. Headquartered in Plano, Texas, LHP is owned by affiliates of the private equity firm CCMP Capital Advisors, LLC and the CPP Investment Board as well as members of management and the board of directors. For more information, please go to www.lhphospitalgroup.com.
Posted June 3, 2011
More Articles: