Subscribe Now
Keep up with the latest news with our magazine and e-newsletter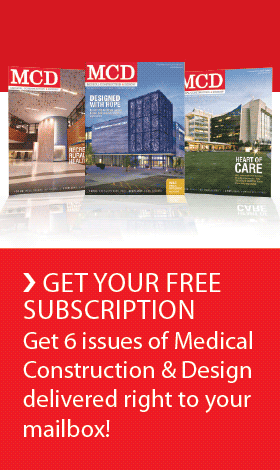 Subscribe to our E‑Newsletter
ORANGE, Calif.–St. Mary Medical Center and St. Joseph Health System announced Alan H. Garrett has been named St. Mary Medical Center's new president and CEO. Garrett, who has been tapped from another of the health system's ministries to lead St. Mary's, succeeds former CEO Jason Barker who departed late last year.
A Certified Public Accountant, Mr. Garrett has for the past 20 years held various positions of responsibility within St. Joseph Health System, most recently Executive Vice President and Chief Operating Officer of St. Joseph Hospital in Orange, Calif.
"For the past two decades Alan has made significant contributions to the System and to the expansion and operational excellence of one of our largest and most complex ministries," said Deborah Proctor, President and CEO of St. Joseph Health System. "With his proven track record and deep understanding of our values and Mission, he is uniquely qualified to take the helm of one of our fastest growing ministries and we are pleased to be able to elevate his talents," Proctor added.
During his tenure at St. Joseph Hospital, Garrett oversaw the opening of a $200 million in-patient care center and an award-winning $60 million state-of-the-art Center for Cancer Prevention and Treatment. Responsible for 3,800 employees and the day-to-day management of a 525-bed tertiary hospital and a multi-site, 50 physician primary care fully integrated medical group and 165 affiliated primary care physicians, he developed a best-practice teamwork culture that resulted in the hospital being honored with numerous patient satisfaction and industry awards.
"St. Mary's is a fast-growing and financially strong institution that is deservedly proud of its well-earned reputation for excellence. With a background in promoting teamwork, working collaboratively with physicians and overseeing expansions while supporting clinicians and staff to provide the highest quality of patient care, I am confident Alan will propel St. Mary's quest for excellence," said Joe Randolph, St. Joseph Health System's, executive vice president and chief operating officer.
Garrett, who has not decided on a formal start date at St. Mary Medical Center, said, "I am grateful to have worked with so many talented colleagues at St. Joseph Hospital and I will miss them and the community I have been privileged to serve. At the same time, I am honored and excited to join the St. Mary team and look forward to working with them to further our shared mission of healing."
Garrett began his career with St. Joseph Hospital in 1991 as executive director, Finance. Promoted to chief financial officer in 1996, he also served as the chief administrative officer of St. Joseph Heritage Healthcare. St. Joseph Hospital promoted him to chief operating officer in 2006. Prior to joining St. Joseph Hospital, Garrett was a financial executive with United Western Medical Centers in Orange, Calif., after having served as a Senior Accountant with Ernst & Whinney CPA's in Irvine, Calif.
Garrett received his Bachelor of Arts degree with honors in Business Administration and Accounting at California State University, Fullerton. He and his wife, Sally of 24 years and their two children, reside in Chino Hills, Calif.
About St. Joseph Health System
The St. Joseph Health System (SJHS) is an integrated Catholic healthcare delivery system sponsored by the St. Joseph Health Ministry. We provide a full range of care facilities including acute care hospitals, home health agencies, hospice care, outpatient services, skilled nursing facilities, community clinics, and physician organizations throughout California, Texas and New Mexico. Our 24,000 dedicated employees strive daily to provide perfect care while building the healthiest communities and ensuring every encounter is sacred. SJHS is committed to maintaining a continuum of care that matches the diverse needs of the communities we serve. For more information about SJHS, log onto www.stjoe.org.
About St. Mary's Medical Center
Established in 1956, St. Mary Medical Center is a 194-bed acute care hospital and is home to the High Desert's only comprehensive cardiovascular program including the Academy of Heart Care Excellence. The Medical Center also serves as the designated STEMI receiving center for north San Bernardino County. St. Mary Medical Center is fully accredited by the Healthcare Facilities Accreditation Program (HFAP).
About St. Joseph Hospital
Founded in 1929, St. Joseph Hospital in Orange, California is a nationally recognized, 525-bed, not-for-profit Catholic hospital dedicated to extending the healing ministry of the Sisters of St. Joseph of Orange. Fully accredited by The Joint Commission and designated as a Magnet hospital for nursing excellence, St. Joseph Hospital's reputation for clinical excellence and compassionate, family- centered care draws patients from all over the United States. With a highly recognized 1,000-member medical staff and more than 3,800 support staff, St. Joseph Hospital is home to more than 75 specialty programs, including The Center for Cancer Prevention and Treatment, the Heart and Vascular Center and a nationally acclaimed Orthopedics program that has been ranked among the top 50 in the nation by U.S.News & World Report. Equally important is St. Joseph Hospital's dedication to caring for the medically underserved through health education programs, a free-standing medical and dental clinic, and mobile health vans. St. Joseph Hospital depends on philanthropic support from the community to carry out its mission. These efforts are coordinated through the St. Joseph Hospital Foundation.
Posted May 26, 2011
More Articles: