Subscribe Now
Keep up with the latest news with our magazine and e-newsletter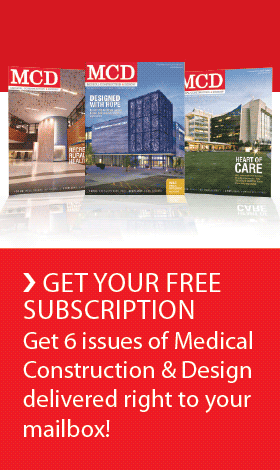 Subscribe to our E‑Newsletter
FAIRFAX, Va. — Inova Health System has joined six other major hospital systems in the Healthier Hospitals Initiative (HHI), a collaborative of leading healthcare institutions united to help speed the healthcare sector toward environmental sustainability.

Inova Health System joins Advocate Health Care, Catholic Healthcare West, Hospital Corporation of America, Kaiser Permanente, MedStar Health and Partners Healthcare, along with Practice Greenhealth, Health Care Without Harm and the Center for Health Design, that formed the Healthier Hospitals Initiative in May 2010. These leading hospital systems are partnering with the other organizations to provide expertise and technical assistance and programs to help hospitals carry out the HHI Agenda.
The HHI Sustainability Agenda utilizes evidence-based design and research data on environmental sustainability and community health to delineate a prioritized roadmap; it is a method for moving from good ideas implemented by individual facilities to a comprehensive system and sector-wide adoption of sustainable practices and cost reduction. The HHI Agenda is based on the premise that a coordinated sector-wide approach to learn from each other as we re-invent how we design, build and operate hospitals can improve patient outcomes and workplace safety, prevent illnesses, create extraordinary environmental benefits, and save billions of dollars.
"Inova Health System is a Practice Greenhealth System for Change award winner and a leader in making sustainability changes in their own operations to improve environmental performance, support patient and employee safety and reduce healthcare costs," said Anna Gilmore Hall, Executive Director of Practice Greenhealth, a membership association for hospitals engaged in sustainable healthcare.  "Inova's commitment strengthens our effort to protect the health of patients, staff and the community."
Hospitals can demonstrate their support for the program by becoming a sponsoring organization, or by signing a pledge of endorsement, and participating in activities to implement the Healthier Hospitals Agenda in their institutions.  They can also participate in the online sharing of information and expertise and collaborate with other healthcare institutions to encourage and assist with sustainability efforts.
"We welcome Inova Health Care as a new member of HHI," stated HHI Chair John Messervy, AIA, Director of Capital  & Facility Planning, Partners Healthcare Boston, MA.  "Their work toward sustainability in their own facilities will give them the insight and experience to share with other institutions, and their standing in the D.C. community will help lend additional positioning to HHI for expanding its important healthcare sustainability work."
Learn more about the Healthier Hospitals Initiative at www.healthierhospitals.org.
Health Care Without Harm, an international coalition of more than 473 organizations in 52 countries, is working to transform the healthcare sector, without compromising patient safety or care, so that it is ecologically sustainable and no longer a source of harm to public health and the environment.  To learn more about HCWH's work, visit our website at www.noharm.org.
Practice Greenhealth is the nation's leading membership and networking organization for institutions in the healthcare community that have made a commitment to sustainable, eco-friendly practices. Members include hospitals, healthcare systems, businesses and other stakeholders engaged in the greening of healthcare to improve the health of patients, staff and the environment. For more information on Practice Greenhealth, visit www.practicegreenhealth.org.
The Center for Health Design (CHD) is a nonprofit organization that engages and supports professionals and organizations in the healthcare, construction and design industry to improve the quality of healthcare facilities and create new environments for healthy aging. CHD's mission is to transform healthcare environments for a healthier, safer world through design research, education, and advocacy. For more information, visit www.healthdesign.org.
Posted May 10, 2011
More Articles: