Subscribe Now
Keep up with the latest news with our magazine and e-newsletter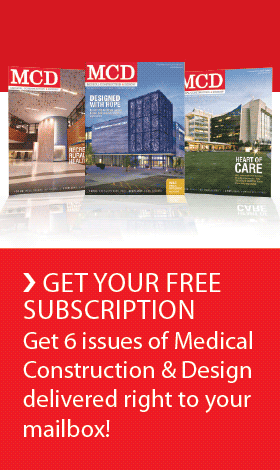 Subscribe to our E‑Newsletter
RESTON, Va. — A growing number of hospitals are joining Practice Greenhealth's Greening the Operating Room™ Initiative. Launched in 2010, the Greening the OR™ Initiative is raising the awareness of the huge contribution made by operating rooms to a hospital's waste stream, which can produce between 20 and 30 percent of a hospital's total waste.

The Greening the OR™ initiative is a collaborative effort of forward-thinking hospitals, manufacturers, and related stakeholders, under the auspices of Practice Greenhealth, to develop best practices for reducing the environmental impact of the nation's operating rooms. Greening the OR™ will also help hospitals reduce costs, increase quality and improve worker and patient safety.
To date, 96 healthcare organizations are participating in the Greening the OR™ Initiative including these recently added:
Advocate Christ Medical Center, Oak Lawn, IL
Advocate Trinity Hospital, Chicago, IL
Boulder Foothills Community Hospital, Boulder, CO
Catholic Health System, Buffalo, NY
CJW Medical Center, Richmond, VA
CJW – Johnston-Willis Campus, Richmond, VA
Condell Medical Center, Libertyville, IL
Del Sol Medical Center, El Paso, TX
The Finley Hospital, Dubuque, IA
Frisbie Memorial Hospital, Rochester, NH
Good Samaritan Hospital, San Jose, CA
Gundersen-Lutheran, La Crosse, WI
Grand Strand Medical Center, Myrtle Beach, SC
Inova Health System, Falls Church, VA, including:
Inova Alexandria Hospital
Inova Fairfax Hospital
Inova Fair Oaks Hospital
Inova Mount Vernon Hospital
Inova Loudoun Hospital
Kendall Regional Medical Center, Miami, FL
Lehigh Valley Health Network, Allentown, PA
Lehigh Valley Health Network: Cedar Crest, Allentown, PA
Lehigh Valley Health Network: Muhlenberg, Bethlehem, PA
Lutheran General Hospital, Park Ridge, IL
Medical Center of McKinney, McKinney, TX
Memorial Sloan Kettering Cancer Center, New York, NY
Methodist Medical Center, San Antonio, TX
Metro Health Hospital, Wyoming, MI
Milford Regional Medical Center, Milford, MA
Northbay Healthcare Systems, Fairfield, CA
North Hills Hospital, North Richland Hills, TX
Northside Hospital, St. Petersburg, FL
North Suburban Medical Center, HealthONE, Thornton, CO
Palomar Pomerado Health, San Diego, CA
Providence Health & Services-Portland Service Area, Portland, OR
Providence Southwest-Washington Service Area, Olympia, WA
Pulaski Community Hospital, Pulaski, VA
St. Davids Round Rock Medical Center, Round Rock, TX
Sky Ridge Medical Center, Lone Tree, CO
Trident Medical Center, North Charleston, SC
Twin Cities Hospital, Niceville, FL
West Valley Medical Center, Caldwell, ID
Operating rooms are some of the most resource-intensive and waste-generating areas of a hospital. A recent study estimated supply costs of operating rooms could eat up as much as 56 percent of total operating room budgets, dwarfing salary costs at which run about 35 percent of total operating room budgets. In addition to producing between 20 to 30 percent of a hospital's total waste volume, much of the waste disposed from operating rooms is thrown out as regulated medical waste, which costs between 10 and 15 times more in disposal fees than regular waste. Much of this waste could be disposed outside of the regulated medical waste stream. In addition, most operating room supplies are thrown out after just one use, even though re-use may be an option.
There are a range of programs being researched by the Greening the ORTM Initiative, and participating hospitals will continue to define additional best practices as they are piloted and implemented at different institutions. Components of the Initiative to date include:
• Adjusting HVAC control schedules for energy efficiency
• Energy-efficiency & thermal comfort related to LED lighting
• Fluid management systems
• Medical device reprocessing
• Medical equipment donation & recovery
• Medical plastics recycling
• OR kit reformulation
• Regulated medical waste segregation & reduction
• Reusable hard cases for surgical instruments
• Reusable surgical linens
• Waste anesthetic gas (WAG) capture & reclamation
"We are so pleased to be able to work with so many leading U.S. hospitals on this very important initiative," said Anna Gilmore Hall, Executive Director of Practice Greenhealth. "Our shared vision for this initiative is to help every provider in the country offer the best available patient care in operating rooms that utilize products and practices that are patient-, worker- and environmentally safe while minimizing costs."
Practice Greenhealth is partnering with a number of companies in an effort to realize this vision. These companies have committed financial resources to support the Greening the Operating Room™ Initiative, and are active in promoting environmentally responsible practices in the OR. Sponsors of the Initiative include: Ascent Healthcare Solutions, Cardinal Health, HCA (Hospital Corporation of America), SRI Surgical, Medline Industries, Inc., BD (Becton-Dickinson), Hospira, HDR, Inc., and Velmed, Inc.
A complete list of hospitals currently participating in the Greening the OR™ Initiative is available on-line.
Additional information about the Greening the OR™ Initiative is available on-line at: www.greeningtheor.org

About Practice Greenhealth
Practice Greenhealth is the nation's leading membership and networking organization for institutions in healthcare that have made a commitment to sustainable, eco-friendly practices. To learn more about Practice Greenhealth's Greening the OR™ initiative visit
Posted March 3, 2011
More Articles: