Subscribe Now
Keep up with the latest news with our magazine and e-newsletter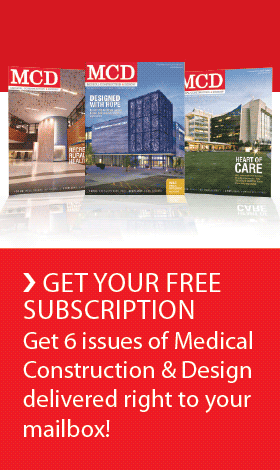 Subscribe to our E‑Newsletter
A new face of care in south Snohomish County
MILL CREEK, Wash., — Healthcare keeps evolving and the south Snohomish County area is about to get a completely different type of medical facility. Swedish opens a new freestanding emergency department and ambulatory care center and the first patients will be treated on Thursday morning, Feb. 17.
Swedish/Mill Creek has 86,000-square-feet of space on three above-ground levels and a partial basement. The E.D. – which is open and staffed 24 hours a day, seven days a week – features 18 emergency exam rooms and six additional observation beds. It shares the first floor with a complete diagnostic imaging center with X-ray, mammography, ultrasound, CT scan and MRI, which is staffed by partners from Seattle Radiology. A full laboratory and offices for primary- and specialty-care providers are on floors two and three.
"We built in Mill Creek because this area is growing steadily and the need for both emergency and primary care keeps increasing," said Kevin Brown, Swedish senior vice president and chief administrative officer. "And Swedish is rapidly transforming from a downtown Seattle 'hospital' to a community-based health-care system that treats patients where they live and work, instead of having them come to us."
Swedish/Mill Creek is patterned after a highly successful model Swedish developed in Issaquah. Opened in March 2005, it was the first freestanding emergency department in the region and operates at full capacity today. A second facility opened in Redmond in December 2010.
When fully staffed, Mill Creek will employ dozens of registered nurses, medical technicians, radiology technologists, registration assistants, environmental services employees, security personnel, as well as materials management and administrative support staff. Eastside Emergency Physicians will provide up to 25 board-certified emergency medicine physicians who will rotate through Mill Creek, Redmond and Issaquah, with up to six home-based in Mill Creek.
The new building is managed and owned by Hammes Company, a third-party development partner of Swedish. Hammes and Swedish invested $30 million in the project and construction began in May 2010. Andersen Construction Co. was the general contractor and Mahlum Architects did the design.
A Higher Level of Care
There is a huge gap between what can be done in a traditional outpatient clinic and an acute-care hospital. Many people don't require hospitalization, but they need much more than urgent-care clinic services or home care. Mill Creek fits perfectly in the middle of the range between inpatient and outpatient treatment.  Even people with complicated diagnoses – such as acute asthma, dehydration, congestive heart failure or chronic obstructive pulmonary disease – often respond rapidly to appropriate therapy.
"Mill Creek is a place to evaluate, stabilize and treat people, followed by closely observing them," explained John Milne, M.D., vice president of medical affairs for the emergency departments and ambulatory care centers in Mill Creek and Redmond as well as Swedish's new hospital being built in Issaquah on the south end of the Sammamish plateau. "Many will get much better during the initial treatment period and avoid an expensive hospital admission. We're working hard to stay ahead of the curve and offer more care in less expensive environments."
Swedish/Mill Creek can immediately treat patients suffering from stroke to severe lacerations or burns, broken bones, sports injuries, allergic reactions, food poisoning, work-related injuries and many other medical emergencies and non-emergencies. Swedish estimates that the Emergency Department alone will have more than 20,000 patient visits each year.
The New Face of Emergency Care
"There is essentially no waiting room in the E.D. and the intake process starts immediately with a registered nurse and a technician," said Richard Kwun, M.D., Swedish/Mill Creek E.D. medical director. "Most people will be here less than 90 minutes – and that includes any time for X-rays or other diagnostic imaging."
Patients will be taken directly to an open room, bypassing the typical triage and registration process that result in queuing and frequently long wait times. 'Direct bedding' of patients, immediate initiation of treatment and in-room registration will improve care and eliminate wasted effort.
"The entire focus here will be on getting patients through the system quickly so they can have as much time as possible with a physician," said Emergency Department Operations Manager Melody Schlaman. She expects a very busy E.D. "We'll have lots of walkups – kids suffering from high fevers or vomiting, older people who have fallen or who have other orthopedic complaints, plus adults with chest pain or other serious symptoms."
Dr. Kwun added, "We'll be able to work up just about any type of condition instantly, with a radiologist reading films on-site in real time, backed up by Swedish specialists in Seattle if necessary. And we'll work very closely with local physicians when treating their patients and keep everyone in the information loop."
Dr. Kwun and his team collaborated with the physicians and staff at Swedish/Edmonds in developing Mill Creek. They met frequently to coordinate treatment protocols, integrate technology and facilitate communication – all in an effort to streamline treatment of south Snohomish County-area patients.
Dr. Kwun emphasized that the E.D. also directly supports the work of local emergency response teams. By not having to drive so far to deliver patients, paramedics and emergency medical technicians will be back in service quicker and better able to cover their territory.
Schlaman noted that Mill Creek staff plans to stay closely connected to local physicians and other hospitals. "Most of the staff we've hired lives in this community and they are excited about caring for the people here. I've told everyone, 'Listen carefully to what patients say they want and we'll add services around that.'"
Expanded Primary Care
Swedish Medical Group (SMG) will have four family physicians on-site initially and six soon afterwards. They will provide the full range of primary care – including pediatric care, adolescent medicine, geriatric medicine, sports physicals, preventive health screening and education, medicine diabetes care and more.
"Because of its location, this community sees itself as somewhat separate from Seattle or Everett," said Sarah Reed, SMG manager. "People don't always have the time to travel to either city for basic medical care. We'll be able to meet most of their needs and, if they do have a serious illness, we can connect them to the best health-care providers in the region."
Reed noted that, "Swedish/Mill Creek can help far beyond this facility. If patients need additional treatment, we won't send them out with a two-page, hand-written chart note, but with a full chart conveyed electronically to the next care provider."
All providers at Swedish/Mill Creek will have access to Epic, Swedish's secure electronic health record system, so vital information can be easily conveyed among a patient's authorized caregivers. The system provides a common platform for clinicians to share medical documentation, test results, prescriptions – and information can be sent to any Epic facility where a patient is treated. Community physicians can have access to Epic read-only portals where everything from a patient's chart will be displayed, allowing doctors to stay completely involved with their patients' care.
About Swedish
Swedish has grown over the last 100 years to become the largest, most comprehensive non-profit health provider in the Greater Seattle area with 8,500 employees, 3,000-physicians and 1,200-volunteers. It is comprised of four hospital campuses (First Hill, Cherry Hill, Ballard and Edmonds); emergency departments and ambulatory care centers in Issaquah, Redmond and soon Mill Creek; Swedish Visiting Nurse Services; and Swedish Medical Group – a network of more than 40 primary-care and specialty clinics located throughout the Puget Sound area. Swedish recently opened a new emergency department and medical office building (MOB) on its Ballard campus and will open a new MOB and hospital in the Issaquah Highlands in the summer of 2011. In addition to general medical and surgical care, Swedish is known as a regional referral center, providing specialized treatment in areas such as cardiovascular care, cancer care, neuroscience, orthopedics, high-risk obstetrics, pediatric specialties, organ transplantation and clinical research. For more information, visit www.swedish.org, www.twitter.com/swedish or http://www.facebook.com/swedishmedicalcenter.
Posted February 11, 2011
More Articles: