Subscribe Now
Keep up with the latest news with our magazine and e-newsletter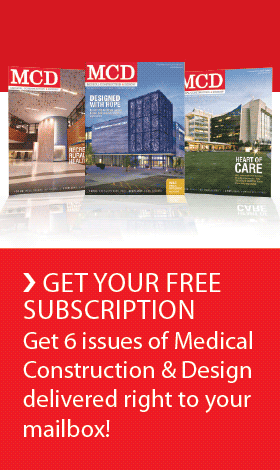 Subscribe to our E‑Newsletter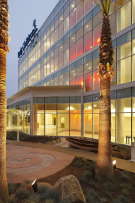 Built by McCarthy Building Companies, Inc., the new $260 million pediatric hospital is the first in California to be LEED Certifiied, while also meeting strict OSHPD mandates for quality and earthquake safety.
Opened in October 2010, the new $260 million Rady Children's Hospital Acute Care Pavilion, officially has been LEED® Certified by the U.S. Green Building Council.  

The 279,000-square-foot facility is the first acute care hospital in the state to meet the rigorous standards of quality and safety mandated by the Office of Statewide Health Planning and Development (OSHPD), while also meeting the level of occupant health and environmental sustainability required to earn it LEED Certified status. As expected, the project was awarded 31 points in accordance with the LEED 2.1 rating system, well exceeding the 26 points needed for LEED certification.
Stantec was the project architect. KPFF of San Francisco served as the structural engineer; RBF of San Diego was the civil engineer; Randall Lamb of San Diego was the electrical engineer, and Shadpour Consulting Engineers, also of San Diego, was the mechanical engineer. Royston Hanamoto Alley & Abey of Mill Valley was the landscape architect.
"Construction oversight of LEED-certified projects adds a heightened level of complexity to already complicated healthcare construction projects in California, based on the state's strict criteria for earthquake safety," said Tim Jacoby, vice president of facilities for Rady Children's Hospital, who led the successful team collaboration. "We congratulate the project team for not just meeting but exceeding the hospital's expectations for sustainability, and applaud them for their roles in creating a world-class LEED Certified facility."
Rady Children's Hospital is the only dedicated pediatric medical center in the San Diego region, and demand for services had outgrown its existing facilities. The new 279,000-square foot Acute Care Pavilion was built on a compact, 148,650-square-foot site at the southeast end of the hospital campus, adjacent to the existing Rose Pavilion. Second- and third-floor bridges and a ground-floor walkway connect the existing facility to the new four-story building.
The new Acute Care Pavilion houses a surgical center, 84 medical-surgical beds, a neonatal intensive care unit (NICU), and a cancer center. It provides 16 operating rooms with associated support departments, a 28-bed hematology and oncology unit, and a 10-bed bone marrow transplant intensive care unit. The facility's exterior features a glass-fiber reinforced precast concrete exterior; integral-colored plaster; storefront and curtain wall glass systems with colored accents; metal panels and railings; and a steel front entry canopy.
The project team earned an "Innovation in Design" credit for the introduction of a series of healing gardens that utilize sustainable design principles and embrace the hospital's healing arts program. The new Acute Care Pavilion provides an environment focused on the needs and imaginations of children and designed to help relieve the stress of families with sick or injured children. Central to the theme of the building is the "River of Life", manifested through an immense, four-story mineral panel that incorporates a kinetic lighting system, which radiates a rainbow of vibrant colors through the front entry curtain wall. A mosaic tile version of the "River of Life" flows from the mineral lobby wall, through the lobby, and out to the courtyard-healing garden.
The building achieved 23 percent below Title 24 requirements for energy efficiency by utilizing the LEED Energy Cost Budget methodology. This was achieved by incorporating occupancy sensors in operating rooms to reduce the ventilation rate by 60 percent when unoccupied, yielding a 45 percent annual energy savings.  Variable frequency drives were built into the air handling unit motors to adjust the fan speeds. Carbon dioxide monitoring for high occupancy areas help reduce ventilation rates, based on the number of occupants. A supply air temperature reset strategy further helps save energy by adjusting air temperatures based on load. A 24,000-square-foot cogeneration plant provides free heating and high temperature water, and contains two 700-ton natural gas-fired absorption chillers. Variable frequency drives were also built into cooling tower fans and hot water pumps.
The project team utilized recycled and locally obtained steel, concrete and other building materials; low VOC-emitting paints, glues, carpet, and wood; and water-efficient landscaping. Abundant daylighting was used, even at operating rooms. A reflective concrete "cool roof" system helps minimize heat gain and control rainwater run-off, while painted steel screens conceal rooftop mechanical systems.  A dedicated bicycle storage area is built into the employee courtyard area.  
Nearly 80 percent of construction waste materials at the job site was recycled. A thorough flush-out of the building's ventilation systems was performed upon construction completion and again prior to moving patients to the new facility. The project team went above and beyond the LEED requirements by declaring the entire hospital campus a "no smoking" zone.
To knowledgeably address the LEED aspects of the project, McCarthy employed a dedicated LEED accredited professional, and nearly all the construction team's members became LEED APs during the course of the project.
"Construction execution required a great deal of creative solution-finding, tracking and monitoring to keep the project on course toward LEED Certification," said Steve Van Dyke, project director for McCarthy. "Where there was even the slightest doubt, we took extra measures and precautions to ensure compliance with the LEED credits, thus hitting our target of 31 points – five more than we needed to become certified."
Since beginning the LEED application process for this project, the U.S. Green Building Council has rolled out the LEED 3.0 for Healthcare Green Building Rating System, which is making it more enticing for hospitals to seek LEED certification. LEED 3.0 for Healthcare addresses specific issues of healthcare facility construction, such as increased sensitivity to chemicals and pollutants, traveling distances from parking facilities, and access to natural spaces.
About McCarthy
McCarthy is the nation's 10th largest domestic general contractor (Engineering News-Record, May 2010) and has been ranked among the top five healthcare builders in the nation and among California's top five green contractors (California Construction, May 2010). In Southern California, the firm has completed over $2.4 billion in healthcare work for the region's most elite healthcare institutions. In addition to San Diego, McCarthy has offices in Newport Beach, Sacramento and San Francisco, Calif.; Phoenix; Las Vegas; Dallas; Houston; St. Louis and Atlanta. McCarthy is 100 percent employee owned. More information about the company is available online at www.mccarthy.com.
Posted February 24, 2011
More Articles: