Subscribe Now
Keep up with the latest news with our magazine and e-newsletter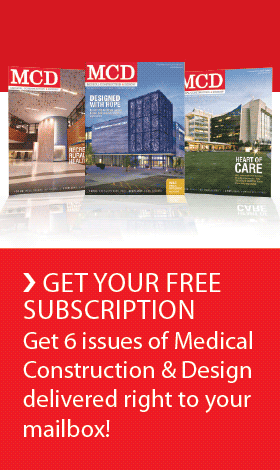 Subscribe to our E‑Newsletter
Vanguard to Expand and Upgrade the DMC Facilities after Closing
DETROIT, and NASHVILLE, Tenn. — Vanguard Health Systems, Inc.(Vanguard) and the Detroit Medical Center (DMC) are signing final documents and expect to complete the sale of the DMC to Vanguard Friday December 31, 2010, effective January 1, 2011.  The announcement is the culmination of a process that began with the previous announcement of a letter of intent in March of this year. 

Under terms of the final purchase agreement, Vanguard will acquire substantially all of the assets of the Detroit Medical Center for approximately $365 million in cash based on a formula set out in the agreements defining the assets and liabilities of the DMC.  In addition, Vanguard will assume all of DMC's liabilities other than outstanding bonds and similar debt that will be paid or defeased upon closing of the transaction and certain other immaterial liabilities.
Vanguard has agreed to keep all of DMC's hospitals open for at least ten years, to invest an estimated $350 million for routine capital improvement and an additional $500 million on specific capital projects during the first five years of ownership.  Vanguard has also agreed to assume the liability for the defined-benefit pension plan for DMC retirees and to keep in place a policy for charity, indigent and uncompensated care that is at least equivalent to the DMC's current policy.
"We are thrilled to have the Detroit Medical Center join Vanguard Health Systems," said Keith Pitts, Vice Chairman of Vanguard.  "The Detroit Medical Center and its staff and leadership have proven to be smart, resourceful and committed to this community.  We look forward to supporting this team and their great traditions in the future."
"We're excited to proceed and build upon the momentum that began when we broke ground last month for the new 105,550 square-foot Children's Hospital of Michigan Specialty Center. This was the first of a total of 15 construction projects that this transition will bring. Now, DMC will be able to match the world-class, quality care our patients already receive, with world-class facilities," said Steve D'Arcy, Chairman, DMC Board of Trustees.
The transaction has received all necessary city, county, state and federal reviews and no further approvals are required.  The state, city and county development authorities have approved necessary tax abatements within the enterprise zone.  The Attorney General of Michigan has approved the transaction under his responsibility to oversee the sale of any not-for-profit organization.  Vanguard intends to assume DMC's existing provider agreements with government and private payers.
"The Detroit Medical Center is world-renown and a leader in so many facets of medicine.  We hope to use the expertise of the team here to help us strengthen our own offerings and capabilities – in pediatrics, in trauma, in cancer and in rehabilitation across the whole family of Vanguard hospitals," said Charles N. Martin, Jr., Chairman and CEO of Vanguard. 
"There was tremendous effort to bring this deal to a close and it will be exciting to see all the construction projects in the City of Detroit," said John Levy, Vice Chairman, DMC Board of Trustees.
"This is great for our City," added Michael Duggan, President and CEO, Detroit Medical Center.
About Detroit Medical Center www.dmc.org
The Detroit Medical Center operates 10 hospitals and institutes, including Children's Hospital of Michigan, Detroit Receiving Hospital, Harper University Hospital, Huron Valley-Sinai Hospital, Hutzel Women's Hospital, Kresge Eye Institute, Rehabilitation Institute of Michigan, Sinai-Grace Hospital, DMC Surgery Hospital, and DMC Cardiovascular Institute. The Detroit Medical Center is a leading regional healthcare system with a mission of excellence in clinical care, research and medical education.
About Vanguard Health Systems
Vanguard owns and operates 18 acute care hospitals and complementary facilities and services in Chicago, Illinois; Phoenix, Arizona; San Antonio, Texas; and central Massachusetts. Vanguard also owns three managed care health plans: Phoenix Health Plan, a Medicaid managed health plan in Arizona; Abrazo Advantage Health Plan, a managed Medicare and dual-eligible health plan in Arizona; and the Chicago Health System, an integrated, risk-bearing provider network in Chicago. Vanguard's strategy is to develop locally branded, comprehensive healthcare delivery networks. Vanguard pursues acquisitions where there are opportunities to partner with leading delivery systems in urban markets. Upon acquiring a facility or network of facilities, Vanguard implements strategic and operational improvement initiatives, including improving quality of care, expanding services, strengthening relationships with physicians and managed care organizations, recruiting new physicians, and upgrading information systems and other capital equipment. These strategies improve quality and network coverage in a cost effective and accessible manner. Vanguard is one of 25 distinguished organizations in the world to receive the 2010 Gallup Great Workplace Award.  The award honors organizations whose employee engagement results demonstrate they have the most productive and engaged workforces in the world.
Posted December 30, 2010
More Articles: