Subscribe Now
Keep up with the latest news with our magazine and e-newsletter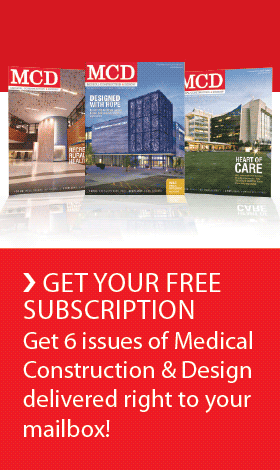 Subscribe to our E‑Newsletter
Macro Consultants and Cornerstone Program Advisors to Leverage Complementary Services
NEW YORK — Macro Consultants LLC and Cornerstone Program Advisors LLC announce the combination of their service offerings in a partnership geared toward better serving healthcare institutions. This partnership will allow healthcare organizations which are undertaking capital projects and other improvements to benefit from a suite of project management services never before combined into a single offering. 

Macro is a New York-based project management firm specializing in owner's representation services, with a unique core-competency in the management of furniture, fixtures and equipment; technology; relocation; decommissioning; and fixed asset programs. Cornerstone, also based in New York, manages the planning, design, and construction of capital improvement programs for hospitals with an unmatched specialty in managing the cross-coordination of plant and system infrastructure.
"Partnering with Cornerstone offers Macro entree to an entire sector that demands a specific skill set due to unique challenges not seen in typical corporate projects," explained Michael Glatt, managing principal at Macro. "By leveraging Cornerstone's unique position in the healthcare sector, Macro will be able to apply its expertise in a variety of specialties to this market."
"Healthcare institutions are dealing with increasing pressure to deliver more with less while managing multiple disciplines throughout overwhelmingly complex capital projects," shared Tom Telegades, managing principal at Cornerstone. "The combination of Cornerstone's healthcare experience with Macro's broad range of specialties will enhance our ability to manage risk and control costs. Clients should see an almost immediate positive impact to their projects' bottom lines."
Under the terms of the agreement, Macro and Cornerstone will co-manage capital improvement projects with Cornerstone acting as team lead.

About Macro Consultants
Established in 1993, Macro Consultants is a professional consulting and project management firm, providing services that are uniquely geared toward helping clients overcome the inevitable challenges that accompany the management of any capital project. Macro's services relate to six specific areas of project management: owner's representation and construction; FF&E (furniture, fixtures and equipment); technology; relocation; decommissioning; and fixed asset management. Macro's clients — whether corporations, institutions, developers or hotel operators — have unique expectations of what services the Macro team should provide. The basic need, regardless of the client's industry, remains constant: to retain the services of a project management team that represents and protects the client's needs, as its own.

About Cornerstone Program Advisors
Cornerstone Program Advisors manages the planning, design, and construction of capital improvement programs for hospitals and universities, from quantifying the projects' initial requirements and components to final move-in. Acting as the owner's representative or as an extension of staff, Cornerstone's team of professionals provide independent and objective guidance to large-scale projects. The combination of their vast experience and leadership abilities enables effective management focused solely on the interests of the client.
Posted September 2, 2010
More Articles: