Subscribe Now
Keep up with the latest news with our magazine and e-newsletter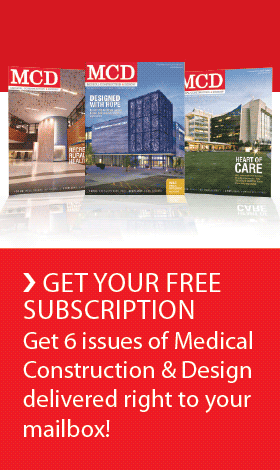 Subscribe to our E‑Newsletter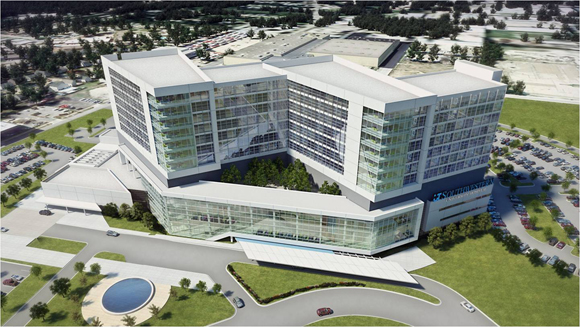 DALLAS — The UT System Board of Regents today gave its approval to plans for a new state-of-the-art University Hospital at UT Southwestern Medical Center in Dallas. The project now will go to the Texas Higher Education Coordinating Board for its review and final approval.
As planned, the new hospital will replace University Hospital – St. Paul, which opened in 1963 and has become too costly to maintain and renovate as an academic medical center in the years ahead, according to Dr. Daniel K. Podolsky, president of UT Southwestern.

The new 12-story, 424-bed facility, slated to open in 2015, is an essential component of
UT Southwestern's commitment to become one of the top 10 comprehensive academic medical centers in the nation, he said.
"With the necessity of constructing this new replacement hospital came the ability to create a design that will enable us to provide patient-centric care as well as integrate our education, research, and clinical missions. It incorporates forward looking approaches to patient care and embeds appropriate space to support clinical and translational research as well as education and training. If approved to proceed with our plans by the Coordinating Board, being able to build and then utilize this new facility will be a significant step on
UT Southwestern's journey to become one of the top ten academic medical centers in the country," said Dr. Podolsky.
The $800 million total project includes, in addition to the hospital, a dedicated thermal energy plant and facilities to support the hospital.
Planning for the hospital involved hundreds of faculty physicians, nurses, technicians, administrative support staff and patients, led by a steering committee co-chaired by Dr. John Warner, associate professor of internal medicine and medical director of the Doris and Harry W. Bass Jr. Clinical Center for Heart, Lung and Vascular Disease, and Sharon Riley, vice president and CEO of UT Southwestern University Hospitals.
"UT Southwestern already is known nationally and worldwide for its scientific discoveries and strong academic programs, and this new hospital will greatly enhance the medical center's reputation for clinical care," said Dr. Warner. "The new hospital has safety and quality assessment as fundamental elements of its design, so that patients will receive state-of-the-art care in a setting designed to facilitate unsurpassed patient service."
Construction of the 1.3 million-square-foot project will start in March 2011 with completion anticipated in late 2014. University Hospital – St. Paul will remain fully operational until the new facility opens.
"A state-of-the-art facility is essential to our ability to recruit and retain the very best clinical leaders, to offer the very best training, and to attract academic and industry innovators," said Dr. Bruce A. Meyer, executive vice president for health system affairs.
The new building will be located on a 32-acre site on UT Southwestern's West Campus, on the southbound side of Harry Hines Boulevard at Record Crossing Road, between Mockingbird Lane and Inwood Road.

Design elements
The design seeks to optimize the experience for patients and their families. Designers have also incorporated the latest medical technologies, from robotics in the operating rooms to imaging and tracking systems that support safety, quality assessment and cost-efficiency goals. The design will be flexible to accommodate future innovations, said Dr. Warner.
Each patient room will include a dedicated seating area for families and visitors, refrigerators, bedside and dimmer controls for lighting, multimedia options, and patient Internet access.
Each floor will include "rounding rooms" where health care teams can discuss patient care privately; family conference rooms for private consultations with physicians; dedicated conference rooms and teaching spaces; dedicated research space for clinical and translational research activities; and on-call rooms and facilities for physicians.
"We are pleased and grateful to the Board of Regents for approving our plan, and our campus community is excited about the future of medicine here," Dr. Podolsky said. "At the same time, we remain deeply committed to our ongoing partnerships with Parkland Memorial Hospital, Children's Medical Center Dallas, and the Dallas VA Medical Center, which remain core elements for our future and fundamental to our educational and training missions."
Dr. Ron Anderson, Parkland President and CEO welcomed news of the Board of Regents approval.
"The replacement of the University Hospital is very timely. Like Parkland, the University Hospital-St. Paul has well served this community for more than five decades but now needs to be replaced and modernized," Dr. Anderson said. "The opportunities for future collaboration, faculty development and shared technologies stand to benefit the patients and the physician trainees of both institutions for future decades.
In the most recent U.S. News & World Report's America's Best Hospitals, UT Southwestern is nationally ranked in six specialty-care areas, the highest-ranking health care provider in North Texas. In addition, the Harold C. Simmons Comprehensive Cancer Center this month achieved National Cancer Institute designation, an elite distinction recognizing exceptional quality of cancer research and patient care.
UT Southwestern University Hospitals also have garnered numerous awards, including the Commission on Cancer Outstanding Achievement Award from the American College of Surgeons and the Texas Health Care Quality Improvement Achievement Award for initiatives on patient care for heart conditions and surgery.
Funding
The new hospital will be funded through a mix of revenue bonds, funds generated by university clinics and hospitals, and philanthropy. No public funds or tax revenues will be used to build the new facility. The Board of Regents authorized planning for the new hospital in November 2009, and the planning process began in December. The Texas Higher Education Coordinating Board will meet in September to consider final approval of the project.
Posted August 13, 2010
More Articles: