Subscribe Now
Keep up with the latest news with our magazine and e-newsletter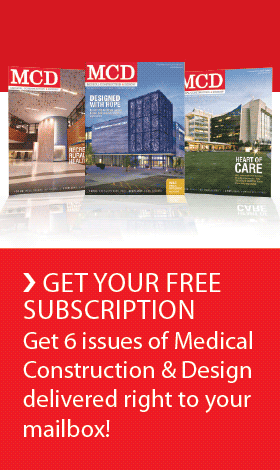 Subscribe to our E‑Newsletter
REDWOOD CITY, CA — Rudolph and Sletten announced recently the groundbreaking for a new, 264-bed, 434,000-square-foot hospital for the Kaiser Permanente San Leandro Medical Center in San Leandro, California.  This "second generation" template hospital, which reflects Kaiser Permanente's program to establish standardized, yet customizable, state-of-the-art models for design and construction of its hospitals, includes the latest technology for patient care and support. 
"Rudolph and Sletten is a crucial partner on the San Leandro Medical Center project," said Mike Gipson, R&S Project Executive.  "Having completed two hospitals for Kaiser Permanente in the last several years, we are familiar with their processes and have adapted well to their innovative project delivery systems."

The new acute-care medical center will include inpatient nursing functions, medical imaging/radiology, clinical labs and a blood bank, 10 operating rooms and recovery spaces, pharmacies, an emergency department, cafeteria and other building support departments. A 30,000-square-foot central utilities plant will contain all of the necessary major mechanical and electrical equipment necessary to support the medical center.  The campus will also provide surface parking for up to 2,100 vehicles.  A number of "green" building features will also be implemented throughout the Medical Center based on the standards of the Green Guide for Healthcare.
Based on the building models provided by the Architect and Structural Engineer, 3D Building Information Modeling (BIM) work is being created to reduce the potential for conflicts between building systems. This conflict reduction is especially important for hospital buildings due to the precise inspection standards for installed systems. Rudolph and Sletten and the Design/Assist and Design/Build Subcontractors are working together to identify, locate and sequence elements of the building and its utility supply systems. This process takes into account installation sequencing, manufacturer's installation requirements, construction tolerances, and code clearance tolerances. Rudolph and Sletten is also modeling several of the building elements for integration into the model.
Rudolph and Sletten is directly managing the clash detection process using NavisWorks software, which integrates all Architect's, Structural Engineer's, Design Assist, and Design Build information into one comprehensive model. This Quality Control process provides three key benefits:
1) Ensures that field installation issues are reduced,
2) Checks compatibility of architectural, structural and MEP design systems, and
3) Achieves cost efficiency with a higher rate of accuracy on offsite prefabricated utility systems.
The result of this effort is a building design that has conflicts resolved and integrated into the construction documents, reducing the number of RFI's and OSHPD Change Orders during construction. Additionally, this model will become a working document for the Facility Engineer.
Rudolph and Sletten's construction scope includes the abatement of hazardous materials, and the deconstruction and recycling of the previous distribution center at the construction site. Over 97% of the materials were recycled on the project, including wood pulp, structural steel, reinforcing steel, concrete and asphalt paving. All of the concrete and asphalt paving materials were crushed and stockpiled for re-use on site as fill and base rock material.
Architects for the project are Ellerbe Becket, Inc., an AECOM Company, in association with Hawley Peterson Snyder.
Rudolph and Sletten recently completed another template hospital for Kaiser Permanente in Vacaville, California.
Posted August 19, 2010
More Articles: