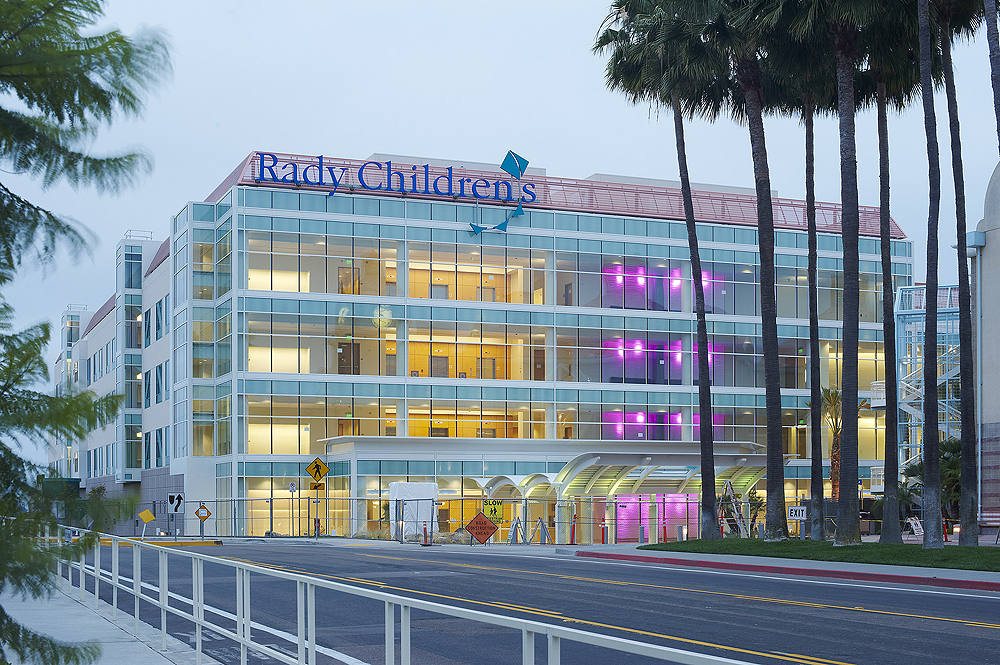 Subscribe Now
Keep up with the latest news with our magazine and e-newsletter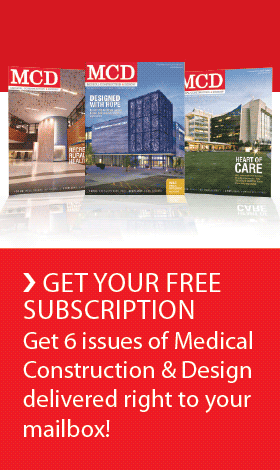 Subscribe to our E‑Newsletter
Facility First Acute Care Facility in State to Meet Both LEED-Certification Requirements for Sustainability and Strict OSHPD Mandates for Quality and Earthquake Safety
SAN DIEGO — More than two weeks ahead of schedule, McCarthy Building Companies, Inc. (www.mccarthy.com), one of the nations leading healthcare builders, has completed construction of the new 279,000-square-foot Rady Childrens Hospital Acute Care Pavilion, located at 3020 Childrens Way in the Kearny Mesa area of San Diego.

Designed by the San Francisco office of Anshen+Allen, the new $260 million Acute Care Pavilion is the first acute care facility in the state to meet the rigorous standards for quality and safety mandated by the Office of Statewide Health Planning and Development (OSHPD), while also achieving the level of occupant health and environmental sustainability required to earn LEED-Certified status. The facility will be equipped and staffed to receive patients on Oct. 10.
Construction oversight of OSHPD facilities adds a heightened level of complexity to already complicated healthcare construction projects in California, based on the states strict criteria for passing project inspections, reviews and approvals, said Dan Stone of CCQA Inc., inspector-of-record for the project. McCarthy skillfully managed the many construction details to meet the agencys high standards.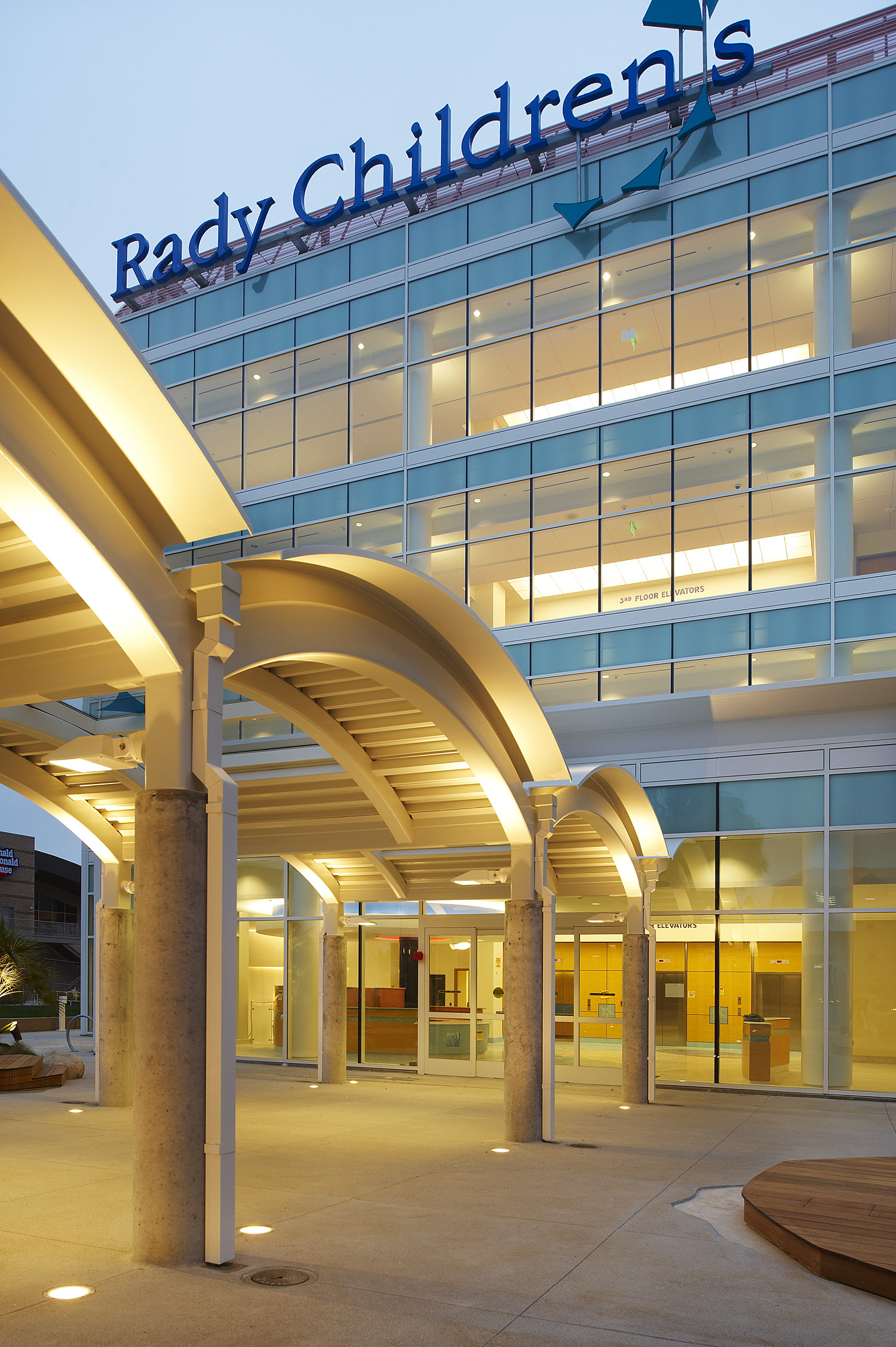 OSHPD oversight of California hospitals stems from the 1971 Sylmar earthquake, which caused several hospitals to collapse, endangering the lives of hundreds of patients and hampering the hospitals ability to provide emergency care to the injured. In 1973 the state of California passed the Alfred E. Alquist Hospital Seismic Safety Act and, ever since, construction of acute care and psychiatric hospitals, as well as multi-story skilled nursing homes and intermediate care facilities, in the state has been governed by this legislation. The standards not only help enforce patient safety during the earthquake, but also ensure that facilities can continue to function and care for the injured following earthquakes.
For the Acute Care Pavilion, Rady Childrens Hospital employed one onsite inspector-of-record and three field inspectors, bound to the letter of the law. McCarthy served the integral role of working through all construction issues, developing proactive solutions, documenting every discussion and construction activity, and communicating with OSHPD inspectors, who visited the site three times a week. Not a single detail of the project could afford to be overlooked, from the drilling operation that involved the installation of individual 60-foot-deep by eight-inch-wide holes to accommodate seismic tie-down rods, to the torque of each bolt. Building Information Modeling (BIM) allowed the construction team to address many of the seismic issues.
Rady Childrens Hospital is the only dedicated child-specific medical center in the San Diego region, and demand for services had outgrown its existing facilities. The new 279,000-square foot Acute Care Pavilion was built on a tight, 148,650-square-foot site at the southeast end of the hospital campus, adjacent to the existing Rose Pavilion. Second- and third-floor bridges and a ground-floor walkway connect the existing facility to the new four-story building.
When equipped, the Acute Care Pavilion will house a much-needed surgical center, 84 medical-surgical beds, a neonatal intensive care unit (NICU), and a cancer center. It also will provide 16 operating rooms with associated support departments, a 28-bed hematology and oncology unit, and a 10-bed bone marrow transplant intensive care unit.
The facility's exterior features a glass-fiber reinforced, precast concrete exterior; integral-colored plaster; storefront and curtain wall glass systems with colored accents; metal panels and railings; and a billowing steel front entry canopy carrying the hospitals kite insignia.
Rady Childrens Hospital has been committed to incorporating green practices throughout its operations for many years, so when it came time for us to expand, we set on a mission to become the largest children's hospital in the state with a world-class LEED Certified facility, said Tim Jacoby, vice president of facilities for Rady Childrens Hospital, who led the successful team collaboration.  Due to the degree of difficulty in meeting OSHPD and LEED requirements simultaneously, we knew the McCarthy team would be up against a huge challenge. Meeting our goal was not only a significant achievement for the hospital, but a milestone for the state of California.
To knowledgeably address the LEED aspects of the project and carry through the facilitys sustainable design in a thoughtful, practical manner, McCarthy employed a dedicated LEED accredited professional and, since the project began in early 2008, 10 of the construction team's members have become LEED APs.
Construction execution required rigorous tracking and monitoring, along with a great deal of creative solution-finding, to keep the project on course toward LEED Certification, said Steve Van Dyke, project director for McCarthy. The construction team took extra measures and precautions at every turn to ensure compliance with the LEED credits.
Working in accordance with LEED 2.1, the project team is on track to receive 31 of the 25 points needed to become LEED Certified. McCarthy is in the process of submitting the construction documentation needed for official certification.
Since beginning the LEED application process for this project, the U.S. Green Building Council has rolled out the LEED 3.0 for Healthcare Green Building Rating System, which is likely to make it more enticing for hospitals to seek LEED certification. LEED 3.0 for Healthcare is more applicable, addressing such specific issues as increased sensitivity to chemicals and pollutants, traveling distances from parking facilities, and access to natural spaces.
The new Rady Childrens Hospital Acute Care Pavilion has earned an Innovation in Design credit for the introduction of a series of healing gardens that utilize sustainable design principles and embrace the hospitals healing arts program, which originally was developed in 1993 in conjunction with the Rose Pavilion construction. The program seeks to enrich the experience of patients, families and staff via visual and performing arts, and through the creation of healing gardens that draw on artists talents to transform normally lackluster courtyards into whimsical, outdoor retreats.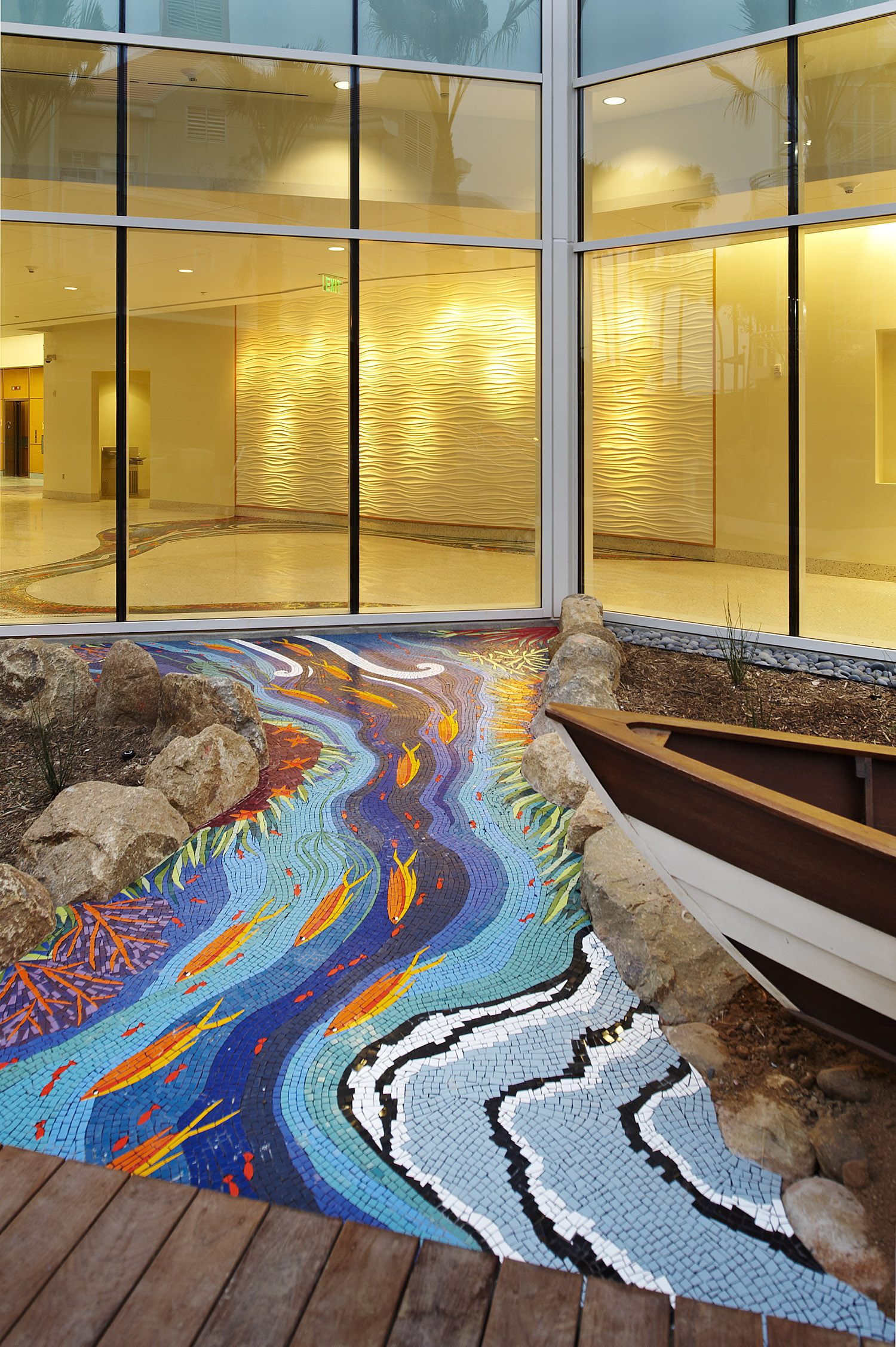 In conjunction with the hospitals healing arts program, the new Acute Care Pavilion provides an environment focused on the needs and imaginations of children — one that is also intended to help relieve the stress of families with sick or injured children. Central to the theme of the building is the River of Life, manifested through an immense, four-story mineral panel that incorporates a kinetic lighting system, which radiates a rainbow of vibrant colors through the front entry curtain wall. A mosaic tile version of the "River of Life" flows from the mineral lobby wall, out the front door and into the first-floor courtyard, which serves as one of several healing gardens.
Named "Carley's Magical Gardens, these playful, landscaped areas were designed through the collaboration of local artists T.J. Dixon, Kim Emerson, Albert De Matteis, and James Nelson. The first floor garden off the main entry, intended for use by parents and siblings, sets the stage for the whimsical themes experienced throughout the facility.
Located on the second floor off the hematology and oncology unit, the primary healing garden features a giant, tiled bird with a place for patients to deposit their wishes, which staff will later collect in order to better understand the childrens wants and needs. A life-size bronze figure of a young girl sitting at an eight-foot-long table is the centerpiece of the second-floor healing garden, and provides a place for organized activities and family gatherings. Other fanciful objects include a mosaic tile and concrete tree playhouse, complete with Hot Wheels tracks; a privacy bench; performance stage; and interactive garden screens and gates. A divided basketball playing area accommodates both regular and immune-deficient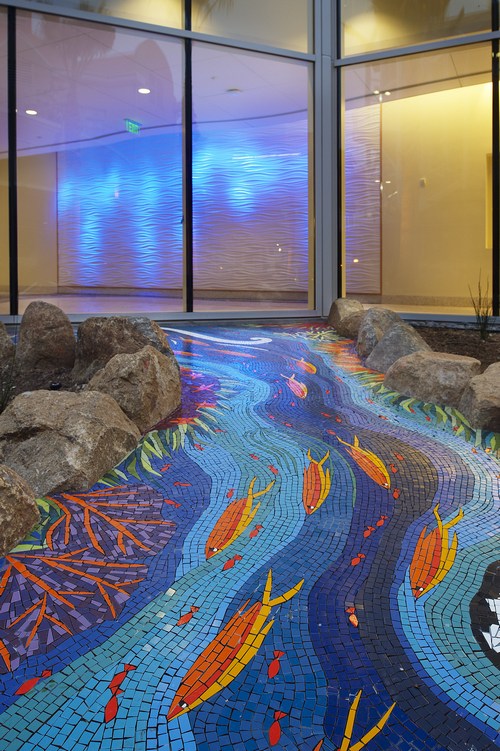 patients.
On the third floor is a landscaped bamboo garden with a rubber-surfaced playing area for patients and a retreat area for staff members. A vast ground-floor outdoor terrace, strictly for staff use, features Jacaranda trees, white light posts and bike racks.
Each floor of the building embraces its own nature theme including sea, beach, sky and outer space that are carried out with objects woven into the flooring, stamped ceiling tiles, nurse station vitrines, patient room and ceiling soffit murals, etched glass doors, restroom tile and lighting fixtures. The fourth-floor neonatal intensive care center accommodates 32 bassinettes, and features serpentine nurse stations that give staff a line of sight at all times. Patient rooms contain bathrooms with bathtubs or showers. Large wooden Nana doors surround the main reception and NICU desks for patient privacy.
The project team achieved 23 percent below Title 24 requirements for energy efficiency by utilizing the LEED Energy Cost Budget methodology. This was achieved by incorporating: 1) occupancy sensors in operating rooms to reduce the ventilation rate by 60 percent when unoccupied, yielding a 45 percent annual energy savings; 2) variable frequency drives on air handling unit motors to adjust the fan speed due to filter loading; 3) carbon dioxide monitoring for high occupancy areas to reduce ventilation rates, based on the number of occupants; 4) a supply air temperature reset strategy, which saves energy by adjusting air temperatures based on load; 5) a 24,000-square-foot cogeneration plant that provides free heating and high temperature water, and contains two 700-ton natural gas-fired absorption chillers; and 6) variable frequency drives on cooling tower fans and hot water pumps.
The project also utilizes recycled and locally obtained steel, concrete and other building materials; low VOC-emitting paints, glues, carpet, and wood; water-efficient landscaping; abundant daylighting, even at operating rooms; and a dedicated bicycle storage area. A reflective concrete "cool roof" system helps minimize heat gain and control rainwater run-off, and painted steel screens conceal rooftop mechanical systems
Nearly 80 percent of construction waste materials at the job site was recycled. The project team went above and beyond the LEED requirements by declaring the entire hospital campus a no smoking zone. A thorough, 14-day flush-out of the building began upon construction completion.
KPFF of San Francisco served as the structural engineer; RBF, San Diego, civil engineer; Randall Lamb, San Diego, electrical engineer; Shadpour Consulting Engineers, San Diego, mechanical engineer; and Royston Hanamoto Alley & Abey of Mill Valley was the landscape architect.

McCarthy is the nations 10th largest domestic general contractor (Engineering News-Record, May 2010) and has been ranked among the top five healthcare builders in the nation and among Californias top five green contractors (California Construction, May 2010). In Southern California, the firm has completed over $2.4 billion in healthcare work for the regions most elite healthcare institutions.  In addition to San Diego, McCarthy has offices in Newport Beach, Sacramento and San Francisco, Calif.; Phoenix; Las Vegas; Dallas; St. Louis and Atlanta. McCarthy is 100 percent employee owned. More information about the company is available online at www.mccarthy.com
Posted July 22, 2010
More Articles: